Summary
Use St. Louis style spareribs.
Apply rub and refrigerate for 1 hour.
Light the WSM using the Minion Method and use mild smoke wood.
Cook ribs at 275°F for 2-1/2 hours.
Add brown sugar, honey, and apple juice to ribs, wrap tightly in aluminum foil, and cook for an additional 1-1/2 hours.
Open foil and check ribs for tenderness. If not tender, close foil and cook for an additional 10 minutes. Repeat until tender.
Once ribs are tender, discard foil, brush ribs with sauce, and put ribs back in the cooker for 10 more minutes.
Remove ribs from cooker, brush again with sauce, and serve.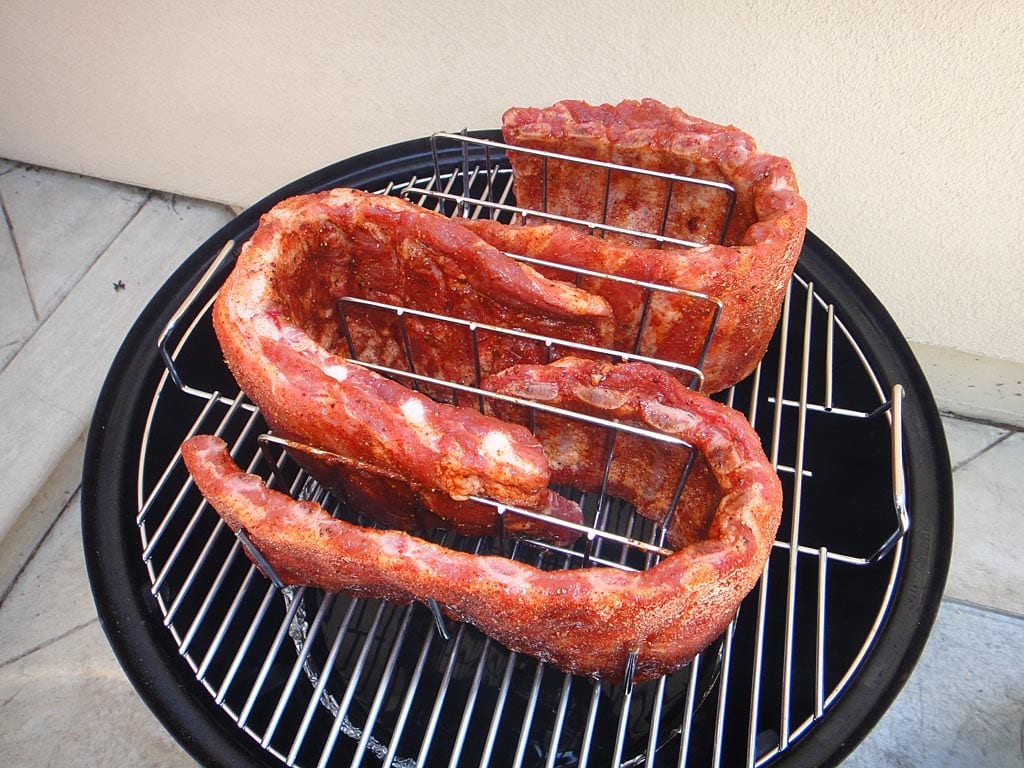 The "3-2-1 Method" for spareribs suggests that you barbecue the ribs for 3 hours, then wrap in foil (usually with some sweet liquid added) and cook for 2 more hours, then remove the ribs from the foil and cook 1 more hour until almost fall-off-the-bone tender.
As your browse around the Web, you will find many variations on 3-2-1 ribs. Harry Soo from Slap Yo Daddy BBQ recommends that spareribs be cooked for 2 hours at 275°F, followed by 1-1/2 hours in foil, then checked for doneness every 10 minutes until tender. For loin back ribs, you may read articles about 3-1-1 or 2-2-1 or 2-1-1 ribs, since these smaller slabs of ribs require less cooking time than spareribs.
I decided to do a modified version of Harry's method. I cooked spareribs for 2-1/2 hours, then foiled them for 1-1/2 hours, then checked for doneness in 10 minute increments.
Here are some photos taken on July 4, 2012 when I prepared these 3-2-1 inspired spareribs in my Weber Smokey Mountain Cooker.
Select & Prep The Slabs
Start with 3 slabs of St. Louis style spareribs. I purchased these from my local warehouse store. The weight of each slab was 2.43, 2.60, and 2.89 pounds.
Remove the membrane from the bone side as described in the Pork Sparerib Preparation article.
Prepare & Apply The Rub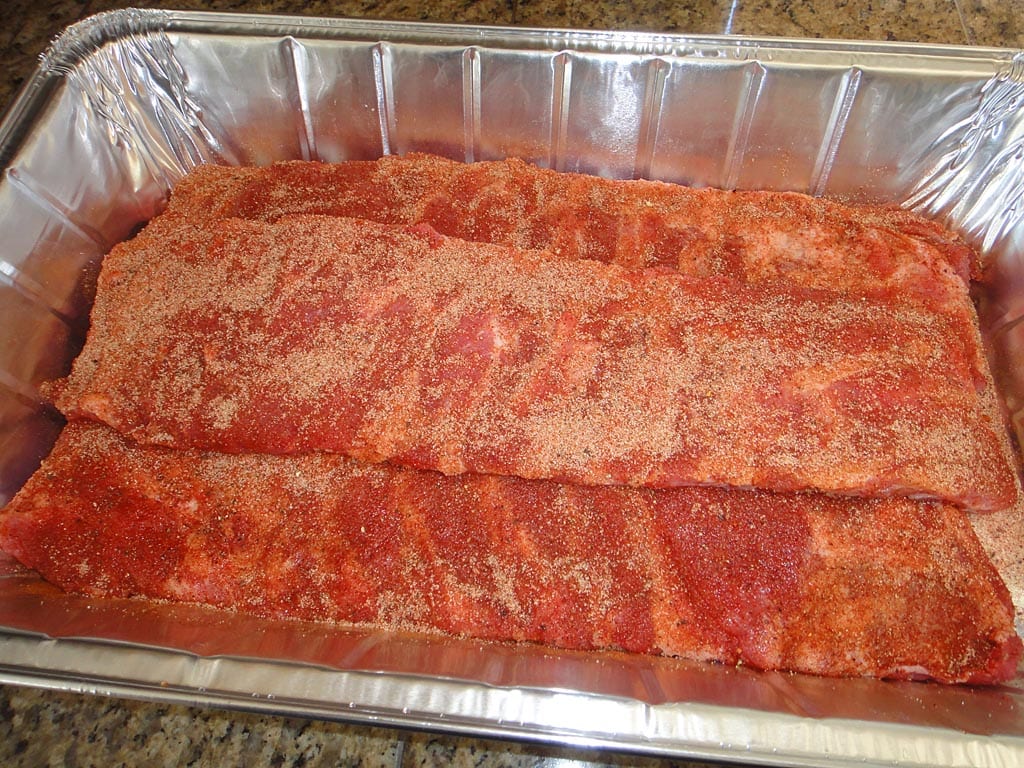 Prepare a batch of this all-purpose rub from my friends Brian DeHamer and Duncan Engel.
Cinnamon/Cumin Rub For Ribs
1/4 cup granulated sugar
2 Tablespoons garlic salt
2 Tablespoons celery salt
2 Tablespoons paprika
1-1/2 teaspoons chili powder
1-1/2 teaspoons black pepper, freshly ground
1/4 teaspoon cinnamon
1/4 teaspoon cumin
1/4 teaspoon dry mustard
Sprinkle a generous amount of rub on both sides of each slab, then refrigerate for 1 hour before putting the ribs in the smoker.
Select The Smoke Wood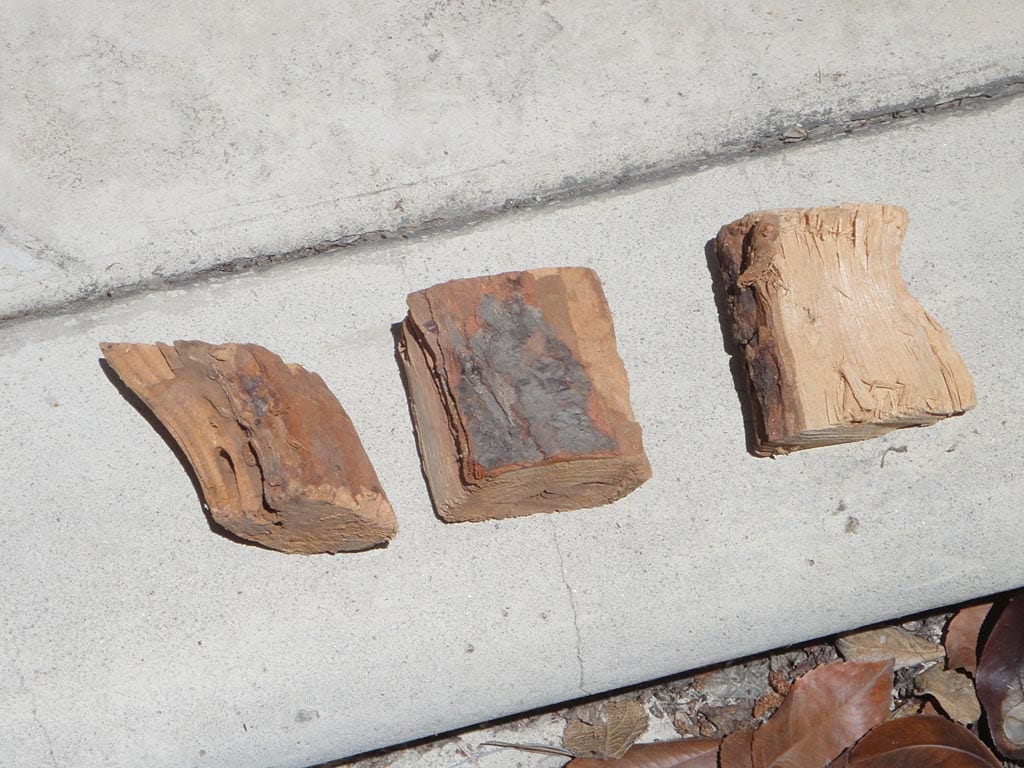 Use 3 medium sized chunks of mild smoke wood for these ribs. I used 2 chunks of apple and 1 chunk of cherry. There's no need to soak the chunks in water before use.
Fire The WSM
Fire-up the cooker using the Minion Method. Fill the charcoal chamber 1/2 full with unlit Kingsford Charcoal Briquets, then light 20-40 briquettes using a Weber chimney starter and spread them over the unlit briquettes. Add the smoke wood on top of the lit coals.
Put the water pan in the cooker and fill it with cold tap water to help with temperature control.
Smoke The Spareribs
Assemble the cooker and arrange the slabs in a rib rack on the top cooking grate.
Set the top vent to 100% open and leave it that way throughout the entire cooking process. Start with all 3 bottom vents 100% open. As the cooker approaches 275°F, begin to partially close all 3 bottom vents to maintain 275°F. Adjust the bottom vents as needed to maintain this temperature range throughout the cooking process.
After 2-1/2 hours of cooking, remove the ribs from the cooker. Place 1 slab of ribs meat side up on two sheets of wide, heavy duty aluminum foil. Sprinkle with a thin layer of brown sugar and drizzle with honey. Flip the slab over and repeat the brown sugar and honey treatment on the bone side. Pour 3 Tablespoons of apple juice into the foil as you fold it around the ribs into a tight package. Repeat with the remaining slabs and return them to the cooker.
Cook the ribs in foil for 1-1/2 hours, then open the foil and check the ribs for doneness using the tear test. If they're not tender, close the foil and cook for another 10 minutes. Repeat until the ribs are tender.
Once tender, discard the foil and brush both sides of the ribs with a barbecue sauce of your choice. Return the ribs to the smoker for 10 minutes, then remove the ribs and apply sauce one more time before serving.
There's no need to replenish the water pan during the cooking process.
Here's how the temperature and vent settings went for the cooking session:
Time
Lid Temp
Vent 1 %
Vent 2 %
Vent 3 %
1:15 pm
–
100
100
100
1:45 pm
240
100
100
100
2:15 pm
262
100
100
100
2:45 pm
275
100
100
100
3:15 pm
280
100
100
100
3:45 pm
282
100
100
100
3:45 – 4:00 pm
Foiled the ribs and put them back into the cooker
4:00 pm
–
100
100
100
4:15 pm
284
100
100
100
5:00 pm
265
100
100
100
5:30 pm
250
100
100
100
5:30 – 5:40 pm
Removed foil and applied sauce
5:40 pm
300
100
100
100
5:50 pm
260
100
100
100
Note that the vent percentages represent the way I set the vents at the time indicated.
Let's Eat!
These ribs were very tender after cooking for 1-1/2 hours in foil, so they got sauced and spent 10 more minutes in the WSM, then sauced again before serving.
I wrote in my cooking log that these ribs had a deep, mahogany color with good smoky flavor and good moisture. The meat was tender to the point of almost falling off the bone. I'll definitely try these again in the future!
More Pork Rib Links On TVWB