The Virtual Weber Bullet is presented free of charge for your entertainment and education. If you appreciate the quality and usefulness of information provided here, there are three easy ways you can help keep the lights on at TVWB. All funds help defray the cost of Web access and hosting, domain name registration, bulletin board software licenses, and other technical inputs.
Thanks for your generous support of The Virtual Weber Bullet!

Donate securely online with PayPal. You don't need a PayPal account to donate using a credit card.
Personal Check By Mail
To donate by personal check, contact me and I will reply with a mailing address.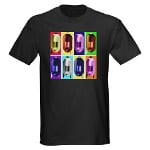 Purchase t-shirts in a variety of designs. Lots of colors available in sizes up to 5X. A portion of each purchase helps support the website.