Summary
Use boneless, skinless turkey breasts weighing 1.5 to 2 pounds each.
Rub generously with 2 parts 16-mesh black pepper to 1 part Morton Kosher Salt.
Cook former skin-side up at 225-250°F to an internal temperature of 145°F.
Arrange 1 stick of butter pats on 2 layers of aluminum foil.
Place turkey former skin-side down on butter pats and wrap tightly.
Return foiled turkey to smoker and cook to an internal temperature of 160°F.
Open foil slightly to vent heat, let rest 20 minutes before slicing.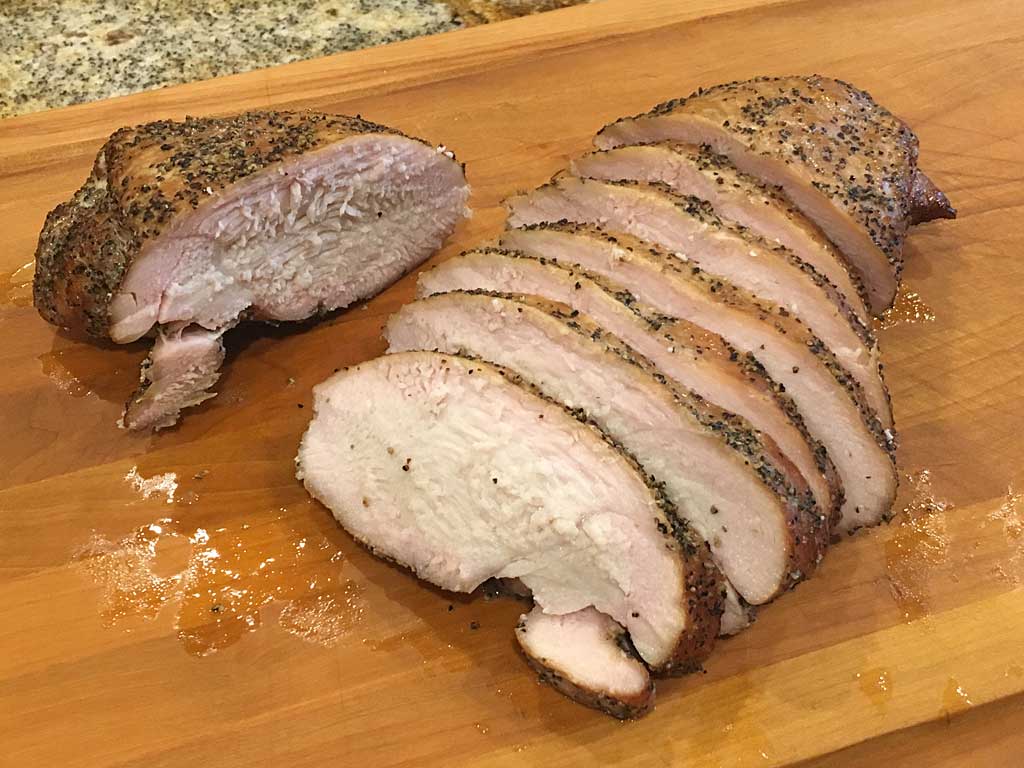 At Franklin Barbecue in Austin, Texas, the star of the show is beef brisket—lots of brisket. Award-winning pitmaster Aaron Franklin cooks about 1,800 pounds of brisket each day and a combined total of 650,000 pounds of brisket, pork ribs, sausage, and turkey each year. So the 20-30 turkey breasts Franklin cooks each day must seem like an afterthought to him.
"We're not exactly known for our turkey," writes Franklin in his best-selling book Franklin Barbecue: A Meat-Smoking Manifesto, "but it does come out real nice, and I even know some people for whom it's the favorite of all of the things we cook." Turkey breast is also the easiest thing they cook at the restaurant, says Franklin. "We get nice, plump turkey breasts and try to keep them moist. It's important to buy turkey breasts that have not been prebrined or injected with any sort of solution." Franklin wants you to taste the flavor of the meat, the rub, and the post oak, not a commercially brined flavor.
I had the pleasure of eating Franklin's smoked turkey breast when I visited his restaurant in October 2015 and it was moist and delicious. I thought it would be fun to adapt his recipe to the Weber Smokey Mountain Cooker, so I gave it a try on March 1, 2017 with 4 breast portions.
Prepare The Meat
If you buy a boneless, skinless turkey breast that's been tied or netted by a butcher, as shown below, ask if it's a single or double (whole) turkey breast. If it weighs 3-4 pounds or more, it's probably a whole breast. When you get it home, remove the string or netting, and if it's a whole breast, split it into individual breast portions.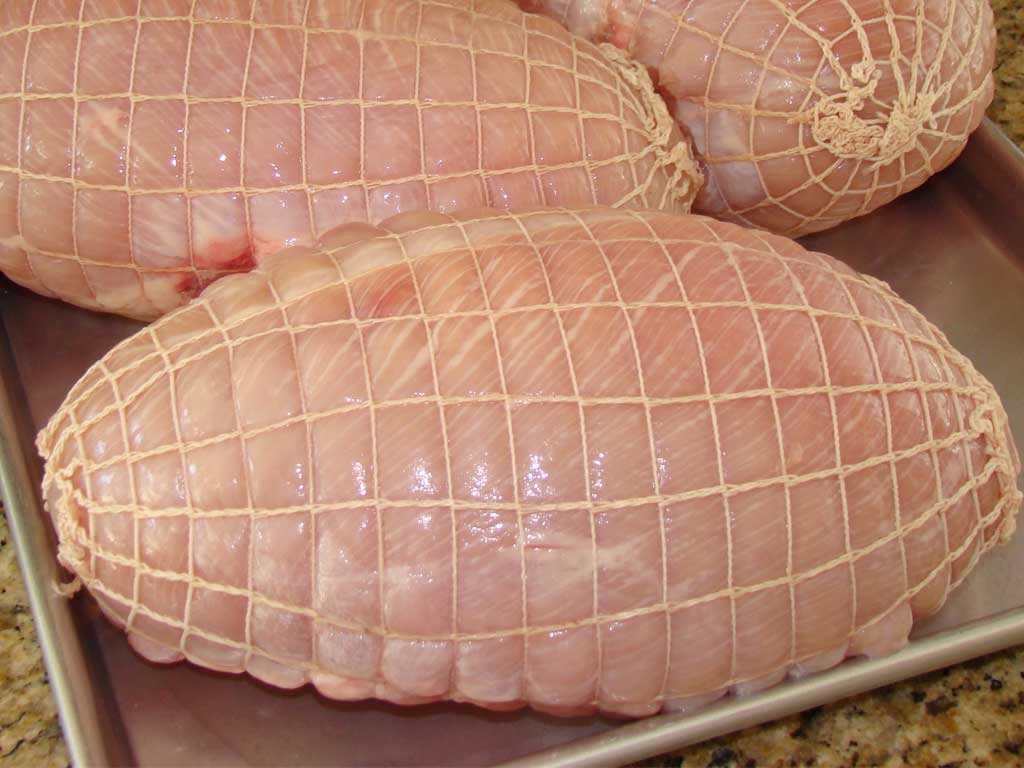 If you plan on buying a whole, bone-in turkey breast and butchering it into boneless, skinless breasts, like the frozen one shown in the next photo, it's probably been injected with a solution and is the kind of turkey breast Franklin would avoid. However, it may be the only affordable option for you, depending on where you live. When buying a whole, bone-in breast, buy the biggest one you can find at the supermarket. There's a lot of waste from skin and bones, and in the case of the one shown here, it included a liquid gravy packet that I discarded.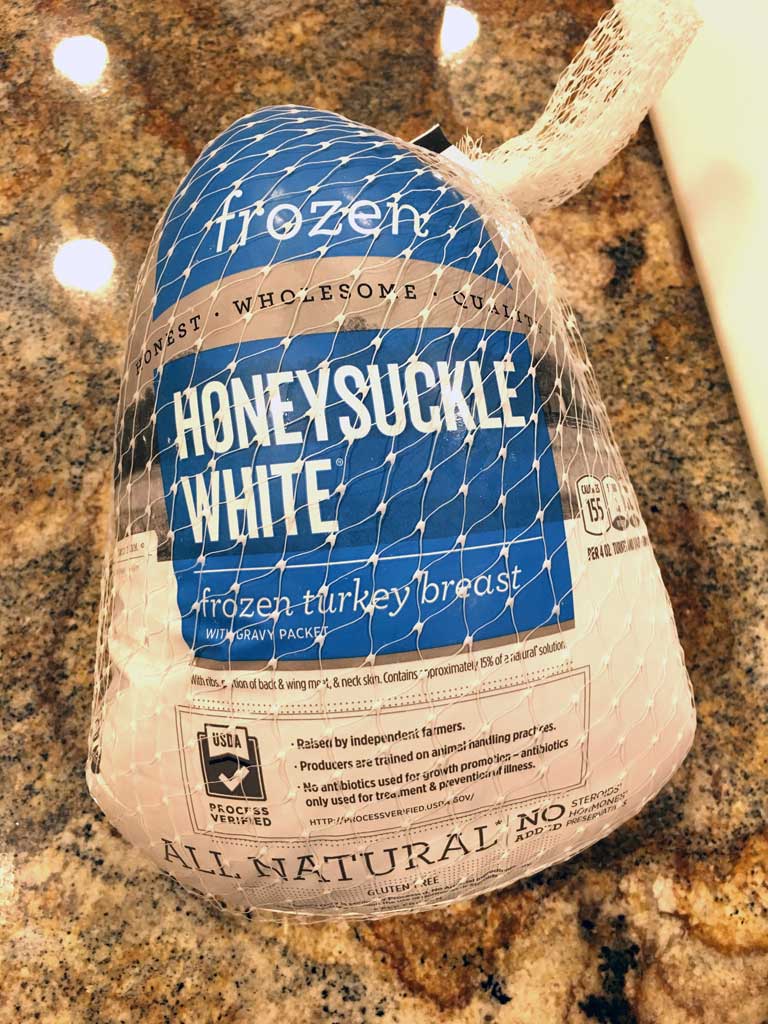 To butcher a whole, bone-in turkey breast, start by removing the skin.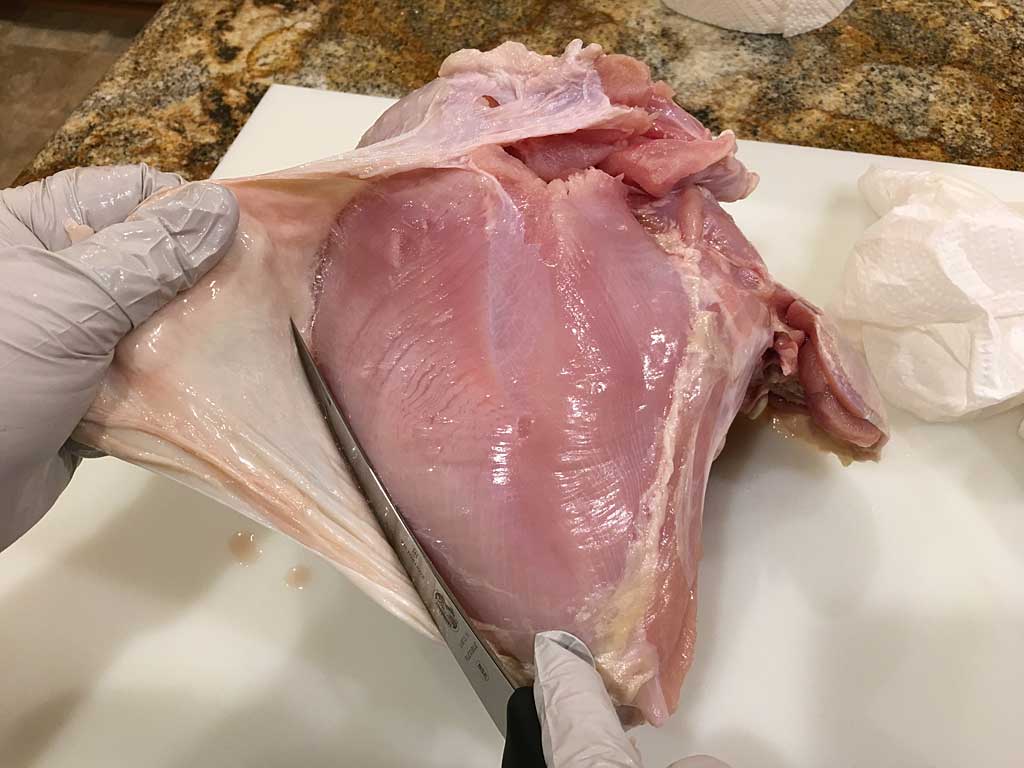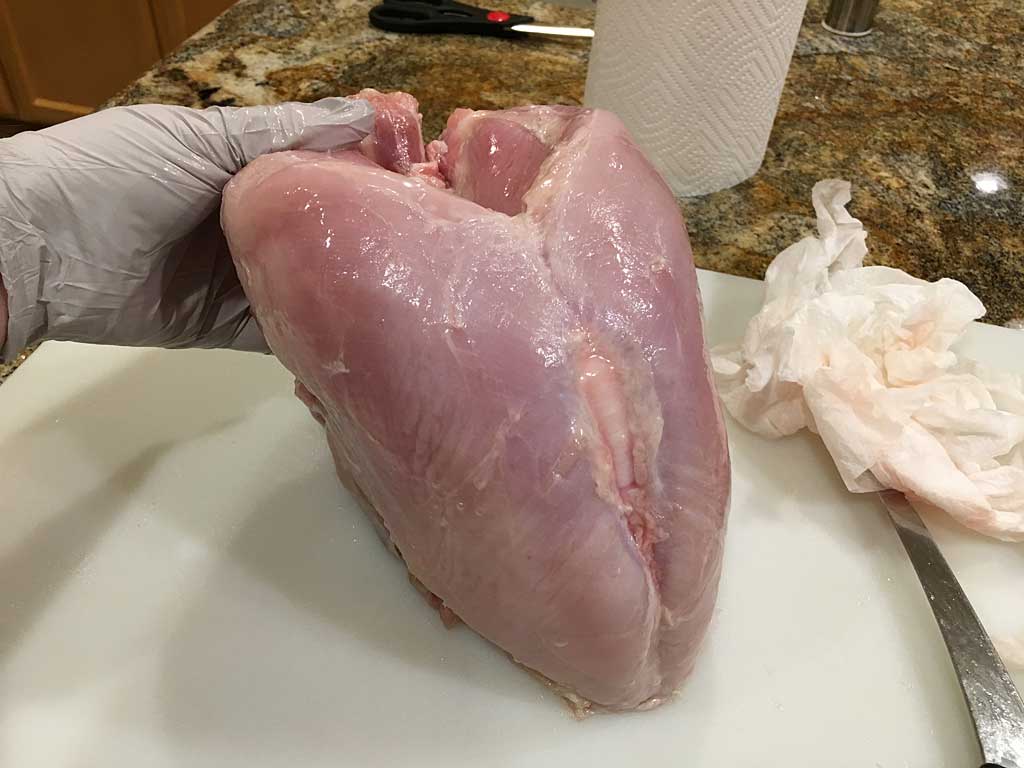 Turn the breast upside down and use a sharp boning knife to cut along the rib cage toward the breast bone until the meat separates from the bone. Repeat on the other side of the rib cage to remove the other breast portion.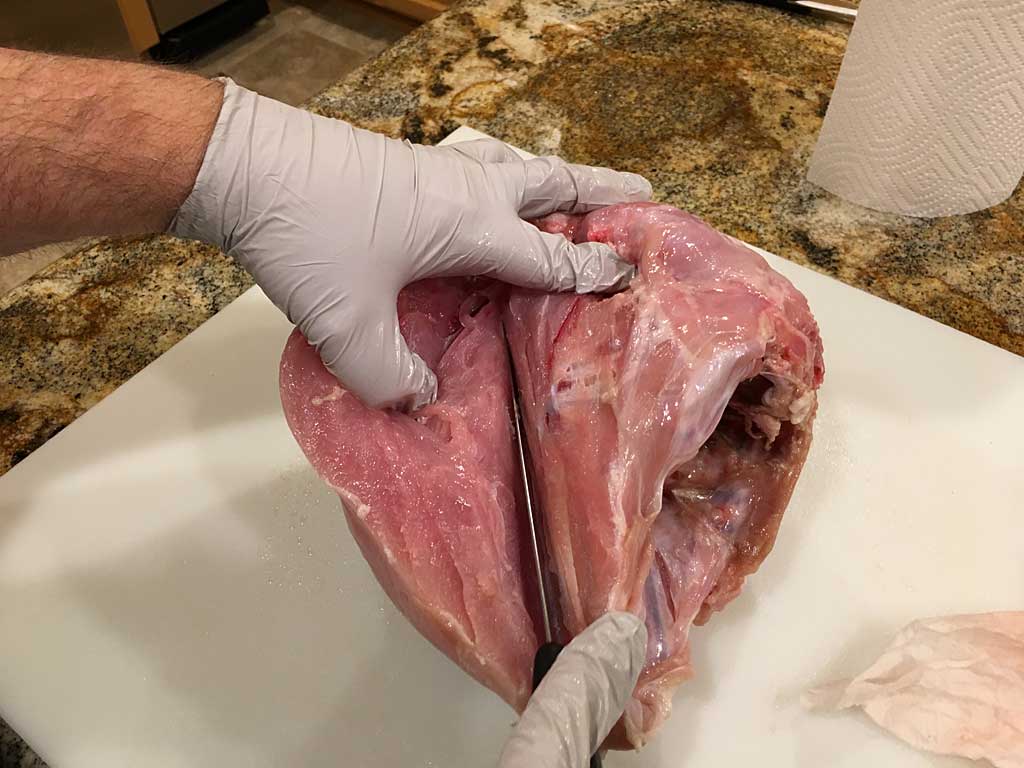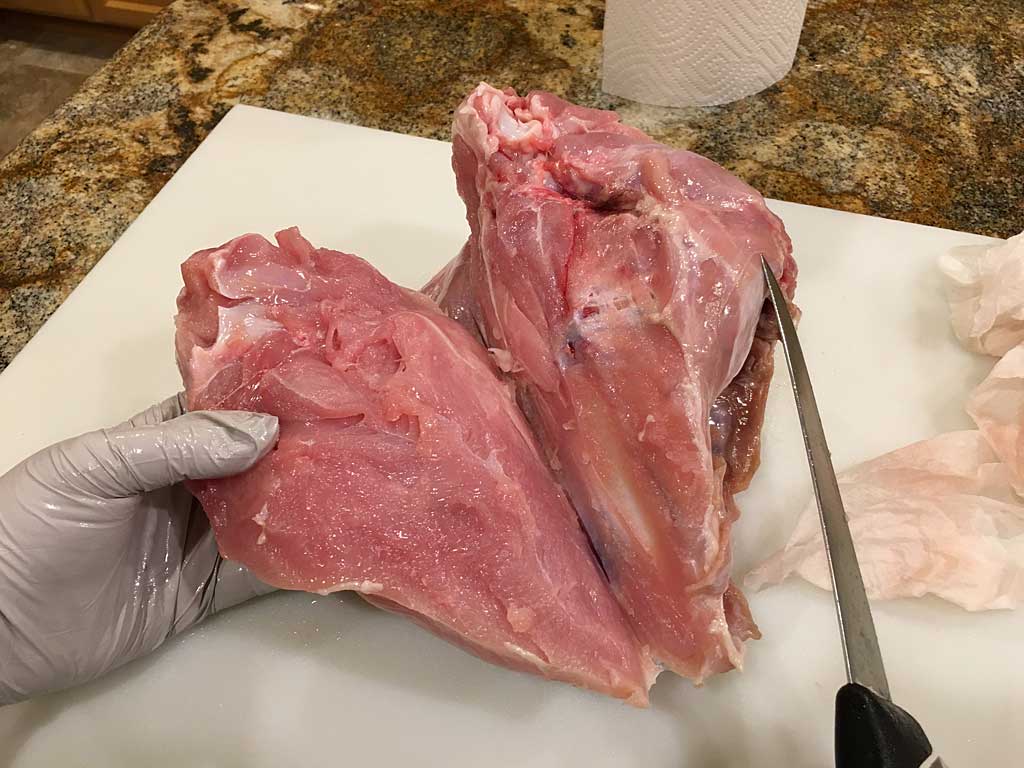 After discarding skin, bone and liquid gravy packet, the 8.60 pound package rendered two boneless, skinless breasts weighing about 1.75 pounds each.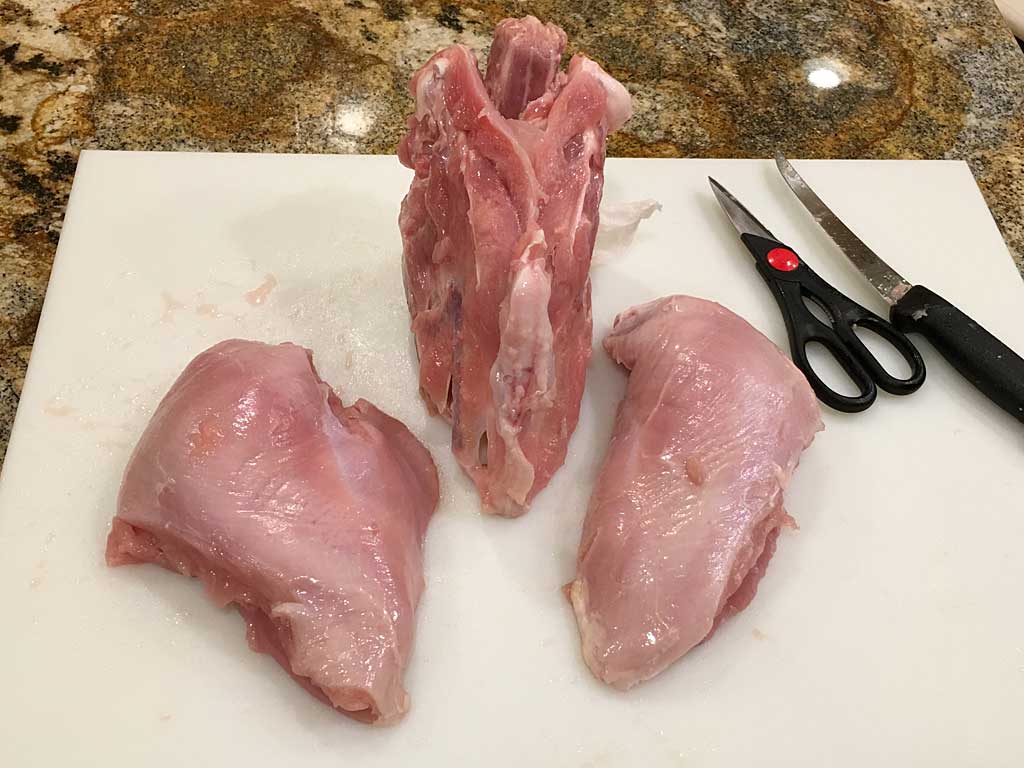 I supplemented these with two more boneless, skinless turkey breasts that I purchased at the supermarket. These additional breasts weighed almost 2 pounds each.
Apply The Rub
In the tradition of Central Texas barbecue, Franklin's turkey rub couldn't be simpler: 2 parts 16-mesh ground black pepper to 1 part Morton Kosher Salt. Franklin is particular about his salt and pepper. He prefers Morton Kosher Salt because of the uniform size of the flakes, and he likes the size of 16-mesh ground black pepper relative to the size of the kosher salt flakes.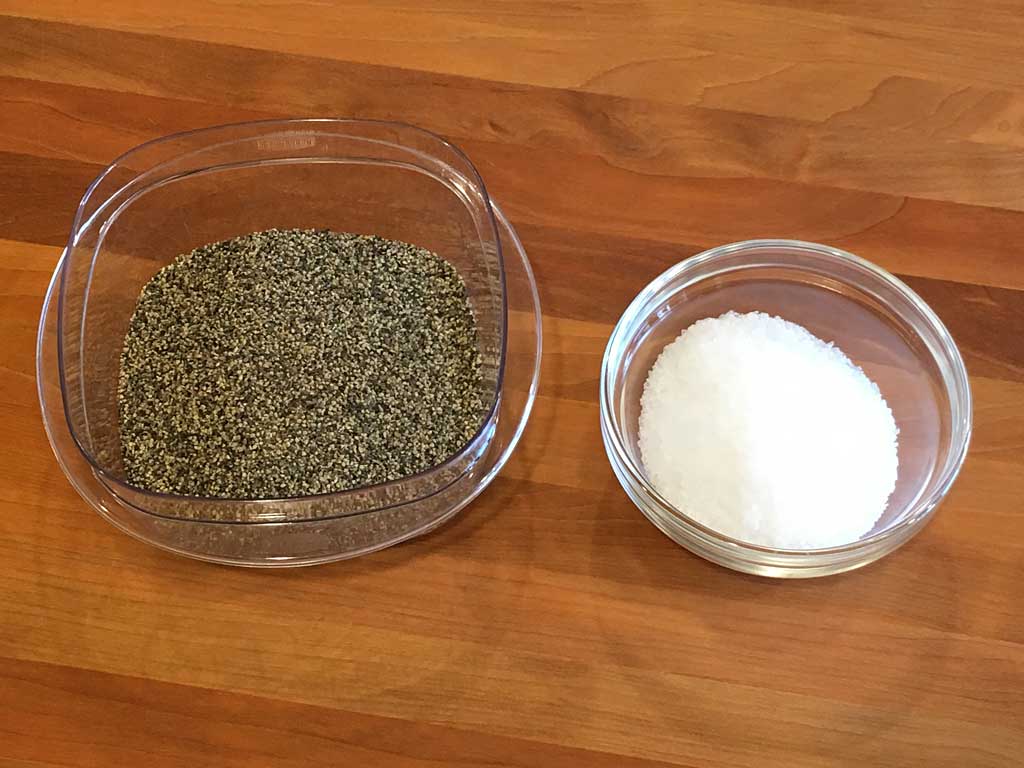 Prepare 1/2 cup of rub, more then enough for four breasts, by combining 1/3 cup (16 teaspoons) black pepper and 8 teaspoons kosher salt.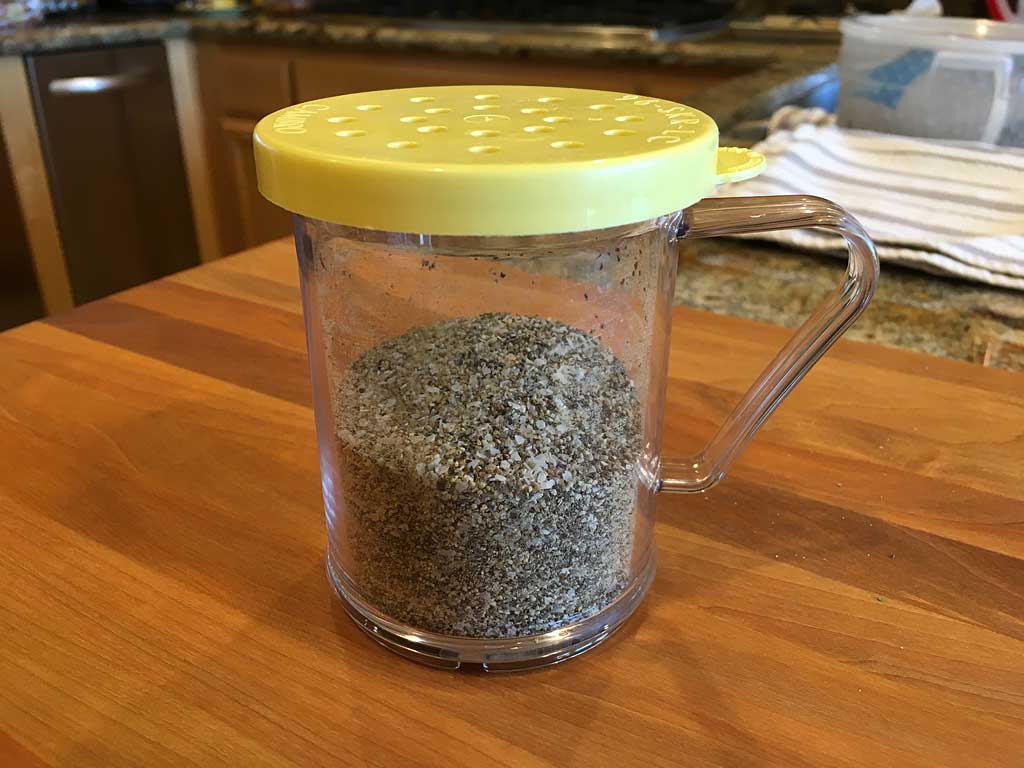 Use a good shaker to apply the rub evenly and generously all over the meat. Let the rubbed meat sit at room temperature while you fire up the cooker.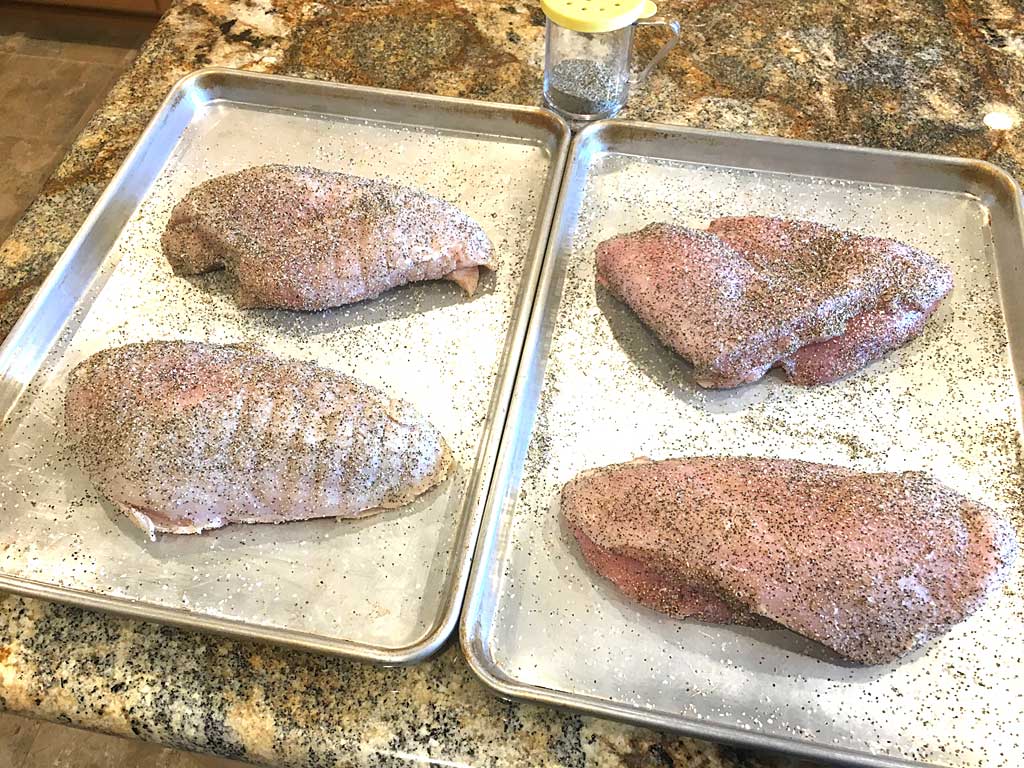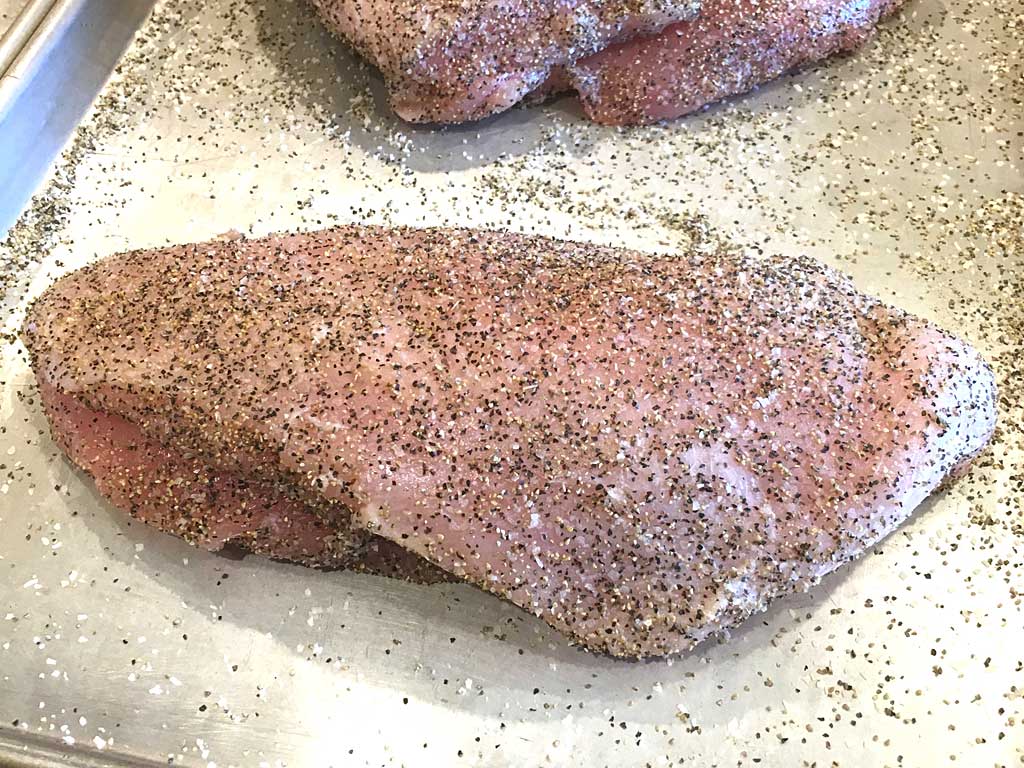 If you're curious about the term "mesh" in regards to black pepper, it refers to the process by which ground pepper is separated by size using a series of coarse to fine mesh screens. A 6-mesh pepper is a large cracked pepper, a 12-mesh pepper is somewhere between cracked and coarse, a 16-mesh pepper is a coarse grind, and fine grind pepper can be 20-, 30-, even 60-mesh. Beyond 60-mesh you're looking at powdered black pepper.
Select The Smoke Wood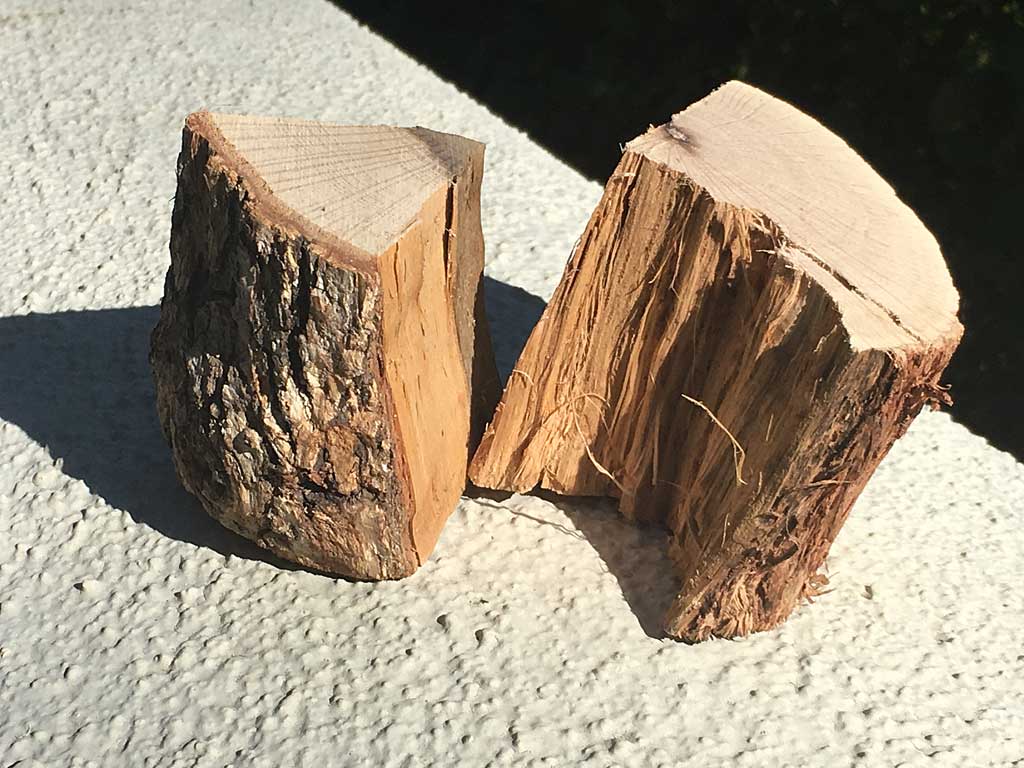 Use 2 chunks of oak smoke wood. Each chunk should be about the size of your fist. Pecan, apple, or another mild fruit wood can be used if oak is not available.
There is no need to soak the wood or remove the bark before use.
Fire The Cooker
Fire-up the cooker using the Minion Method. Fill the charcoal chamber 1/3 full with unlit Kingsford Charcoal Briquets and nestle the wood chunks into the briquets. Use a Weber chimney starter to light 20-40 briquettes and place them on top of the unlit ones.
Put the water pan in the cooker and fill it with cold tap water to help with temperature control.
Smoke The Turkey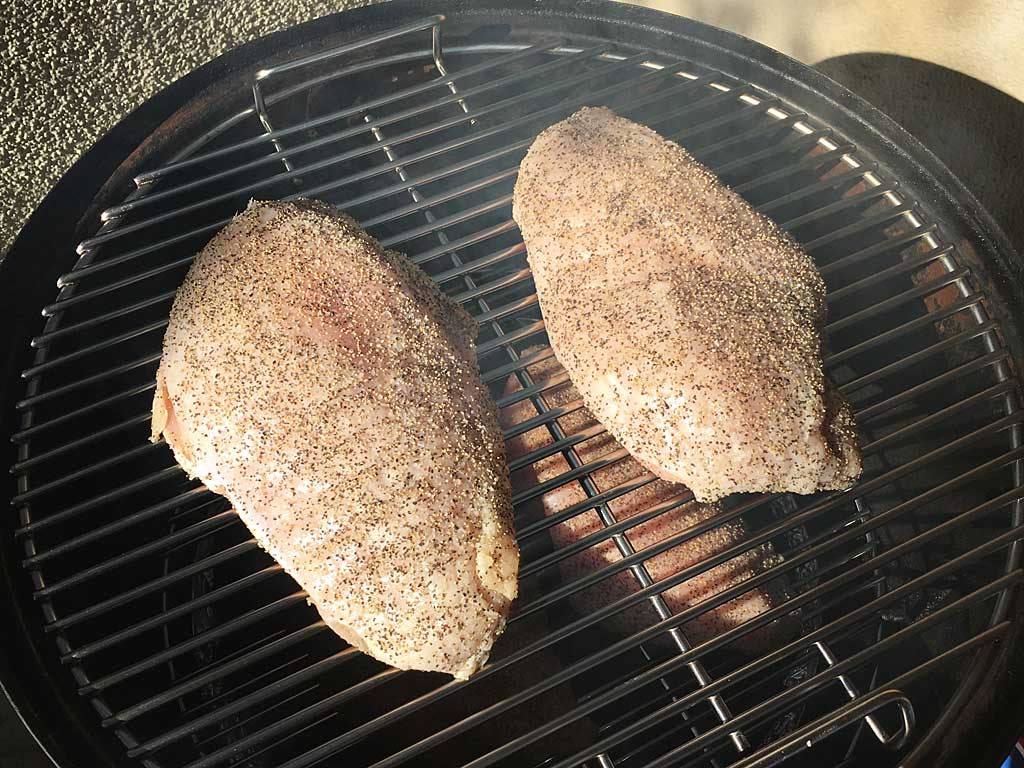 Assemble the cooker and load the turkey breasts onto the top and bottom cooking grates.
Set the 3 bottom vents to 100% open. Open the top vent fully and leave it that way throughout the entire cook.
When the cooker reaches about 225°F, set the 3 bottom vents to 25% open so the cooker settles in at 225-250°F measured at the lid. Adjust the 3 bottom vents as necessary to maintain this temperature range throughout the cooking session.
Smoke to 145°F, Foil With Butter, Return To Cooker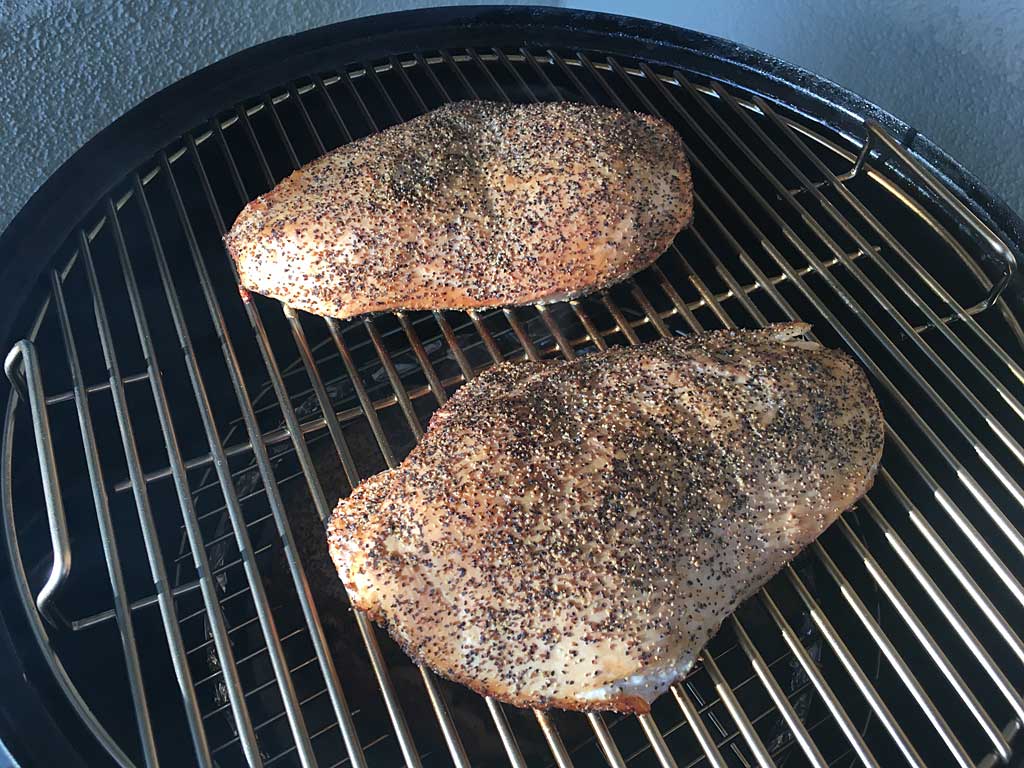 While the turkey is cooking, prepare two large sheets of wide aluminum foil and one stick of room temperature butter cut into pats for each breast. Yes, you read that right…Franklin uses 1 cup (2 sticks) of butter for 3-4 pounds of turkey breast. For smaller 1.5 to 2 pound breasts, that's 1/2 cup (1 stick) per breast.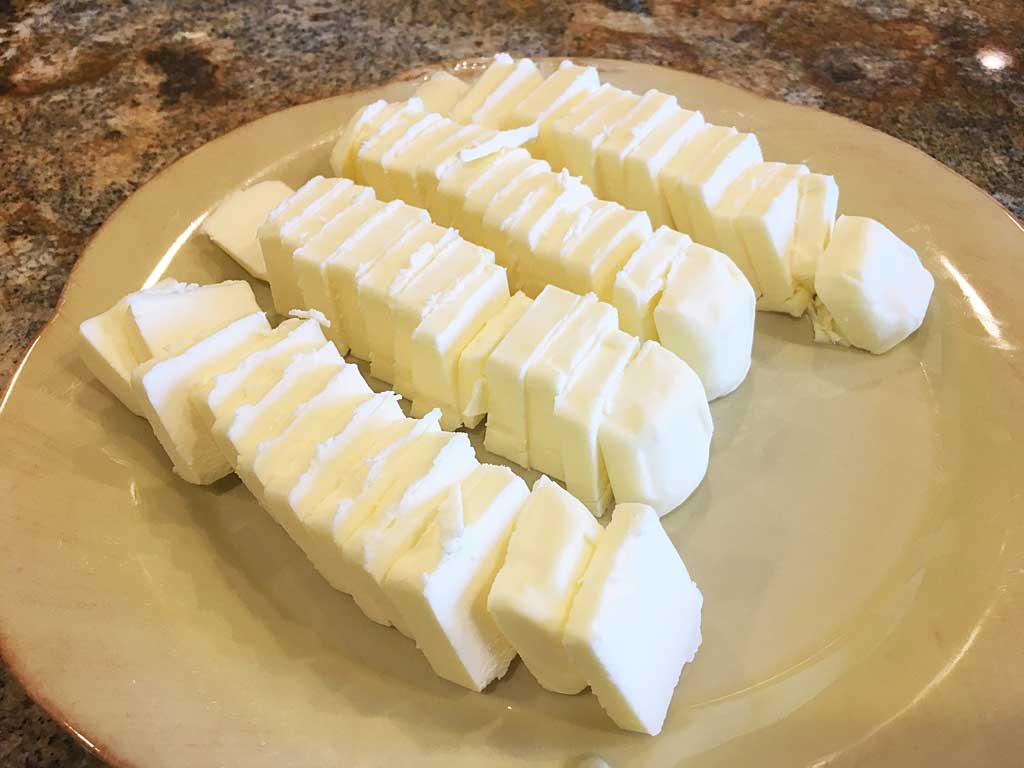 Smoke the turkey for 1 hour, then start checking the internal temperature using an instant-read thermometer. When the turkey reaches 145°F, take it into the house for foiling.
Lay-out two sheets of foil, arrange the butter pats in the center of the foil, place the turkey breast on top of the butter former skin-side down, and wrap into a tight package. To prevent butter from leaking, make sure there are no seams on the bottom of the package.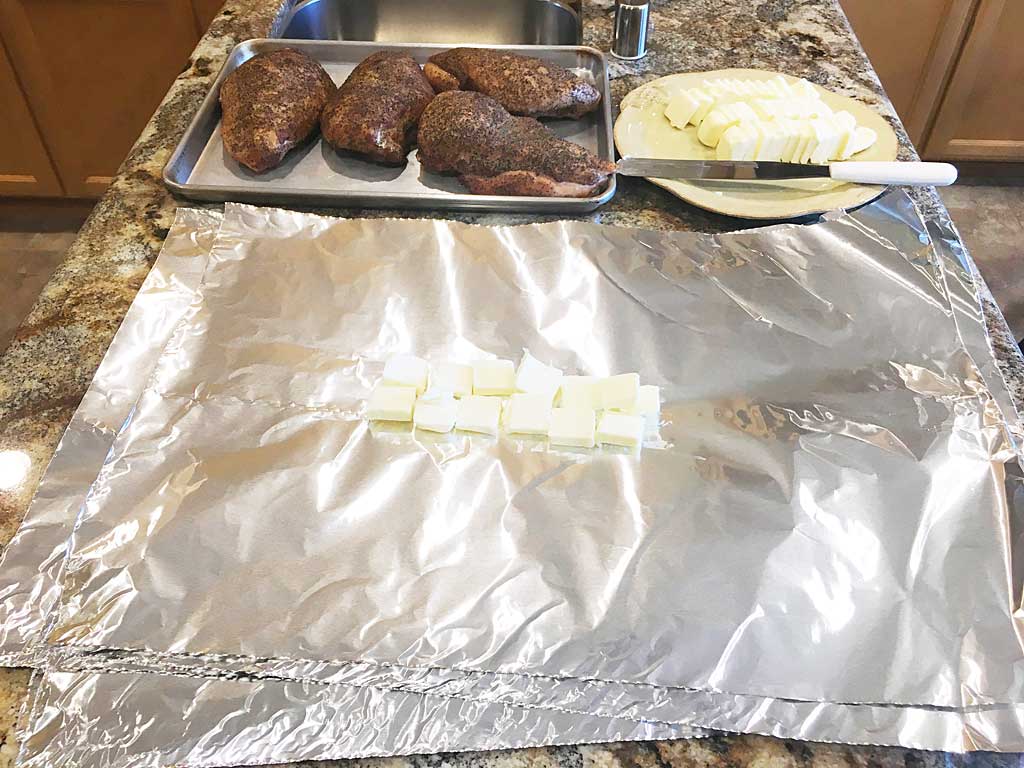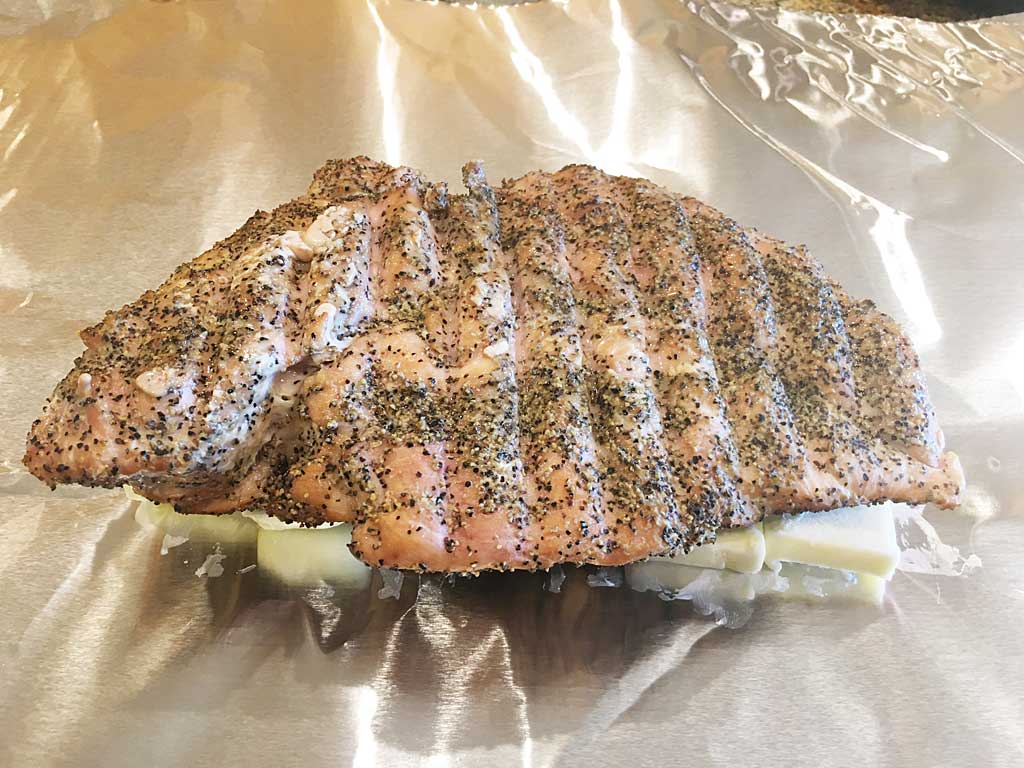 Return the foiled turkey to the cooker, butter-side down, and let the turkey braise in the butter and its own juices until it reaches 160°F, about another hour.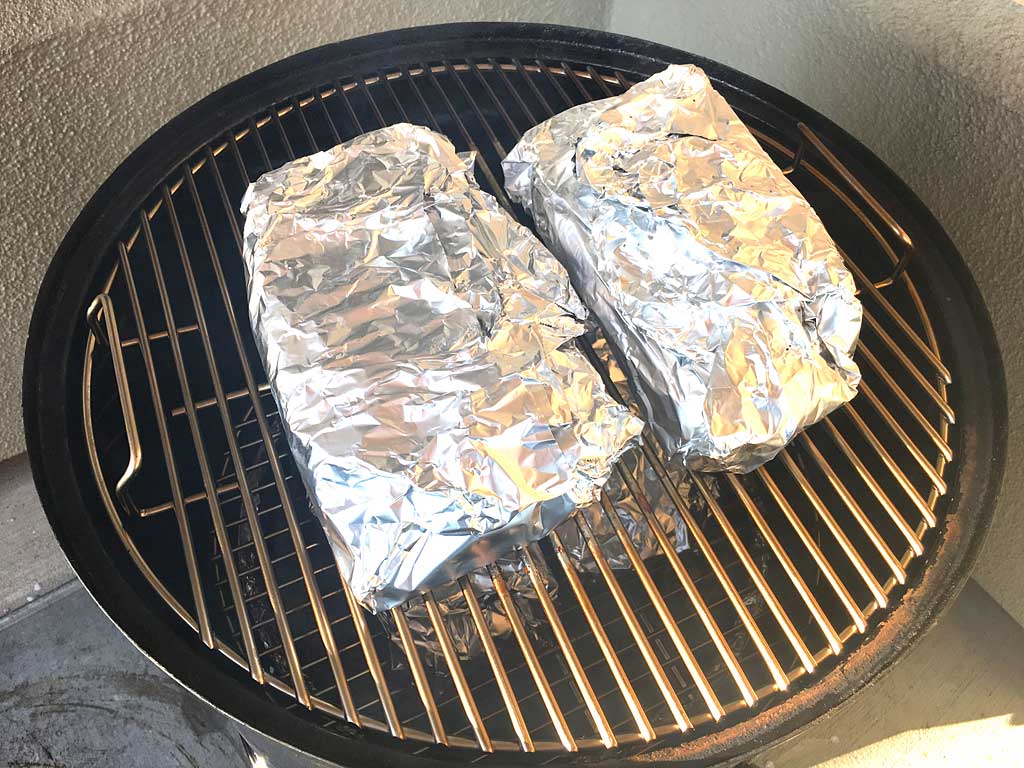 Turkey breasts on the bottom cooking grate may cook a bit slower and thus may have to stay in the cooker longer than those on the top grate. In the case of my cook, the breasts on the top grate finished first at 5:30pm. I removed them from the cooker, moved the breasts from the bottom grate to the top grate, and cooked them another 15 minutes until they reached 160°F.
Here's how the cooker temperatures and vent settings went during my cook:
| | | | | | |
| --- | --- | --- | --- | --- | --- |
| | Lid Temp | Meat Temp | Vent 1 % | Vent 2 % | Vent 3 % |
| 2:45 pm | – | – | 100 | 100 | 100 |
| 3:00 pm | 235 | – | 25 | 25 | 25 |
| 3:15 pm | 236 | – | 25 | 25 | 25 |
| 3:30 pm | 237 | – | 25 | 25 | 25 |
| 3:45 pm | 242 | – | 25 | 25 | 0 |
| 4:00 pm | 235 | – | 25 | 25 | 0 |
| 4:15 pm (f) | 232 | 145-147 | 25 | 25 | 25 |
| 4:30 pm (r) | – | – | 25 | 25 | 25 |
| 4:40 pm | 263 | – | 25 | 0 | 0 |
| 4:48 pm | 245 | – | 25 | 0 | 0 |
| 5:00 pm | 226 | 147 | 25 | 25 | 25 |
| 5:15 pm | 245 | – | 25 | 25 | 25 |
| 5:30 pm | 249 | 155-160 | 25 | 25 | 25 |
| 5:45 pm | 250 | 160 | 25 | 25 | 25 |
(f) foiled meat with butter
(r) returned foiled meat to cooker
Note that the vent percentages represent the way I set the vents at the time indicated.
Rest Meat, Then Slice & Enjoy!
When the turkey is done, remove it from the cooker, slightly open the foil to vent the heat, and let rest for 20 minutes before serving. I like to slice across the grain about 1/4″ thick using an electric carving knife.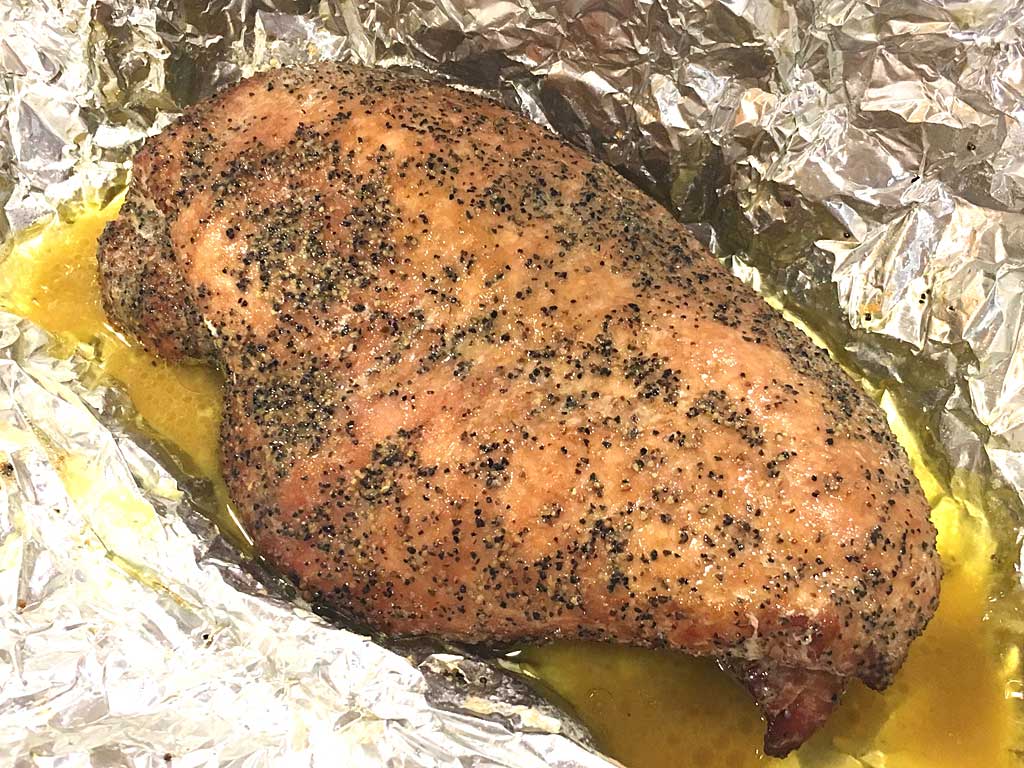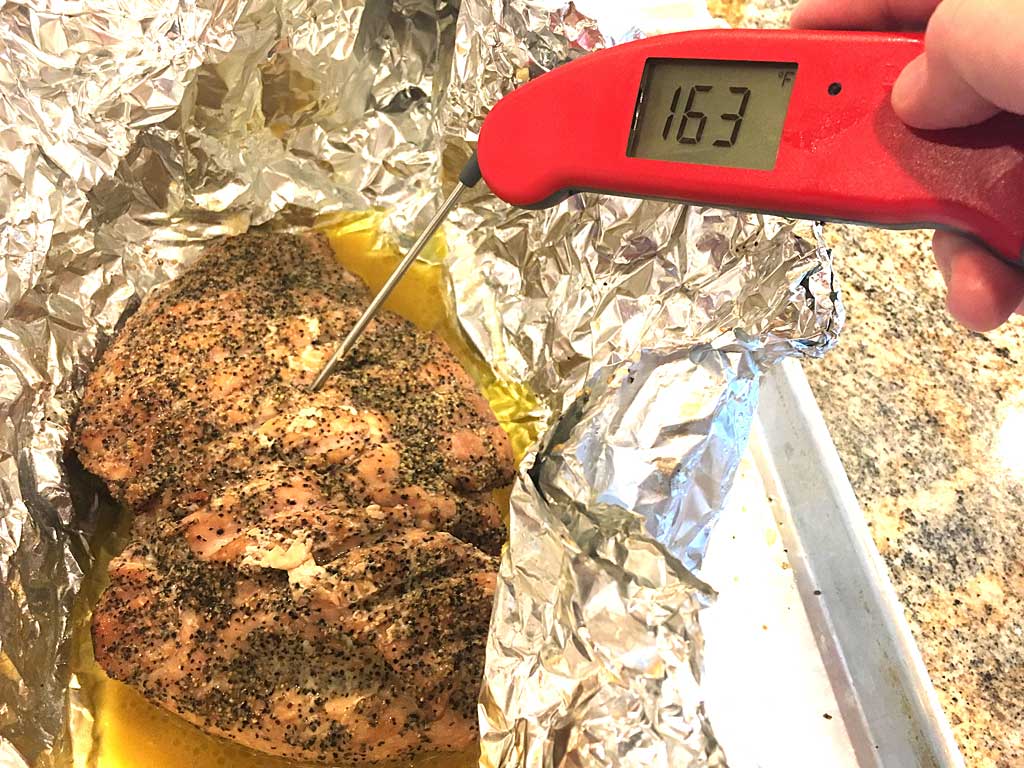 These breasts cooked beautifully. If you're not watching your waistline, slices can be dipped in the melted butter/turkey juice mixture for added flavor and moisture and served on a plate or on a sandwich.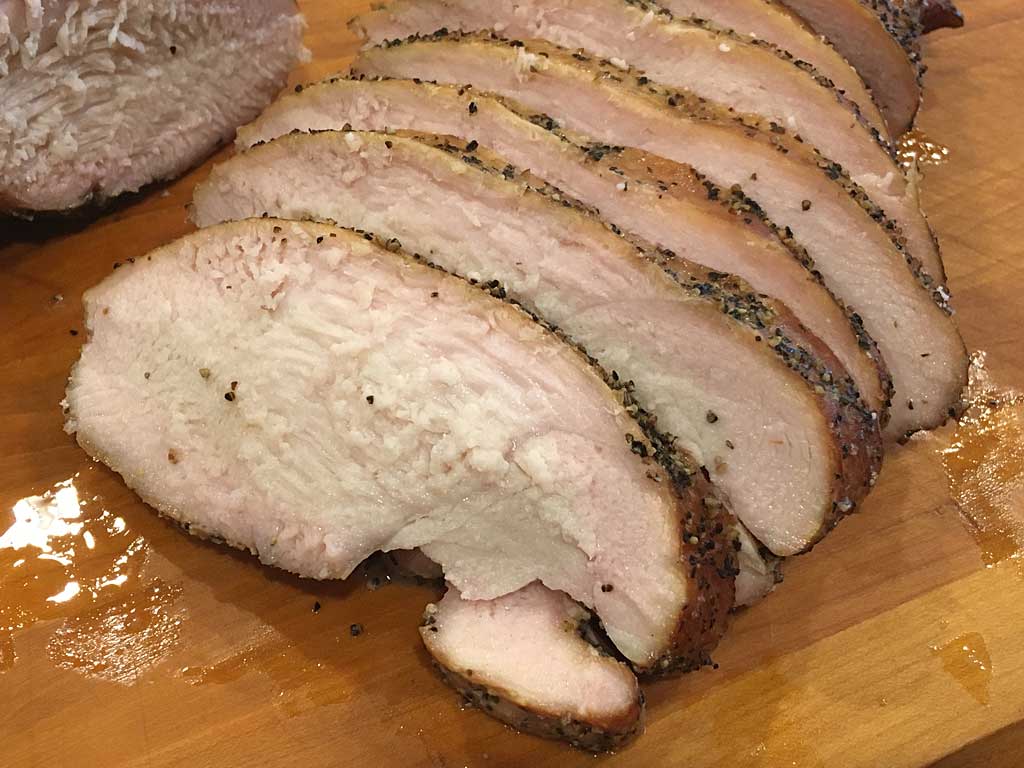 I made a delicious turkey sandwich on a kaiser roll with warm barbecue sauce on the side.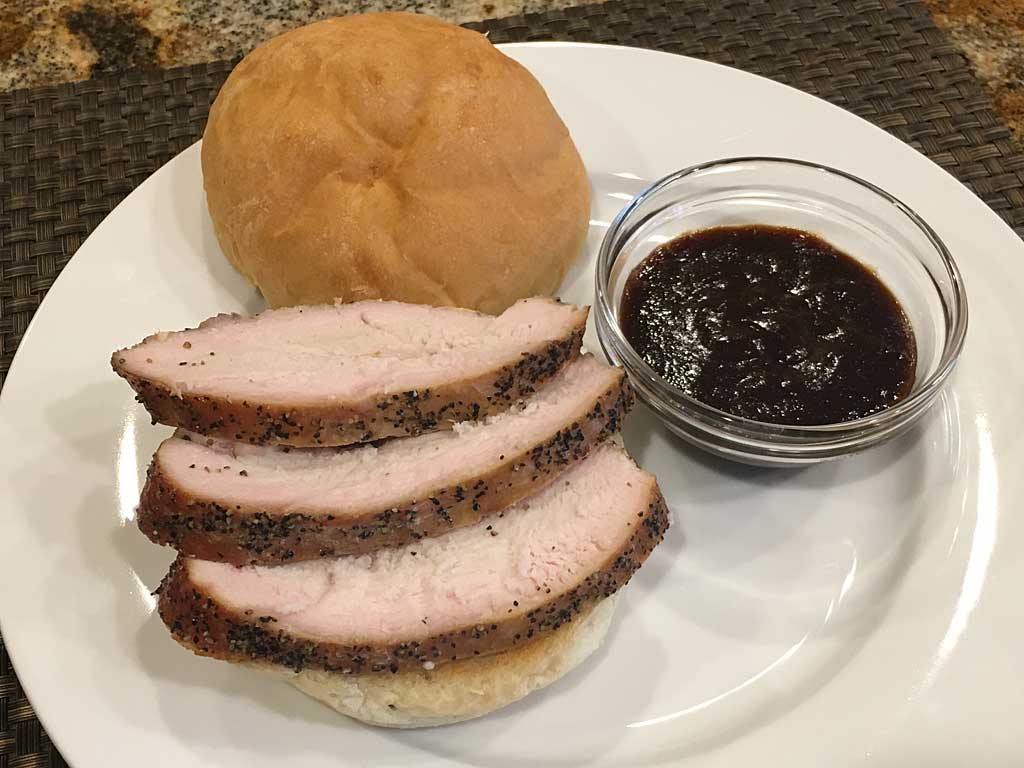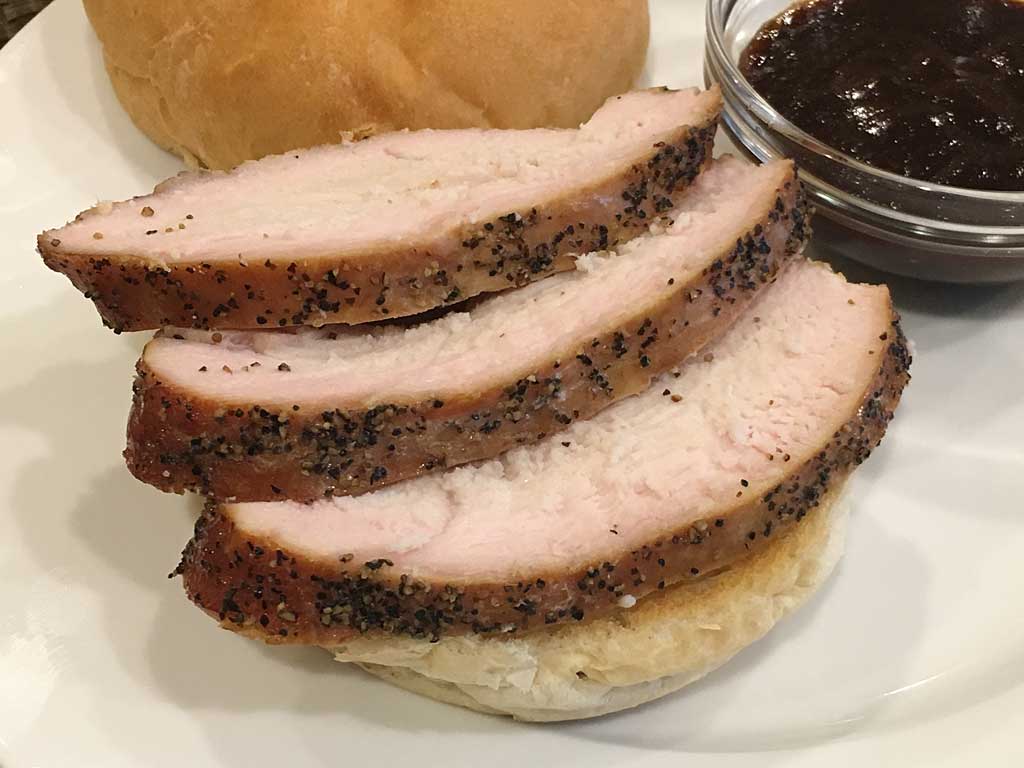 Large portions of leftover turkey breast were vacuum packed with a FoodSaver and frozen to enjoy another day.
More Turkey Links On TVWB