In This Topic
Note: In January 2016, Kingsford renamed "Kingsford Competition Briquets" to "Kingsford Professional Briquets". Some warehouse club stores sell this charcoal as "Kingsford Professional Competition Briquets". Regardless of the name, the product formula remains the same.

Introduction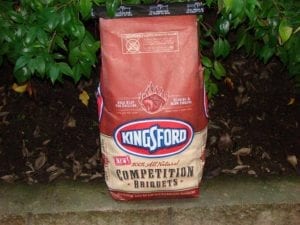 The Clorox Company, makers of Kingsford Charcoal Briquets, has introduced a new line of briquettes called Kingsford Competition Briquets. These briquettes are sold as a companion product to regular "blue bag" Kingsford briquettes—they are not a replacement product.
Kingsford was kind enough to invite me to the Clorox Technical Center in Pleasanton, CA on January 2, 2009 to cook with Competition Briquets on the WSM. We cooked 3 slabs of baby back ribs and spent a lot of time talking about this new product. They also provided me with several bags of Competition Briquets which I will try out on the WSM at home.
The scientists at Kingsford told me that this product was created in response to customer feedback about original Kingsford. It is being marketed to people who want a briquette that contains fewer ingredients, that lights without the characteristic Kingsford smell, and that produces less ash than "blue bag" Kingsford.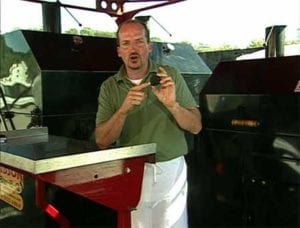 Kingsford has enlisted barbecue champion Chris Lilly as spokesman for Kingsford Competition Briquets. He has appeared at several promotional events for the product and has provided endorsements and recipes that will appear on Kingsford.com this Spring.

Ingredients In Competition Briquets
Kingsford Competition Briquets contain only three ingredients:
Wood Char (Heat source)
Starch (Binder)
Borax (Press release)
Borax is used to help briquettes release from the press molds. It is a naturally-occurring mineral that is non-toxic and represents only a fraction of a percent of the briquette mix.

What Kingsford Says About Competition Briquets
The company makes the following statements about Kingsford Competition Briquets on the bag:
New! 100% All-Natural Competition Briquets.
12 pounds lasts the same as a 15 pound Kingsford original bag.
High heat for grilling, searing, and slow cooking.
When there's smoke, there's fire—and some of the best food on the planet. We're talking about All-American barbecue cook-offs, where tangy scents linger and competition sizzles. Bring the experience home with Kingsford Competition Briquets: high heat that's ready to cook on fast for grilling, searing, or slow cooking.
Kingsford Competition Briquets burn hot and are ready to cook on fast! They provide for a range of cooking methods based on how you arrange the briquets and control the air flow.
Slow Cooking is a process of barbecuing for long periods of time at low temperatures to add flavor and tenderize. Pour coals on one side of the grill to create zones. Cook over a drip pan with water on the empty side, closing the vents more to achieve lower temperature and maintain more moisture.
Made in the USA.
In 2014, Kingsford added the phrase, "Also great for smokers and ceramic grills" to the bag with an artist's rendering of a blue Kamado-style smoker.

Product Photos
In theory, "blue bag" Kingsford and the new Competition Briquets are supposed to be the same size and shape. However, variations in the manufacturing process will result in slight differences in briquette shape or thickness.
For example, as the press rolls that stamp-out the briquettes wear down with use, the shape and thickness of the briquettes will change. Comparing briquettes manufactured at different factories may show differences in shape or thickness depending on the condition of the press rolls at each factory. In fact, briquettes manufactured at the same factory but at different points in time may exhibit differences in shape or thickness as a result of worn press rolls. This can occur in "blue bag" to "blue bag" comparisons as well as in "blue bag" to Competition Briquet comparisons.
Another factor, according to Kingsford scientists, is that Competition Briquets made with such a high level of wood char have a tendency to "spring back" after pressing, unlike "blue bag" Kingsford that contains coal and limestone which are not so "springy".
It is some combination of these two factors—worn press rolls and "springy" wood char—that accounts for the difference in thickness seen in the side view comparison photos below.
Weight Difference Before Burning
Kingsford Competition Briquets weigh less than "blue bag" Kingsford because they contain only lightweight wood char as the heat source.
I counted out 100 of each briquette, weighed them, and found the following:
| | |
| --- | --- |
| 100 "Blue Bag" | 100 Competition |
| 6 lbs, 1-3/8 ounces | 4 lbs, 11 ounces |
100 Competition Briquets weighed 1 lb, 6-3/8 ounces less than 100 "blue bag" briquettes.
On average: A "blue bag" briquette weighed 0.974 ounces.

A Competition Briquet weighted 0.75 ounces.
A Competition Briquet weighed about 23% less than a "blue bag" briquette.
Comparison Burn
I burned 100 of each briquette in identical Weber chimney starters. Unlike burning in the airflow-controlled environment of the WSM, this was an uncontrolled burn—I just lit them and watched what happened over the next 3 hours.
Each chimney starter was placed on a separate WSM so I could measure the weight and volume of ash produced after burning.
The Competition Briquets produced a tall column of white smoke that smelled like wood while lighting. The "blue bag" briquettes produced a lesser amount of dark gray smoke and had the usual Kingsford smell.
Here are side-by-side photos comparing the burn of each product over 3 hours. The "blue bag" product is on the left, the Competition Briquet product is on the right.
Notice that the first visible orange color of lit charcoal deep inside the chimneys can be seen at 15 minutes with both charcoals, but the Competition Briquet is also giving off a few little orange sparks, too.
At 20 minutes, flames are licking at the briquettes at the top of each chimney, with the Competition Briquets showing the first signs of ashing.
At 25 minutes, the Competition Briquets are showing signs of bright white ash, while "blue bag" Kingsford is just beginning to develop gray ash.
At 30-35 minutes, both charcoals seem to be equivalently flaming and ashed over, but at 65 minutes and beyond, the Competition Briquets are consumed more quickly and expire well before the "blue bag" product.
Weight & Volume Difference After Burning
I carefully brushed the ashes out of each WSM and placed them in an 8-cup bowl. I weighed the ashes and then subtracted the weight of the bowl. To measure the volume of ashes, I used the "dip & sweep" method using measuring cups, similar to how you measure flour when baking.
| | | |
| --- | --- | --- |
| | 100 "Blue Bag" | 100 Competition |
| Net Weight | 1 lb, 5-1/8 ounces | 8-1/2 ounces |
| Volume | 5-3/4 cups | 2-3/4 cups |
100 "blue bag" briquettes produced over twice as much ash as Competition Briquets when measured by weight and volume.
The Competition Briquet ash is whiter than "blue bag" Kingsford, but of similar consistency. It is not "fluffy" and does not float like lump charcoal ash may at times.
Conclusion
It appears that Kingsford Competition Briquets light faster, burn hotter, produce less ash, and smell like wood when lighting as compared to "blue bag" Kingsford. However, it also burns faster than "blue bag" Kingsford in an uncontrolled situation as in a chimney starter.
It will be interesting to see if Competition Briquets can be coaxed into burning as long as "blue bag" Kingsford in the controlled environment of the WSM with good vent control.

More Kingsford Links On TVWB