In This Topic
Product Packaging
This photo shows a 16 pound bag of Kingsford Original charcoal briquets ($14.97 at Tractor Supply Co.), a 17.6 pound bag of B&B Competition Oak charcoal briquets ($14.98 at Ace Hardware), and a 12 pound bag of Franklin Barbecue charcoal briquets ($10 + $23.86 mail order shipping). Obviously, Franklin Barbecue charcoal only makes financial sense for those who can buy it locally at HEB supermarkets in Texas.
What Kingsford Says About Original Charcoal Briquets
Kingsford makes the following claims on the bag:
Made with 100% natural ingredients
Made in the USA with North American ingredients
The Way BBQ Should Taste
The First. The Best. The Original.
Since 1920
16 LB
About 4 uses
What Franklin Barbecue Says About Post Oak Charcoal Briquets
Franklin Barbecue makes the following claims on the bag:
100% Natural Hardwood
Post Oak Charcoal BBQ Briquets
No Chemicals – No Fillers
True Texas Post Oak Wood Flavor
Burn HOT and LONG and are BETTER for your meat and the environment
12 LBS
LET THERE BE FIRE!
MAY ALL YOUR Meat Dreams COME TRUE
Made in Mexico using Texas post oak
What B&B Says About Competition Oak Charcoal Briquets
B&B Charcoal makes the following claims on the bag:
Since 1961
Texas Style
Official Charcoal of Steak Cookoff Association
Burns Hotter, Longer, Cleaner
All Natural – No Chemical Additives Or Fillers
B&B Briquets Made "Naturally" From Oak Lump Charcoal
17.6 LBS
Comparing Performance Of Each Charcoal
On January 10, 2022, I conducted a burn test comparing samples of Kingsford Original Charcoal Briquets (purchased June 2021), Franklin Barbecue Charcoal Briquets (purchased November 2021), and B&B Competition Oak Charcoal Briquets (purchased May 2021).
The objective of the burn test was to see:
Which charcoal appeared to light the fastest
Which charcoal appeared to burn the hottest
Which charcoal appeared to burn the longest
Which charcoal produced the least ash by weight and volume
Product Comparison Photos
Here are side-by-side photos of all three briquets. The Kingsford product is pillow-shaped (thick in the middle, thin at the edges) and features the distinctive Kingsford "K" stamped into one side and two diagonal "Sure Fire Grooves" stamped into the other side. Kingsford is the smallest of the three briquets.
The Franklin product is also pillow-shaped and is smooth on both sides with no markings. When viewed from above, it's larger than Kingsford and about the same size as B&B.
In contrast, the B&B product is not pillow-shaped. Each briquet is generally even in thickness with rounded corners and edges. Many pieces in the sample had a pronounced seam running around the perimeter of the briquet. The letter "B" is stamped into both sides. This product feels very dense for its size compared to Kingsford and Franklin.
Weight Difference Before Burning
I placed as many briquets of each brand as would fit in identical Weber chimney starters, shaking down the contents every 20 briquets. I transferred the briquets to a foil pan and weighed them using an electronic kitchen scale.
The weight of each pan was noted in grams, then the briquet name and count, then the net weight of the briquets. Once weighed, the briquets were placed back into the chimney starters.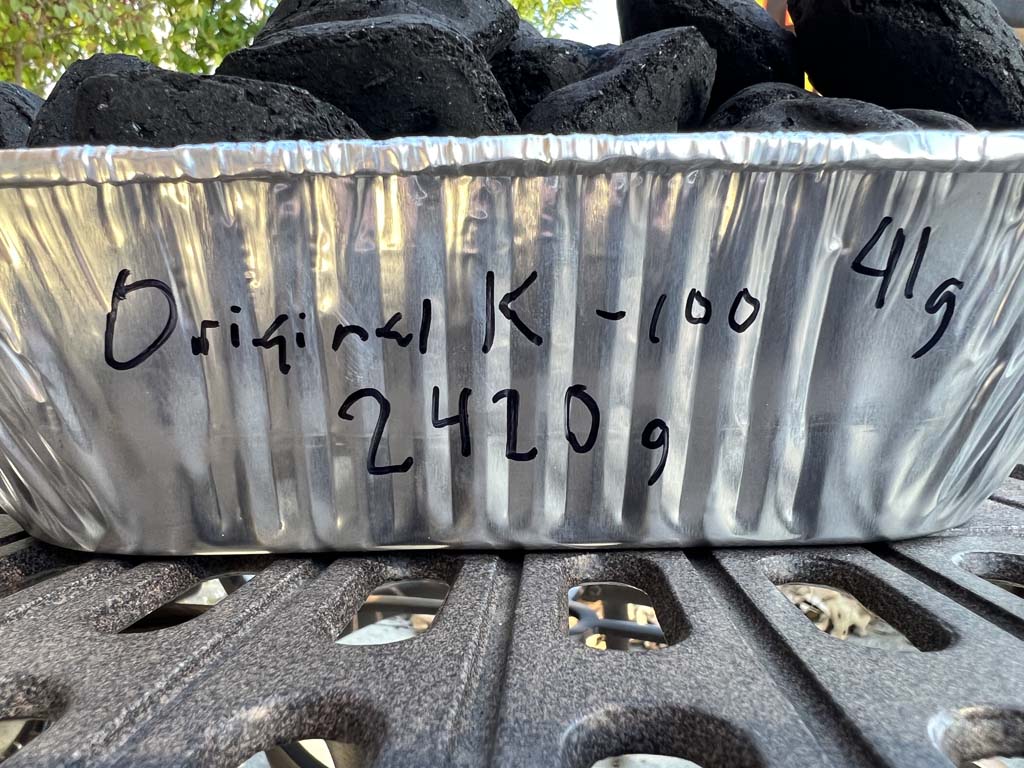 Here's the briquet count and net weigh for each brand of charcoal:
| | | |
| --- | --- | --- |
| Kingsford (100) | Franklin (84) | B&B (62) |
| 2420 g / 5.34 lbs | 2462 g / 5.43 lbs | 2900 g / 6.39 lbs |
On average:
A Kingsford briquet weighed 24.20 g / 0.854 oz.
A Franklin briquet weighted 29.31 g / 1.034 oz.
A B&B briquet weighted 46.77 g / 1.650 oz.
Testing By Volume, Not By Weight
I don't know of anyone that decides how much charcoal to use in their Weber smoker based on weight. Rather, we use charcoal by volume. We light a half full or filled-to-the-top chimney starter of charcoal, or we load the WSM charcoal chamber half full or filled to overflowing with charcoal. These are all volume measures, not weight measures.
This is why I conduct burn tests based on charcoal volume and have standardized on a large Weber chimney starter as the measure of volume for each test.
The Burn Test
I conducted this burn test on January 10, 2022.
Each Weber chimney starter was lit using one Weber lighter cube. Unlike burning in the vent-controlled environment of a Weber smoker, this was an uncontrolled burn test—I just lit the charcoal and watched what happened over the next 120 minutes.
Each chimney starter was placed on a grate over a disposable foil pan so I could measure the weight and volume of ash produced after burning. Some ash was lost during the burn test—it got carried away by the heat rising out of the chimney starter (a light dusting of ash covered the area around the gas grill upon which I conducted the test)—but this test would still provide a good sense of which charcoal produces the most ash and which produces the least.
The following photos should be taken with a grain of salt. The burn temperature of each charcoal is highly variable from moment to moment. I include these photos just to give you a general sense of the level of heat generated by each charcoal 30 minutes into the 2 hour burn test.
It is interesting to note that one of Kingsford's claims is that their charcoal burns hotter…that seems to be the case here.
What follows are side-by-side photos comparing the burn of each product over 120 minutes.
During the first 10 minutes of lighting, Kingsford briquets gave off more smoke and a whiter smoke than the other two briquets. At the 15 minute mark, Kingsford and B&B were giving off a reduced amount of smoke, while Franklin continued to smoke quite a bit until between 20-25 minutes.
Kingsford appeared to be ready for cooking between 15-20 minutes, while both Franklin and B&B appeared to be ready for cooking between 20-25 minutes.
At the 25 minute mark, Kingsford was burning much more intensely than the other two charcoals. It took another 10 minutes for them to catch-up with Kingsford.
At the 45 minute mark, you can see that Kingsford is being consumed more quickly than the other two charcoals. At the 110 minute mark, Kingsford is basically done, while Franklin has maybe 15 minutes left and B&B is still going strong.


Weight & Volume Difference Of Ashes After Burn Test
After 120 minutes, I stopped taking photos and let the charcoal burn-out. When the ashes were cool, I tapped each chimney so that any remaining ashes fell into the foil pan below. I placed an empty foil pan on the scale, tared the scale to zero-out the 41g weight of the pan, and weighed each ash-filled pan to determine the net weight of the ashes. To measure the volume of ashes, I used the "dip & sweep" method using measuring cups and measuring spoons, similar to how you measure flour when baking.
| | | | |
| --- | --- | --- | --- |
| | Kingsford | Franklin | B&B |
| Net Weight of Ashes | 451 g / 15.91 oz | 276 g / 9.74 oz | 340 g / 11.99 oz |
| Volume of Ashes | 5-1/4 cups | 4-3/8 cups | 6-1/16 cups |
| Percentage of Ashes | 451 g ÷ 2420 g = 19% | 276 g ÷ 2462 g = 11% | 340 g ÷ 2900 g = 12% |
In the following photos, you can see samples of all three ashes. The Kingsford and B&B ashes are light tan in color, while the Franklin ashes are light grey in color. The texture of all three ashes appears quite similar.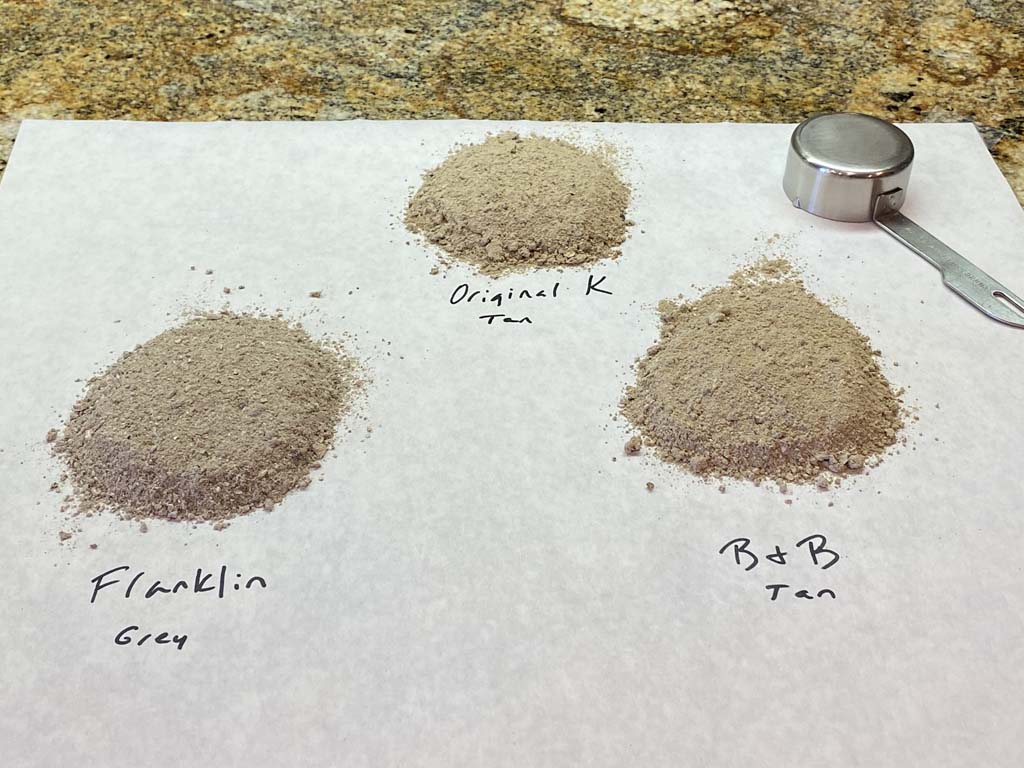 Conclusions
In an uncontrolled burn test:
Kingsford Original charcoal briquets lit faster than Franklin Barbecue charcoal briquets and B&B Competition Oak charcoal briquets. This makes sense because Kingsford made significant changes in briquet design and ingredients in 2006, 2010, and 2015 to make the product light faster.
Kingsford appeared to burn hotter than Franklin and B&B.
B&B burned longer than Franklin and Kingsford.
Franklin produced the least ashes by every measure. B&B produced the most ashes by volume. Kingsford produced the most ashes by weight and as a percentage of the pre-burn briquet weight.
More Kingsford Links On TVWB