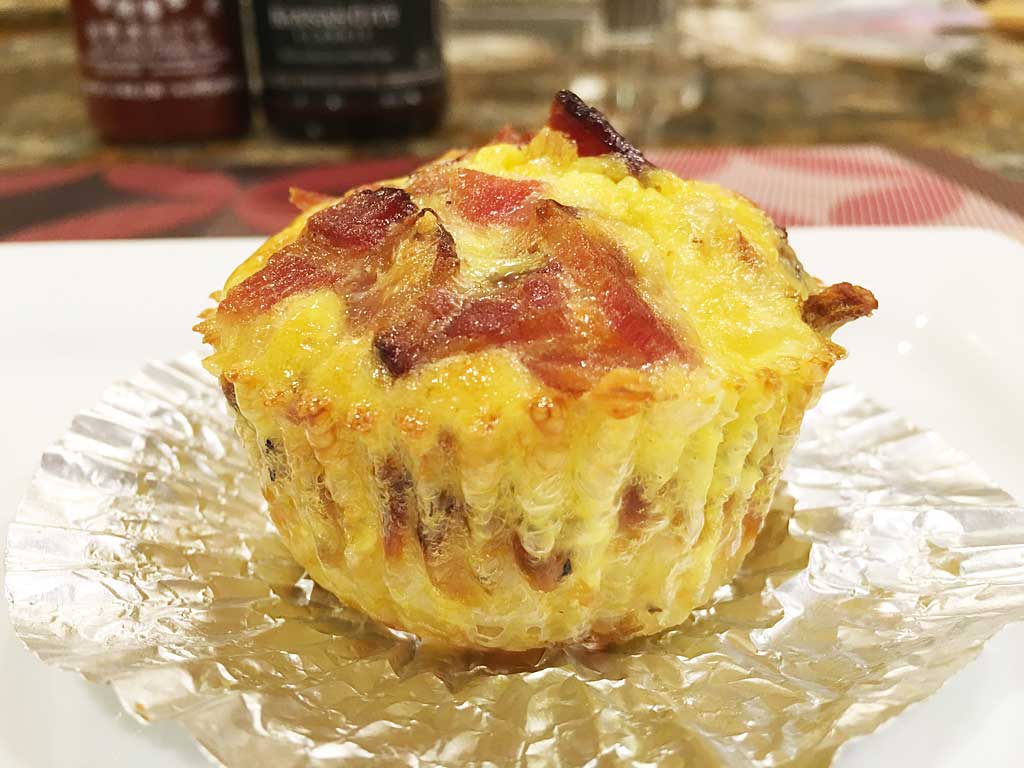 I'm always looking for new and interesting ways to use leftover barbecue. I'm also looking for new and interesting things to eat for breakfast. Here's a recipe that combines both—a barbecue breakfast cupcake.
This recipe was published on BettyCrocker.com using bacon as the featured meat, but any smoked meat can be used—think ham, sausage, brisket or pork butt.
Here are some photos I took when making breakfast cupcakes on December 8, 2015.
Your Shopping List
You'll need 3/4 cup of finely chopped smoked meat to make 12 cupcakes. I had two meats on hand: buckboard bacon made from pork butt (left) and traditional bacon made from pork belly (center). I decided to use the traditional bacon.
It took 9 slices of bacon to get the 3/4 cup of chopped bacon needed for this recipe. The number of slices will depend on the size and thickness of your bacon. Better to cook-up too much bacon than too little when making this recipe. I like to bake the bacon on a parchment-lined, rimmed baking sheet pan in a 400°F oven for 15-20 minutes until crispy.
Here are the ingredients you'll need to make these cupcakes.
Ingredients List
1 bag (20 oz) refrigerated shredded hash brown potatoes
2 Tablespoons vegetable oil
1/2 teaspoon salt
1/4 teaspoon black pepper
6 large eggs
2 Tablespoons milk
3/4 cup crumbled crispy bacon or any finely chopped smoked meat (sausage, ham, brisket, pulled pork)
3/4 cup (3 oz) shredded cheddar cheese
Sriracha sauce, barbecue sauce, or ketchup
Chop the barbecue meat and shred the cheese the night before.
Prepare The Potato Layer
Pre-heat the oven to 400°F. Place 12 foil baking cups in a regular-sized muffin pan. Foil baking cups are often lined with a paper cup; remove the paper cup and use only the outer foil cup. Spray foil cups generously with non-stick cooking spray.
Mix the potatoes, oil, salt and pepper in a large bowl. Divide the potatoes evenly among the cups, pressing down lightly. Don't worry that the cups seem too full—the potatoes will cook down during baking, and after baking you'll press them down further to make room for the remaining ingredients.
Bake for 45-55 minutes until the potatoes are golden brown.
Prepare The Egg Mixture & Bake The Muffins
Beat the eggs and milk in a medium bowl. Stir in finely chopped barbecue and cheese. Use the bottom of a 1/4-cup dry measuring cup to firmly press the hash browns into their cups. Add slightly less than 1/4 cup of the egg mixture to each cup.
Bake for 13-16 minutes until a knife inserted into the middle of the cupcake comes out clean. Cool for 5 minutes.
Serve the cupcakes with Sriracha sauce, barbecue sauce or ketchup on the side.