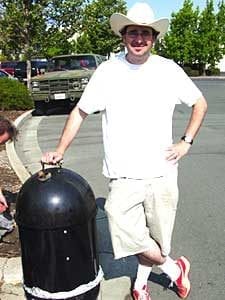 Henry Joe Peterson works for a well-known advertising agency in San Francisco, CA and is a frequent visitor to The Virtual Weber Bulletin Board. He owns two WSMs and is shown here at the Paul Kirk School of Pitmasters Class held in Concord, CA on June 14, 2003.
Note the stylish foil gasket that Henry Joe fashioned to plug the leaky joint between the middle cooking section and charcoal bowl on one of his cookers.
---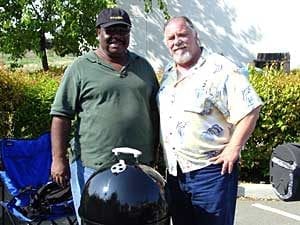 Elvin Giles and Brent Walton took first place brisket in the mock competition at the Paul Kirk School of Pitmasters Class held in Concord, CA on June 14, 2003. They couldn't have been prouder!
---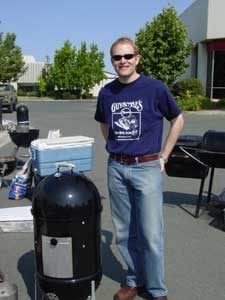 Kyle Beatty is another satisfied WSM owner that honed his barbecue skills by attending the Paul Kirk School of Pitmasters Class in Concord, CA on June 14, 2003.
---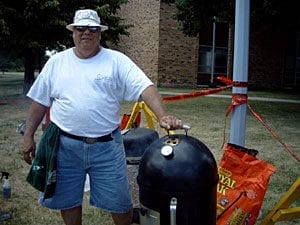 Tony Serra from Burbank, IL writes, "The best thing that I like about my WSM is the low maintenance on long cooks. Set it and forget it."This photo was taken at my first competition and I felt pretty good about taking third place in ribs."
---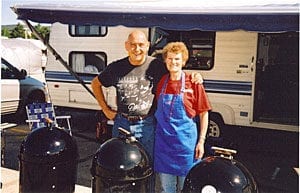 Mike Scrutchfield and Donna McClure are two of the most prolific KCBS barbecue champions ever, and both used WSMs for many years during the 1990s. Mike competed under the team name "Top Secret" and was so successful that Weber featured him in a national advertising campaign. He gave up competition in the late 1990s to focus on his real estate business. He's best known for his popular Best Ribs In The Universe recipe.
Donna and Ted McClure, competing as PDT (Pretty Damn Tasty), used WSMs exclusively for years on the KCBS circuit.
Bob Lyon caught up with Mike and Donna at the Great American Barbecue in Kansas City over Memorial Day Weekend 2005, got them to pose with these Weber Bullets, and was kind enough to share this photo with TVWB.
---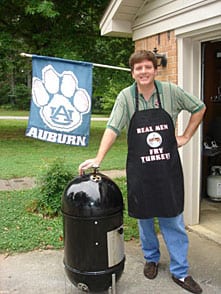 Mark Etheridge lives in Madison, AL and cooked "The Renowned Mr. Brown" Boston pork butt during the 1st Annual International WSM Smoke Day on May 28, 2005. Mark writes, "This cook just happened to coincide with a visit from my Aunt's family who hail from…BOSTON!! In listening to their praise of how good the meat was you'd begin to believe they though it was the greatest thing since sliced bread."
---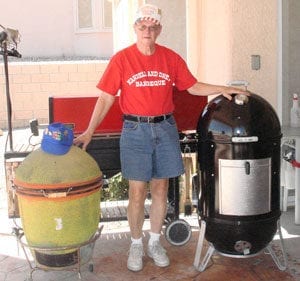 Leon Drew from Las Vegas, NV is shown here in his backyard with a 22-1/2″ WSM, a 1989 Weber Genesis gas grill, and a Komodo smoker. Looks like Leon's smokin' in the desert…
---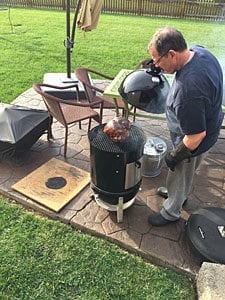 John Raiona from Louisville, KY says, "Here I'm smoking a 10 lb turkey breast for Thanksgiving using some great advice and tips I learned from The Virtual Weber Bulletin Board." Thanks for the kind words, John, hope the turkey was delicious!