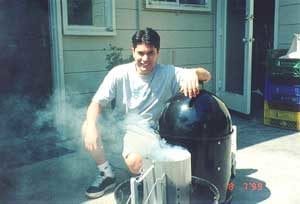 Here's my good friend Duncan "Cam" Engel (aka "SLO Roaster") of San Diego, CA with his Weber Bullet.
This picture captures his excitement as he fires-up his new Weber chimney starter for the first time!
---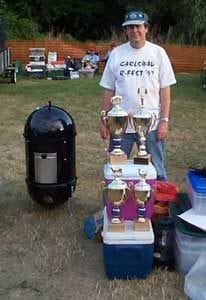 In mid-1999, Garry Howard started a one-man BBQ team called Liquid Smoke. He's been very successful at a number of events, including the Reserve Grand Champion Title at the 1999 Lexington BBQ Battle, shown in this picture. Garry cooks with two Weber Bullets in competition and says, "Thanks, Weber!" after this big win!
For many years, Garry was the proprietor of The Smoke Ring webring and had his own terrific BBQ website at bbq.netrelief.com.
---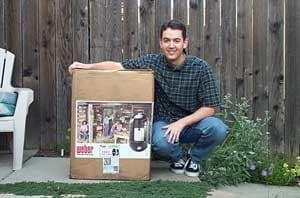 Here's another good friend, Brian DeHamer (aka "Hammer") of San Diego, CA posing with his still-in-the-box WSM. He treated himself as a reward for completing his MBA and Masters in Engineering…at the same time! Hey brainiac, stop studying and start smokin'!
---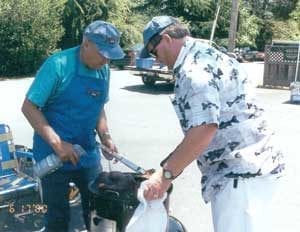 Bill Forsythe and Ray Hoegger are shown here basting chicken on the WSM at the Paul Kirk Pitmasters Class in Los Altos, CA in June 2000. Bill runs BBQ Bill's, a catering business in Foresthill, CA and Ray owns Allen's Custom Meat in Auburn, CA.
---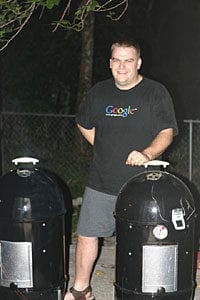 Ryan Snedegar hails from Austin, TX. He writes, "I like my Bullet because it's handy, easy to use, works great, and your site provides tons of good info on using it. Plus, it makes great 'Q that folks love."
---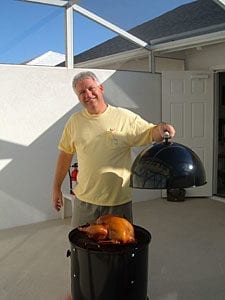 Ken Halle lives in Jupiter, FL. He writes, "I've had my WSM since November 2005 and I've done turkey, pork butts, brisket, and the BRITU ribs. My family really loves everything that comes off the WSM. "At Thanksgiving, I did turkey in the WSM and a fried turkey. The apple-brined turkey was such a hit I had to make another one for Christmas. I'm attaching a picture of me from Thanksgiving. Thanks for a great and informative website!"
---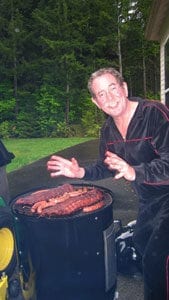 Jeff Pilon from North Bend, WA got his new 22-1/2″ Weber Bullet just in time for WSM Smoke Day VI in May, 2010. For the maiden voyage, Jeff cooked 2 racks of baby back ribs, 2 racks of beef ribs, and some sausage links for a snack.
---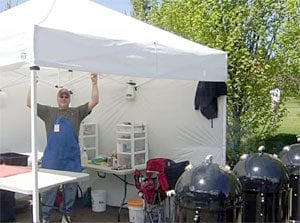 Here's Kevin Webb from Kennewick, WA. He says this photo was taken "back in the start of a new life," at a Pacific Northwest BBQ Association cooking class with his Weber smokers.