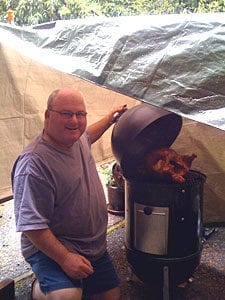 "It isn't pretty but had to make due for the 'Sandwich Turkey' for Thanksgiving," says Randy Pierce, who lives in Seattle, WA. "This was a 20 lb. bird, self-basting, that took 6 hours to cook…the outdoor temp was 45°F and it was raining. Happy Thanksgiving!"
---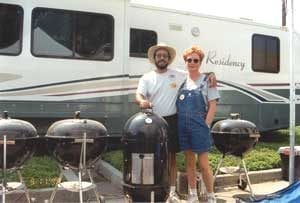 Here are Killer George and Cayenne Red, just two of the five member Pork Belly Bandits team from Agoura, CA. They pose with the centerpiece of their competition hardware—the Weber Smokey Mountain Cooker!
---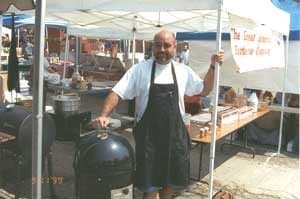 Dan Ferreira is co-owner of The Great American Barbecue Co. in Alameda, CA. He uses a couple of pits in competition, but places the Weber Bullet front and center in his space. When asked to describe the Weber Bullet, Dan can only come up with two words—"easy" and "awesome"! What more needs to be said?
---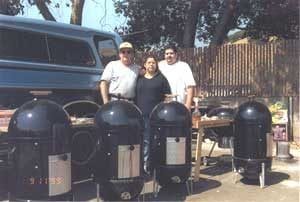 Dueling Bubbas is the name of this team from Los Angeles and Rowland Heights, CA. Pictured from left to right are Don Grissom, Blanca Ortiz, and Derek Muller. One of the best organized teams at the 1999 Niles, CA cook-off, their corral of cookers includes four shiny Weber Bullets, a Weber kettle, and lots of probe thermometers!
---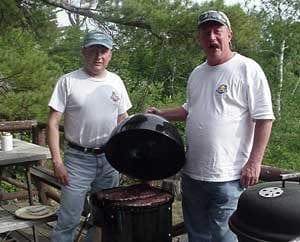 Here's Steve Kranz (right) and his friend Jim Anderson (left) cooking ribs on "R2D2", as Steve calls his WSM. Steve, his son Tony (behind the camera), and Jim make an annual trip to Northern Minnesota, just south of the Boundary Waters Canoe Area at Life of Riley resort on Lake Vermilion. They just wrap R2D2 in garbage bags and put it between the seats on the boat!
For their June 2000 trip, they brought along a 10-pound brisket, three slabs of ribs, and a dozen sausages. Steve writes, "the food was fabulous, and I think we had some of the other visitors wondering what smelled so good at our cabin. We had the resort owner up for some ribs…he didn't have much to say, as he couldn't stop eating. We ate VERY well and had a wonderful time."
---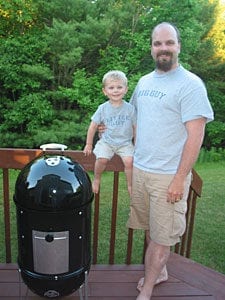 What to give Dad for Father's Day? Why, a new Weber Smokey Mountain Cooker, of course! This photo shows Chris D of Albany, NY with his two year old son Nate on Father's Day 2005. Nate had a little help from Mommy, who did extensive research on smokers before deciding on a WSM.
"One of the determining factors was your website," says Chris, "I couldn't have chosen better myself!"
---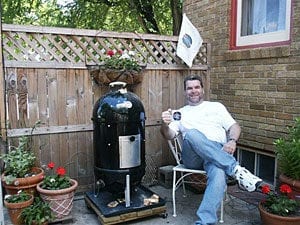 This relaxed looking fellow is Joel Kiess from Des Moines, IA. He's shown here cooking brisket and spare ribs during the 1st Annual International WSM Smoke Day on May 28, 2005. In fact, Joel is the guy who first suggested the idea of Smoke Day. Thanks Joel!
---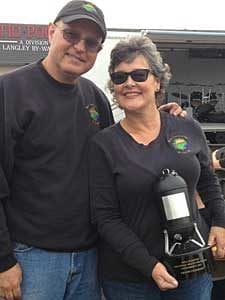 JD McGee from Duvall, WA shared this unique photo…a cool WSM-shaped trophy he won at the BBQ on the Bypass competition in British Columbia, Canada, in September 2013. His Wine Country "Q" Competition BBQ Team got five calls…1st in pork, 1st in brisket, 3rd in chicken, 3rd in ribs, and Grand Champion! Congratulations, JD!