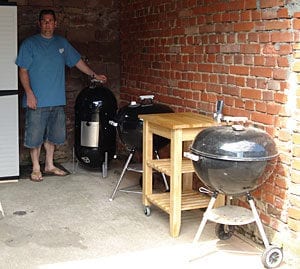 Sean Jones lives in Gelnhausen, Germany and is shown here with his WSM and two Weber kettles.
Sean writes, "Thanks to your website, I am a proud owner of the WSM. Even though all Weber products are twice the price here in Germany as in the U.S., it's all worth it. I love how well the WSM holds a consistent temperature. All of my cooks have turned out perfect. Thanks for all the great info."
---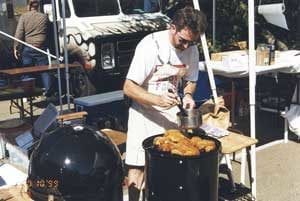 This is Tom Brohamer from Long Beach, CA representing the BBQ'N Fools Competition Cooking Team at the 1999 West Coast BBQ Championship in Santa Cruz, CA.
Tom had the daunting task of cooking all by himself in the competition, but managed to walk away as Reserve Champion! Tom used two Weber Bullets, each one equipped with a Weber kettle side table.
---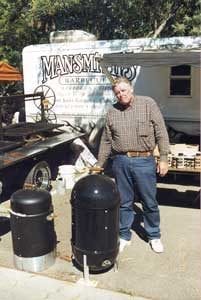 This man is my hero, because he and his family make some of the best tri-tip sandwiches you'll ever taste! Jon Mansmith of Mansmith's Barbecue was kind enough to pose for this picture alongside the Weber Bullet he used in competition at the 1999 West Coast BBQ Championship. Jon has a wonderful line of rubs and seasonings for BBQ and grilling, plus a very versatile BBQ paste, all of which he sells by phone and on his website. He also does catering in and around Santa Clara/San Benito counties in California. Jon can be reached at 800-MANSMITH or at www.mansmith.com.
---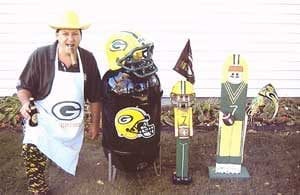 Kevin Taylor (aka "Stogie") sent in this picture of his "Packer Weber." He has used it to satisfy the appetites of up to 40 hungry fans on game day. Nice goin', Kevin…and go Packers!
---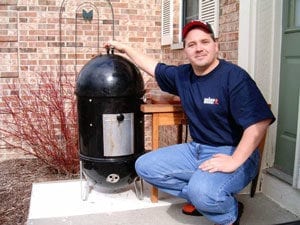 Brian Hartman of Crystal Lake, IL says, "I have used my WSM in the backyard as a grilling and barbecue-aholic. I recently formed a barbecue team called 'Meat Hawgs' and plan on competing soon. "This picture is when I added a third grate to my WSM and cooked 44 pounds of pork shoulder over 19 hours. I love the consistency of the WSM. When I fire it, I know what to expect every time."
---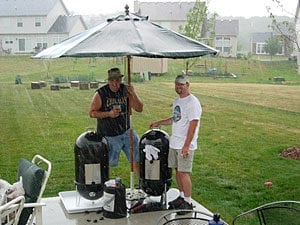 Rick & Shawn Soliman hail from Minooka and East Peoria, IL, respectively. They're shown here cooking during spring showers with their WSMs in the backyard. Rick writes, "The WSM brings our family and friends together. Everyone looks forward to a weekend of great barbecue and spending quality time together."
---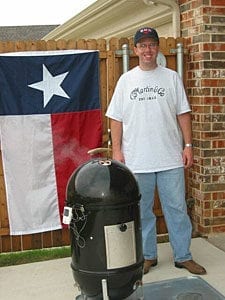 Greg Williams from Dallas, TX, cooks brisket during the 1st Annual International WSM Smoke Day on May 28, 2005.
---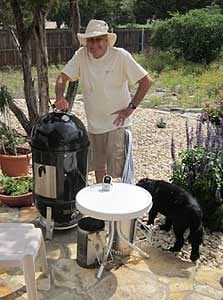 Richard Hinton, who's enjoying retired life in the Texas Hill Country, is shown here with his four-legged helper, who always makes sure spills are immediately cleaned up, whether they are near the WSM, the Weber Performer, or any other outdoor cooker.