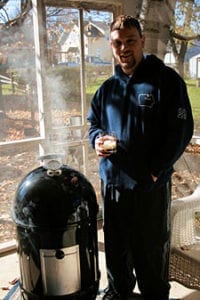 Brandon Arickx of Osage, IA is shown here with his WSM in the Fall of 2007. Brandon writes, "This was my first smoke, and a proud moment." A man of few words, Brandon let's his barbecue do all the talking.
---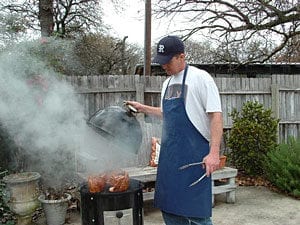 Stan Bullington lives in Fort Worth, Texas, and is seen here admiring three slabs of rolled baby back ribs. Stan writes, "The best thing about a WSM is probably the ease of use and the consistency of the end product."
Stan says his young daughter Hannah is the next generation WSM user in the family.
---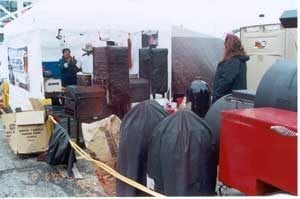 Tom & Josh's Orgasmic Slabs is a top competitor at barbecue contests throughout the Midwest and is shown here at the 2000 American Royal Invitational. They used a variety of cookers, including the Weber Bullet you see in the background. Note the two Weber Bullets under cover in the foreground.
---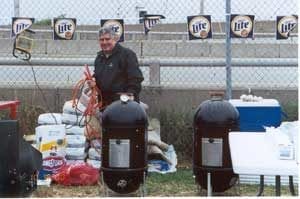 Is this guy a barbecue competitor or an electrician? Apparently he's both as he wires up the CDJ Smokers booth at the 2000 American Royal Open. Looks like he plans on doing a whole lot of barbecuing, given that huge stack of Kingsford behind him! Oh, and he like Miller Lite beer, too.
---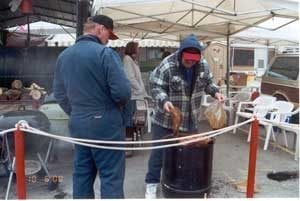 It's hard to tell from this picture, but this Weber Bullet is already chock-full of brisket flats, and this guy from Fat Daddy & The Grazers barbecue team is gonna get that last one in the cooker one way or the other. I think the guy on the left was supervising. This team used two WSMs and two Weber kettles at the 2000 American Royal Open.
---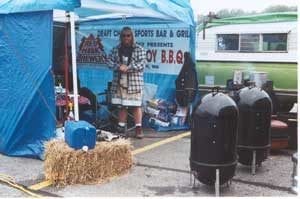 Another team hailing from the great Pacific Northwest, Doughboy BBQ is shown here competing at the 2000 American Royal Invitational with their two Weber Bullets. These gentlemen were hearty souls, wearing shorts despite the extremely cold temps and high winds. They finished 42nd in the Invitational and 97th in the Open. Good showing, guys!
---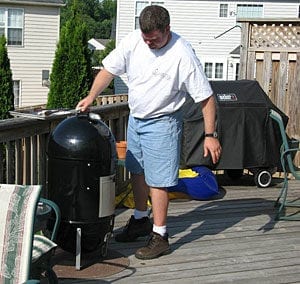 Here's Charles Fisher from Germantown, MD, cooking during the 1st Annual International Smoke Day on May 28, 2005.
---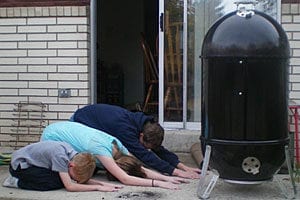 Brad Greer recently participated in one of the member throwdown competitions held on The Virtual Weber Bulletin Board. He and his two kids are shown here bowing down to his 22-1/2″ WSM in the hopes of cooking an entry good enough to win the throwdown!