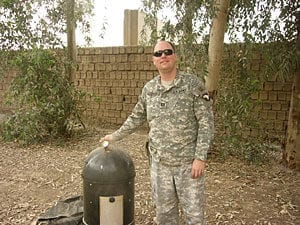 CPT Lance Leonard of Fort Campbell, KY is shown here at Camp Stryker in Baghdad, Iraq in 2008. When called to his third tour of duty in Iraq, Lance decided he wouldn't leave his WSM at home. He cooked whatever was available—usually salmon or ribs, sometimes brisket—every few weeks as a moral booster for his men. Other difficulties included access to spices, sauces, and even basic sanitation to ensure food safety. Happily, Lance is now back in the U.S. safe & sound enjoying a new WSM…the one shown here stayed behind in Baghdad.
---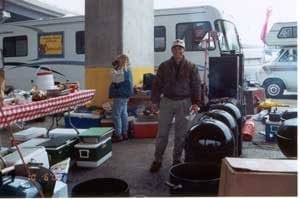 The Beerocrats are a group of Kansas City city employees that get together each year to compete in the American Royal Open. They administer three Weber Bullets and several other cookers from the comfort of their recreational vehicle.
---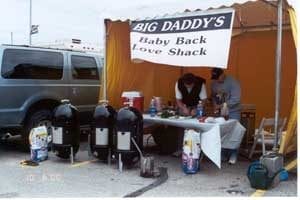 Big Daddy's Baby Back Love Shack is seen here prepping one of their meat presentations at the 2000 American Royal Open. Three WSMs were used exclusively for their cooking at this event.
---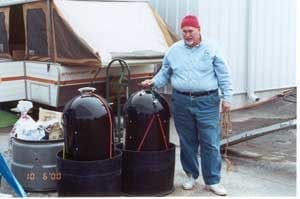 I caught John Romanchuk of Dead Meat Smokers unloading his Weber Bullets in preparation for the 2000 American Royal Open. He traveled to Kansas City all the way from Rabbit Gulch Farms near Livermore, California.
---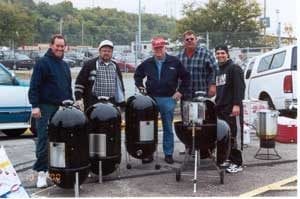 What do you get when you combine four Weber Smokey Mountain Cookers, a Weber kettle, and five highly motivated and competitive men? Tag Team BBQ, shown here at the 2000 American Royal Open competition.
---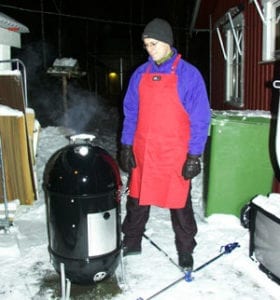 Tomas Bjornerback lives in Umeå, Northern Sweden, where he is a high school teacher. Tomas writes, "My first contact with true BBQ was when I visited Texas back in 1999. I thought of building my own BBQ from bricks, but when I raided the 'Net for information and blueprints, I came across the WSM and eventually I found this site."
Weber Scandinavia told Tomas that a WSM would cost about $400, so a friend brought this one over on a flight from the U.S. for a much lower price.
Oh, and about those ski poles? They keep the lid off the ground and out of the snow when removed.
---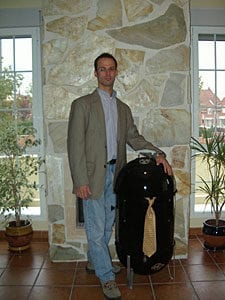 Sal DeTraglia from Castilla-LaMancha, Spain, writes, "After living a Q-less existence in Spain for six years, I couldn't stand it anymore. I needed a smoker to make my own Q here, and decided on a WSM because (a) I've been a devoted Weber gas grill owner for years, (b) my research showed that the WSM is well-built and easy to use, and (c) I knew that I could rely on TVWB website as a resource to help me conquer the learning curve. The only problem was that Weber's distributor does not import the WSM to Spain. So…I bought it through Amazon.com, had it shipped to my parents' house in Chicago, and then had them re-ship it to me in Spain. The shipping and import fees cost $20 more than I paid for the smoker itself, but it was worth every damn penny. My WSM is now (as far as I can tell) one of only four in Spain…although I hope that changes in the future."
---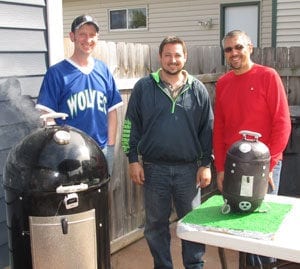 Tony Koury has an awesome wife named Diane. She made this Weber Smokey Mountain Cooker cake for the annual backyard barbecue cook-off at their house. Tony (in the red shirt) says that the only part not edible was the charcoal bowl base—everything above that was layers of delicious cake. "One was white with a lemon curd filling, one was chocolate with vanilla custard, and a vanilla with raspberry filling."