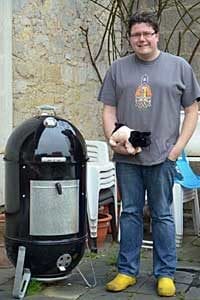 Joerg Schwaab lives in a little village called Wackernheim near Mainz, Germany. "Weber products are very expensive over here in Germany," says Joerg. "I bought my WSM on our way back from a vacation to Denmark. The WSM 57cm has arrived in our backyard and it's wonderful to cook all the delicious meals with it."
---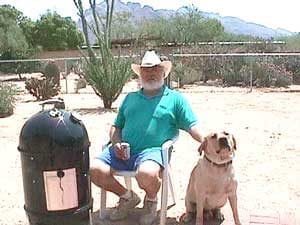 Bruce Kennedy writes, "I have my WSM, my Bud and my best bud 'Max'. Life is good on a nice hot day in Tucson, Arizona. I love to cook pork slabs and then I like to eat them and share with other people. Take care and enjoy your BBQ."
---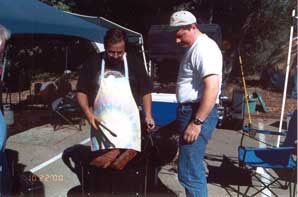 Ric Gilbert (left) is shown here tending pork ribs on the WSM at the 2000 West Coast Barbecue Championship in Santa Cruz, CA. Ric began competing in 2000 as Ric's Righteous Ribs. He definitely knows how to create some heavenly barbecue!
---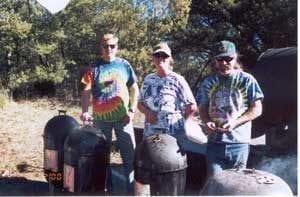 Team Huff'n & Puff'n hails from somewhere in or around Ventura County in Southern California. They're shown here with their three Weber Bullets at the 2000 West Coast Barbecue Championship in Santa Cruz, CA.
---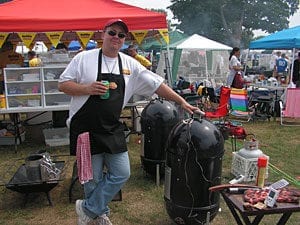 Cooking on two WSMs and a Weber kettle, pit boss Ted Lorson of Q Haven BBQ from Norwich, CT defeated 33 teams to win the New Hampshire Rock-n-Ribfest in June 2006. The win was Q Haven's second ever competition, and propelled the team to an invitation to the Jack Daniel's World Championship Barbecue in October 2006. Q Haven now has four WSMs and will be participating in a full schedule of barbecue events in the Northeast in 2007, cooking exclusively on Weber Bullets.
---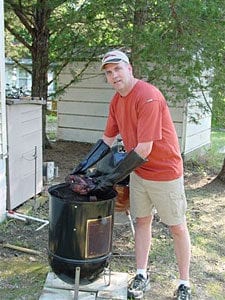 Chris Barnes from Overland Park, KS, is shown here cooking brisket and pork butt during the 2nd International WSM Smoke Day celebration on May 27, 2006. "This is my $15 WSM that I use at the lake," says Chris. "Love those estate sales."
---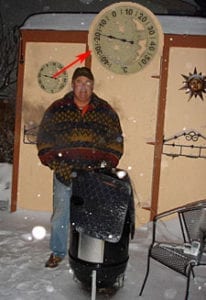 Paul McKeen from Winnipeg, Manitoba writes, "Winter tends to get 'a little cold'. The temperature and the seasons do not bother me, as I smoke ALL year round. "The coldest weather I have smoked in was approximately -28°C (-19°F). I am hoping to use the smoker when the temperature gets to -40°C (-40°F).
"I have provided a picture of today's smoke: -20°C (-4°F) with wind chill of approximately -31°C (-24°F).
"In case anyone is wondering if I stayed outside for the whole process…no, I was inside watching the Buick Classic, dreaming of summer on the golf course and smokin' some good food outside."
---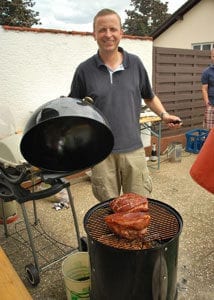 Klaus Aul is a WSM fan from Germany. He's shown here cooking Krustenbraten, a pork loin roast with a crispy crackling crust that's sliced and served with gravy. Klaus creates the base for the gravy by putting a drip pan on the lower grate filled with beer, onions, and beef broth and catches the pork drippings and mop liquid during cooking.