The Glen Blue Bullet Project
2021 marks the 40th anniversary of the Weber Smokey Mountain Cooker! To celebrate the occasion, I created this custom Weber Smokey Mountain Cooker called The Glen Blue Bullet.
You can win this special cooker by entering our prize drawing which runs through September 30, 2021 at 11:59 PM Pacific Time. A winner will be selected by random drawing and announced on October 1, 2021.
---
About The Glen Blue Bullet
The Glen Blue Bullet is a 14.5″ Weber Smokey Mountain Cooker that has been refinished in Glen Blue porcelain enamel by Independence Porcelain Enamel in Independence, MO.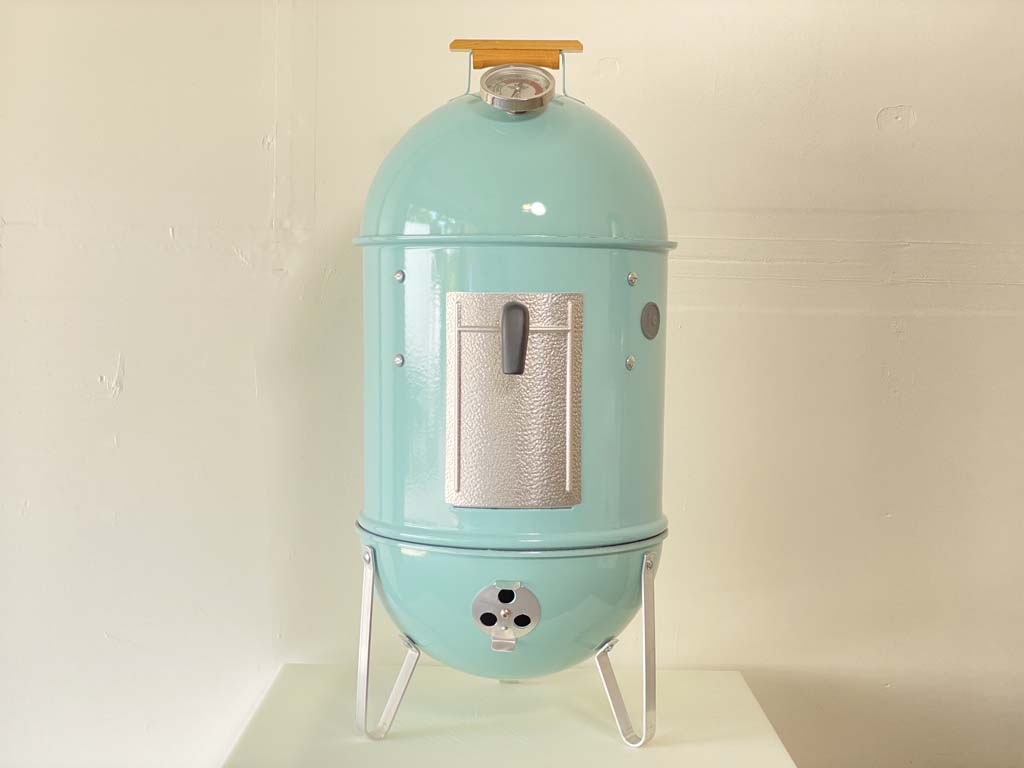 The lid and bowl dampers were removed before refinishing and refastened using stainless steel socket cap screws, nuts, and washers.
The inside surfaces of the lid, middle cooking section, and charcoal bowl are spatter-coated in Glen Blue, a signature of work done by IPE.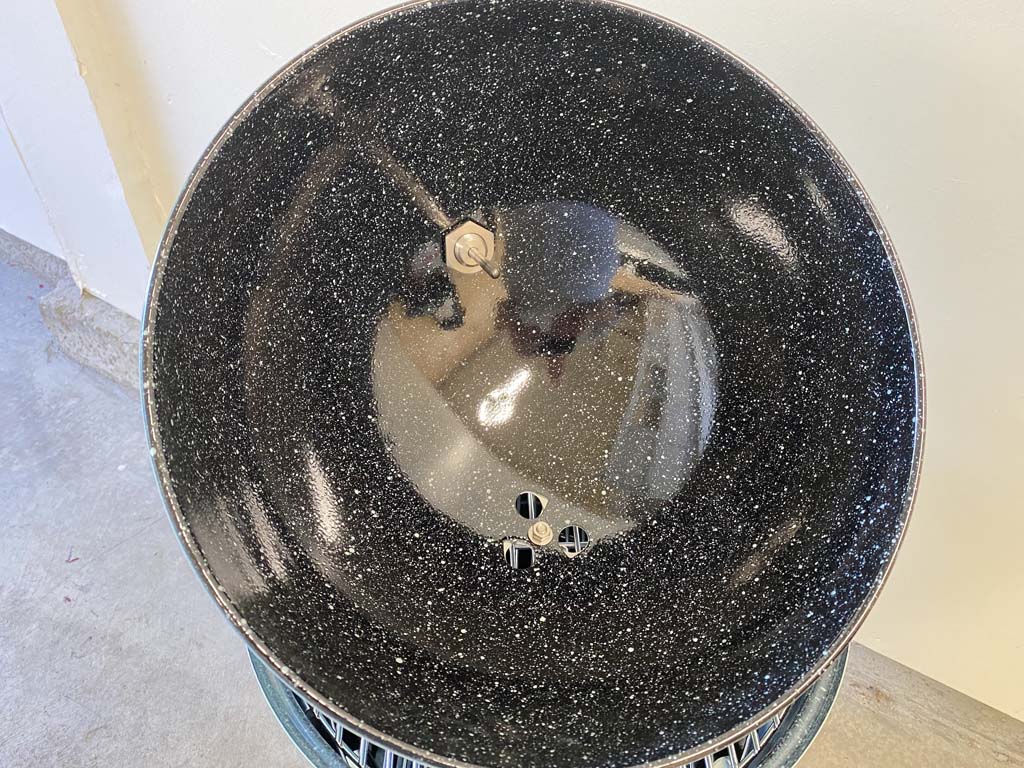 The original lid thermometer was replaced with an industrial-grade Tel-Tru BQ300 bi-metal thermometer with 4″ white dial, 2.5″ stem, and Tel-Tru installation kit.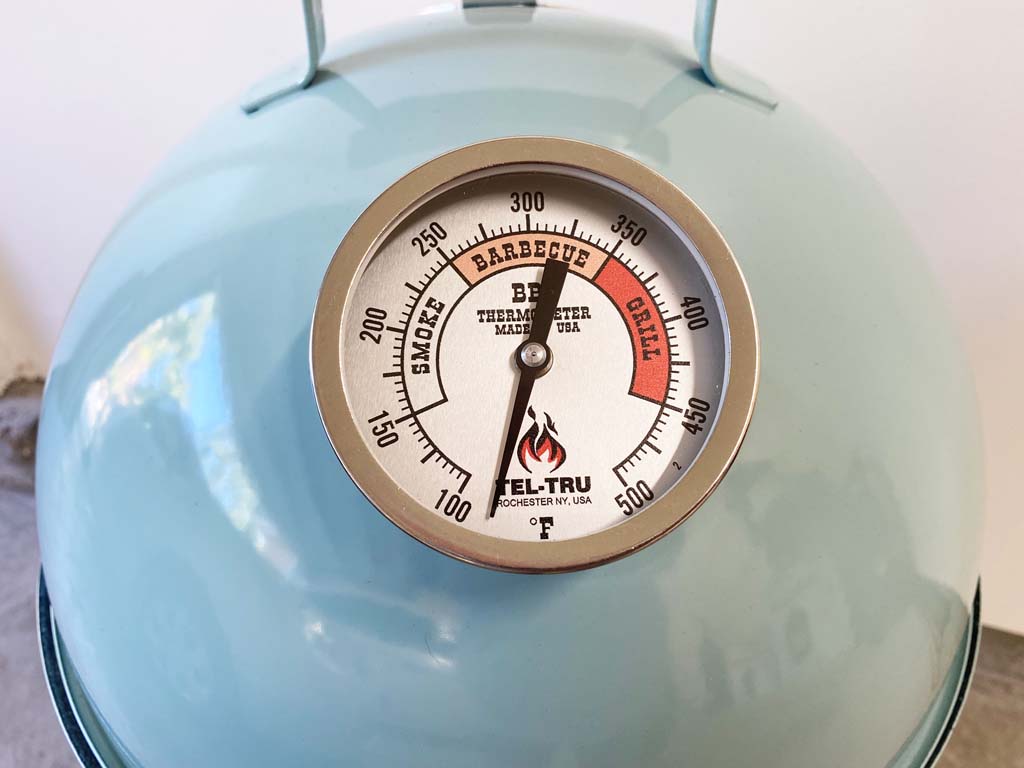 The plastic lid handle was replaced with an original Weber wooden handle finished with marine-grade spar varnish. This particular handle is from the same batch of handles I used on The Little Red Bullet Project in 2001 and The Two-Tone Blue Bullet Project in 2004.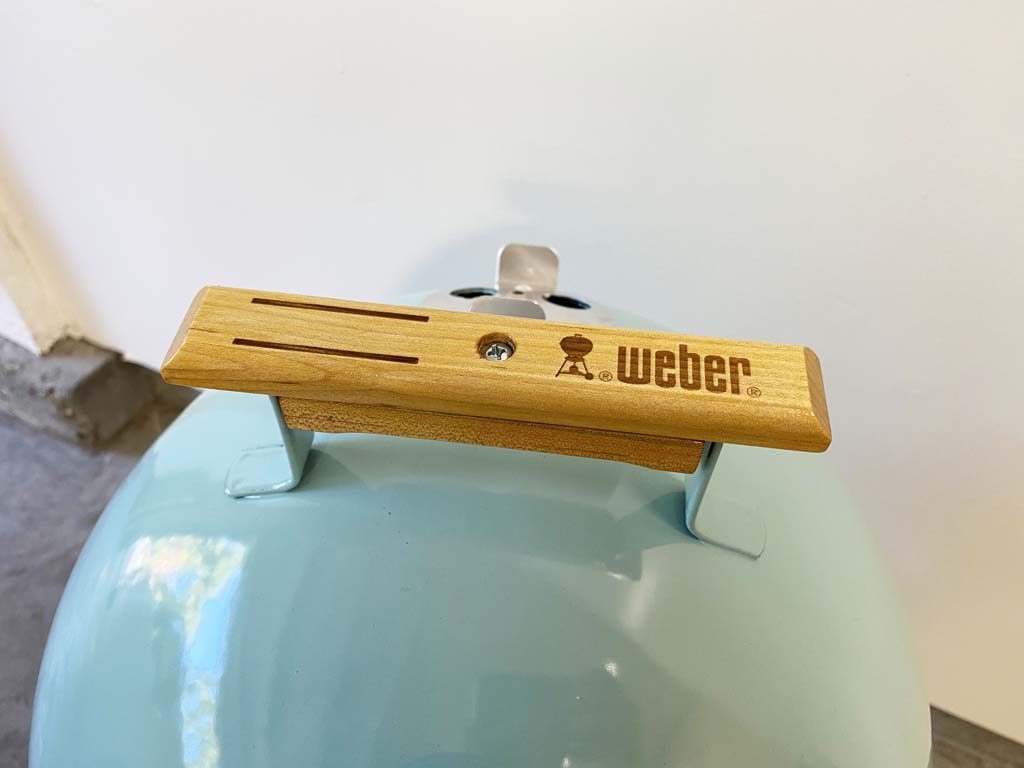 As an added bonus, I commissioned Bay Area Canvas & Awning in Santa Clara, CA to make a custom cover for this special smoker. It matches the stock vinyl cover design but uses durable Sunbrella fabric in a pattern called Saxon Cascade. It includes a Velcro tie-down like the original cover.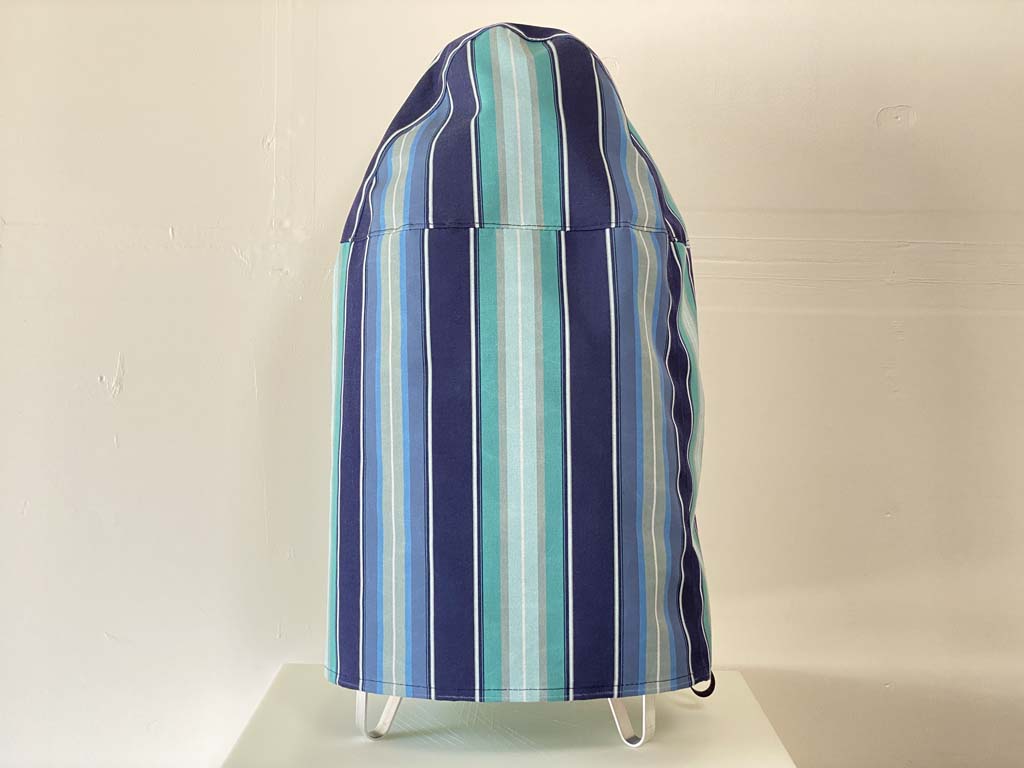 All other elements of this cooker are stock, including the access door, grates, grommet, water pan, charcoal chamber, heat shield, dampers and legs.
The Fine Print
This customized smoker comes without a warranty of any kind from Weber or The Virtual Weber Bullet. Use at your own risk.
Because the original damper rivets have been replaced with stainless steel socket cap screws, nuts, and washers, there is some play in the dampers as they open and close.
The charcoal bowl is out of round and came that way from the factory. I have not attempted to correct this condition for fear of cracking the porcelain finish. The middle cooking section is inserted into the charcoal bowl by pressing in on one side of the middle section. To remove the middle section, hold down the bowl at the legs and pull up on the middle section.
The Glen Blue refinishing process is generally excellent, but there are three areas where a small amount of black porcelain peeks through:

On the edge of the metal lid handle.
On the top edge of the middle cooking section.
On the top edge of the charcoal bowl.
---
Entry Form
One entry per person. Duplicates are deleted prior to the drawing.
Must be a legal resident of the 50 United States or District of Columbia.
Must be at least 18 years old to enter.
No purchase necessary.
Winner will be chosen by random drawing.
Entries must be received no later than September 30, 2021 at 11:59 PM Pacific Time.
By entering, you certify that you have read, understood, and will abide by the complete prize drawing rules listed below.
Rules Of The Drawing
A random drawing will be held on or about October 1, 2021 from a list of those eligible to participate in the drawing. To be eligible for the drawing, you must:
Be a legal resident of the 50 United States or District of Columbia;
Be at least 18 years old; and
Submit a single prize drawing entry using the online form provided above no later than September 30, 2021 at 11:59 PM Pacific Time.
The winner will be contacted by e-mail or telephone. It is your responsibility to ensure you have provided a valid e-mail address and telephone number, as this is the only way we can contact you if you are a winner. If a winner cannot be contacted successfully within seven (7) days from the first notification attempt, or declines the prize, an alternate winner may be drawn from the remaining eligible entries at the discretion of TVWB.
An individual may not submit multiple prize drawing entries under different names and/or e-mail addresses. When identified, such multiple entries will be deleted at the discretion of TVWB.
No purchase is necessary. Prize is non-refundable and non-transferable. There is no prize substitution, except in the event a prize becomes unavailable for reasons beyond the control of TVWB, in which case TVWB in its sole discretion will substitute an Amazon.com gift certificate in an amount equal to the cash value of the original prize.
TVWB is not responsible for incomplete or undeliverable online entry forms due to system errors or failures, faulty transmissions or other telecommunications malfunctions, or online entry forms not received resulting from any hardware or software failures of any kind, lost or unavailable network connections, or failed, incomplete or garbled computer or telephone transmissions, typographical or system errors and failures, or faulty transmissions, or for any problems or technical malfunctions.
TVWB may prohibit an entrant from participating in the prize drawing or winning a prize if, in its sole discretion, it determines that the entrant is attempting to undermine the legitimate operation of the prize drawing by cheating, hacking, deception, or other unfair practices. If for any reason the prize drawing is not capable of running as planned, including, but not limited to, infection by computer virus, bugs, tampering, unauthorized intervention, fraud or any other causes beyond the reasonable control of TVWB which corrupt in any way or affect the administration, security, fairness, integrity, fulfillment or proper conduct of the prize drawing, then TVWB reserves the right in its sole discretion to cancel, terminate, modify or suspend the prize drawing and select winners by randomly drawing from those entries received up to the cancellation/suspension date.
ANY ATTEMPT BY AN ENTRANT TO DELIBERATELY DAMAGE THE WEBSITE OR UNDERMINE THE LEGITIMATE OPERATION OF THE PRIZE DRAWING MAY BE IN VIOLATION OF CRIMINAL AND CIVIL LAWS AND SHOULD SUCH AN ATTEMPT BE MADE, TVWB RESERVES THE RIGHT TO SEEK REMEDIES AND DAMAGES (INCLUDING ATTORNEY'S FEES) FROM ANY SUCH ENTRANT TO THE FULLEST EXTENT OF THE LAW, INCLUDING CRIMINAL PROSECUTION.
Prize drawing is subject to federal, state and local laws. Void where prohibited by law. All those entering the prize drawing certify that he or she has read, understands and will abide by all prize drawing rules.
The winning names will be posted on The Virtual Weber Bulletin Board on October 1, 2021.
Good luck!