Summary
Form 1/3 pound patties using good quality 80/20 ground beef.
Smoke at 300-325°F about 40 minutes until 160°F for food safe burgers, or to a lower internal temp for more rare burgers.
Sear directly over hot coals at the end of cooking, if desired.
Serve on a toasted bun with all the usual burger condiments and fixins.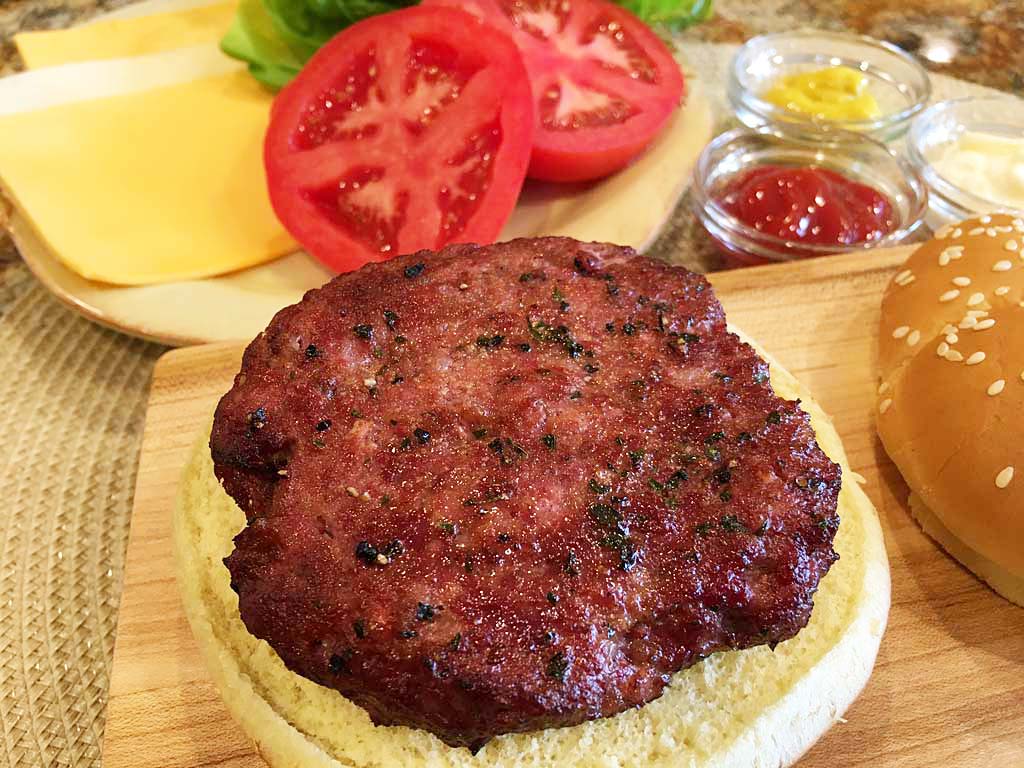 Who doesn't love a juicy hamburger? Burgers are an American classic, to be sure, and everyone has their favorite, whether made at home on the grill or purchased at a greasy spoon, a diner, pub, fast-food joint, or even a fancy restaurant.
But have you ever tried making smoked hamburgers on your Weber Bullet? If you've made smoked meatloaf, you already know how smoke and ground meat compliment each other. So why not extend this to the burger? Believe me, it works…just don't overdo the amount of smoke, a little goes a long way.
Here are some photos I took on May 28, 2016—WSM Smoke Day 12—when I made smoked hamburgers on the Weber Smokey Mountain Cooker.
Select The Meat & Form The Patties
Purchase a good quality 80/20 ground beef, meaning a ratio of 80% lean to 20% fat. Form the ground meat into 1/3 pound patties. Place on parchment paper on a rimmed baking sheet pan and store in the refrigerator for at least 30 minutes before cooking, so the patties have a chance to firm up.
I picked up two types of ground meat from Belcampo Meat Co. (which abruptly went out of business in 2021) for these burgers: a package of 80/20 ground beef and a package of ground bacon/ground beef mix. I formed three 1/3 pound patties using 1 pound of each meat.
Season Simply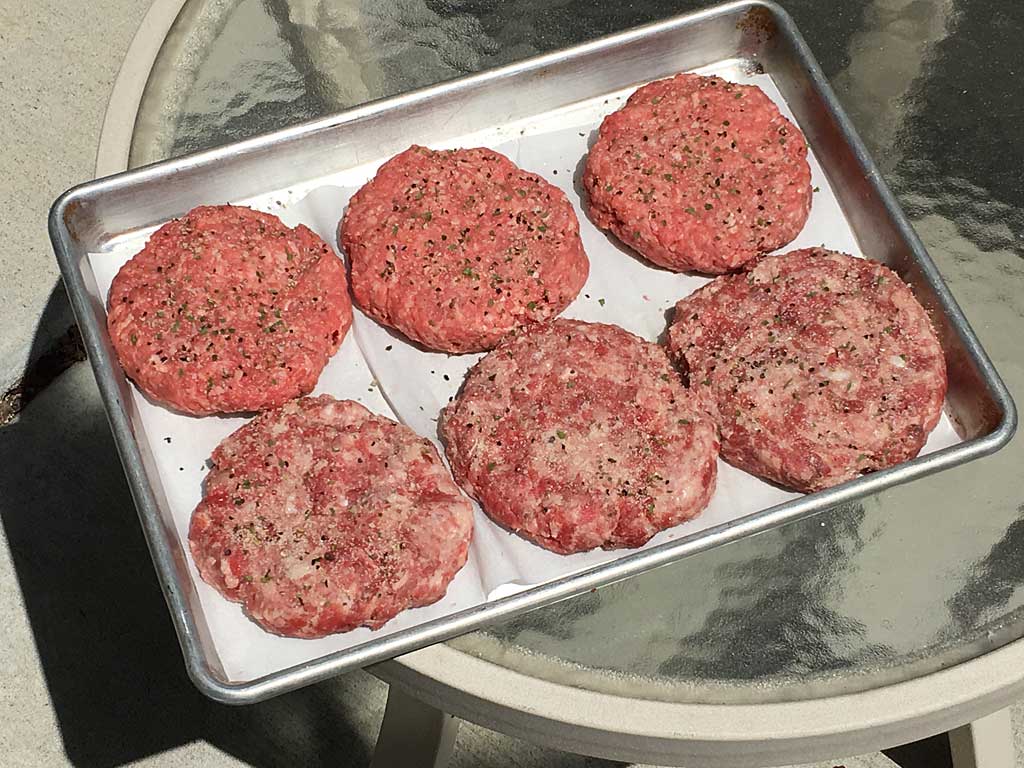 When using good quality meat, you don't need to get too fancy with the seasonings. I used Susie Q's Brand Santa Maria Style Seasoning, which is a blend of salt, pepper, garlic and parsley. You can use a commercial rub like this on, or make your own rub, or just use kosher salt and black pepper.
Apply the seasoning right before putting the burgers into the smoker.
Select The Smoke Wood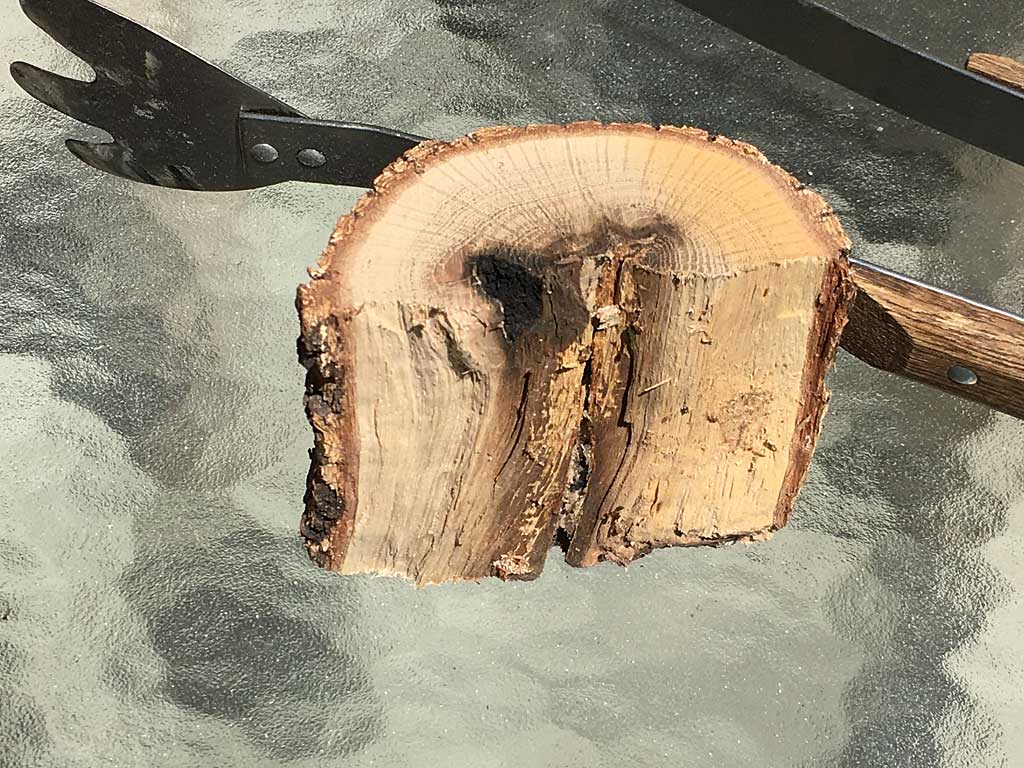 Use 1 fist-sized chunk of oak or apple smoke wood—I used oak. It doesn't take a lot of smoke to flavor ground meat, so don't overpower the burgers with lots of smoke wood.
There is no need to soak the wood or remove the bark before use.
Fire-Up The WSM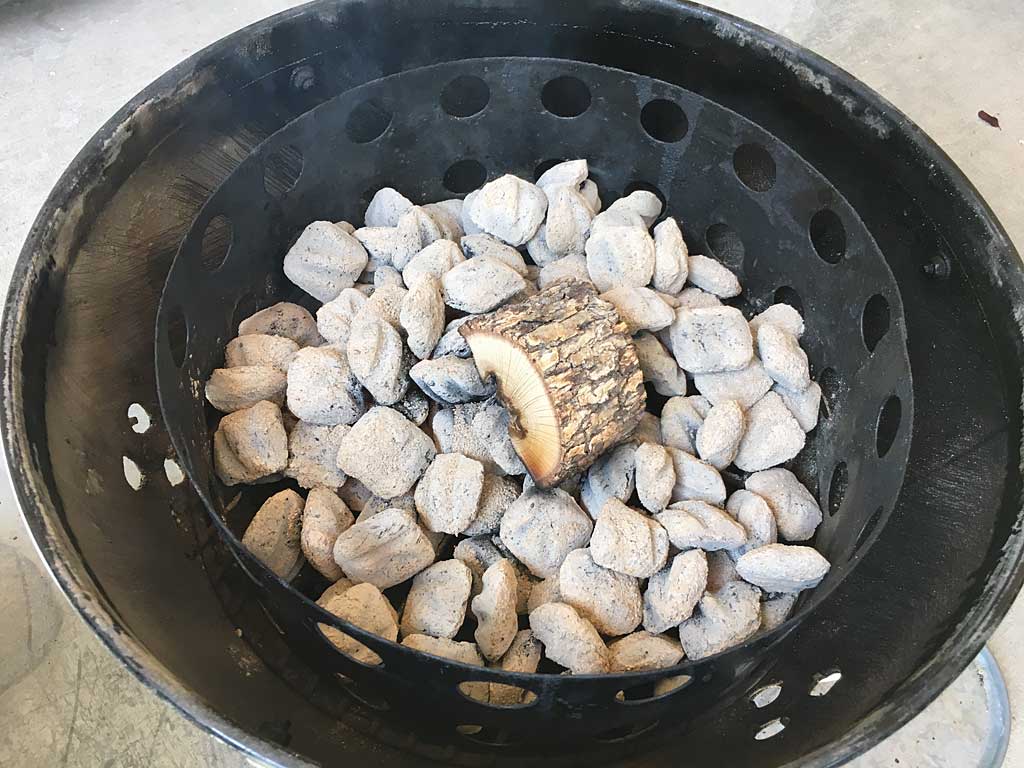 Fire-up the cooker using the Standard Method—one full Weber chimney starter of hot Kingsford Charcoal Briquets in the charcoal bowl, allowing all coals to become fully lit before cooking.
Put the water pan in the cooker but leave it empty. Place the smoke wood chunk in the center of the hot coals.
Smoke The Burgers
Assemble the WSM and put the burgers on the top cooking grate. There's no need to turn or baste the burgers during cooking.
Set the 3 bottom vents to 100% open. Open the top vent fully and leave it that way throughout the entire cook.
Run the cooker at 300-325°F. Adjust the 3 bottom vents as necessary to maintain this temperature range throughout the cooking session.
Cook the burgers for about 40 minutes, then check the internal temperature using an instant-read thermometer. You're looking for a food safe temp of 160°F…check sooner if you prefer a more rare burger.
If you feel the need, you can move the grate directly over the hot coals at the end of cooking to sear the burgers, as shown in the last photo.
Here's how the cooker temperatures and vent settings went during my cook:
| | | | | |
| --- | --- | --- | --- | --- |
| Time | Lid Temp | Vent 1 % | Vent 2 % | Vent 3 % |
| 2:25 pm | – | 100 | 100 | 100 |
| 2:35 pm | 327 | 100 | 100 | 100 |
| 2:45 pm | 315 | 100 | 100 | 100 |
| 2:55 pm | 295 | 100 | 100 | 100 |
| 3:05 pm (b) | 290 | 100 | 100 | 100 |
| 3:10 pm | 290 | 100 | 100 | 100 |
| 3:15 pm | 290 | 100 | 100 | 100 |
(s) seared burgers directly over hot coals
Note that the vent percentages represent the way I set the vents at the time indicated.
Serve As You Like
Serve smoked hamburgers just like you would any other, on a toasted bun with all your favorite condiments and fixins.
These burgers were moist and juicy, with a good amount of smoke flavor coming from that single chunk of oak. I liked both of them a lot, but in the end, the 80/20 ground beef burger was my favorite over the beef/bacon mix. The bacon flavor was not that pronounced, and I think crispy bacon on top of a burger beats ground bacon mixed into a burger any day.
I hope you'll give smoked hamburgers a try this summer. They're quick, easy, and delicious!