Rotisseries Look Cool…But Do You Need One?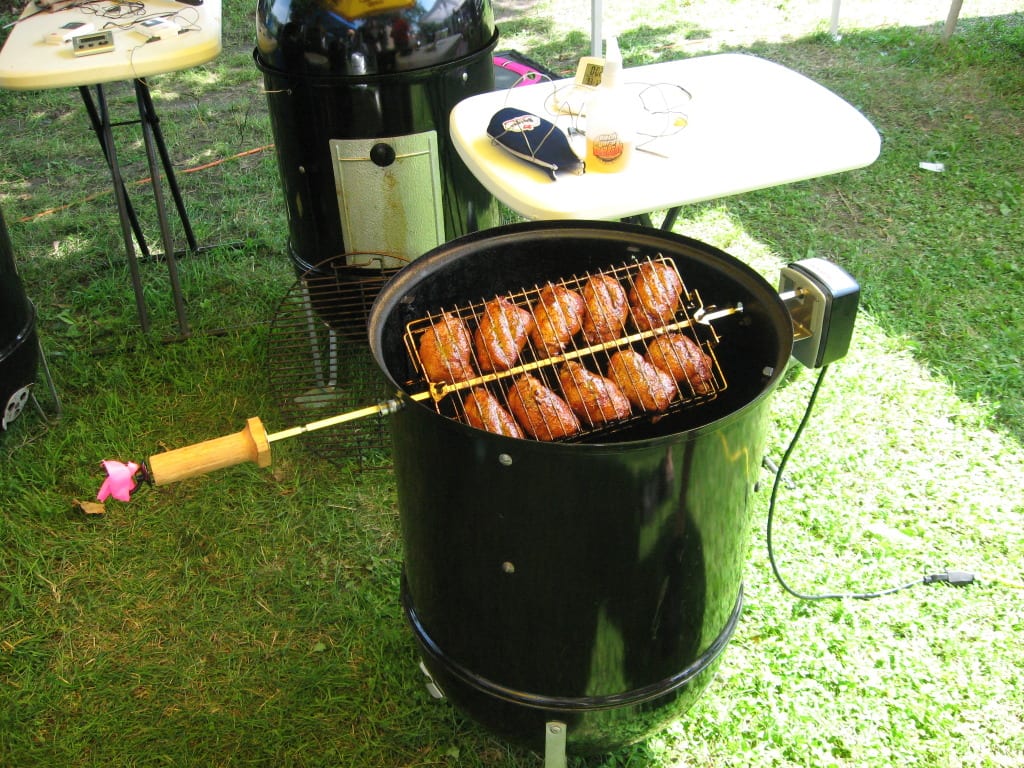 From a purely practical standpoint, a rotisserie seems like one of the least useful modifications one could make to the Weber Smokey Mountain Cooker. After all, the WSM comes with two cooking grates as standard equipment and it's not that hard to rotate meat between top and bottom grates if you feel it's necessary. I rarely, if ever, feel the need to rotate meat in my cooker.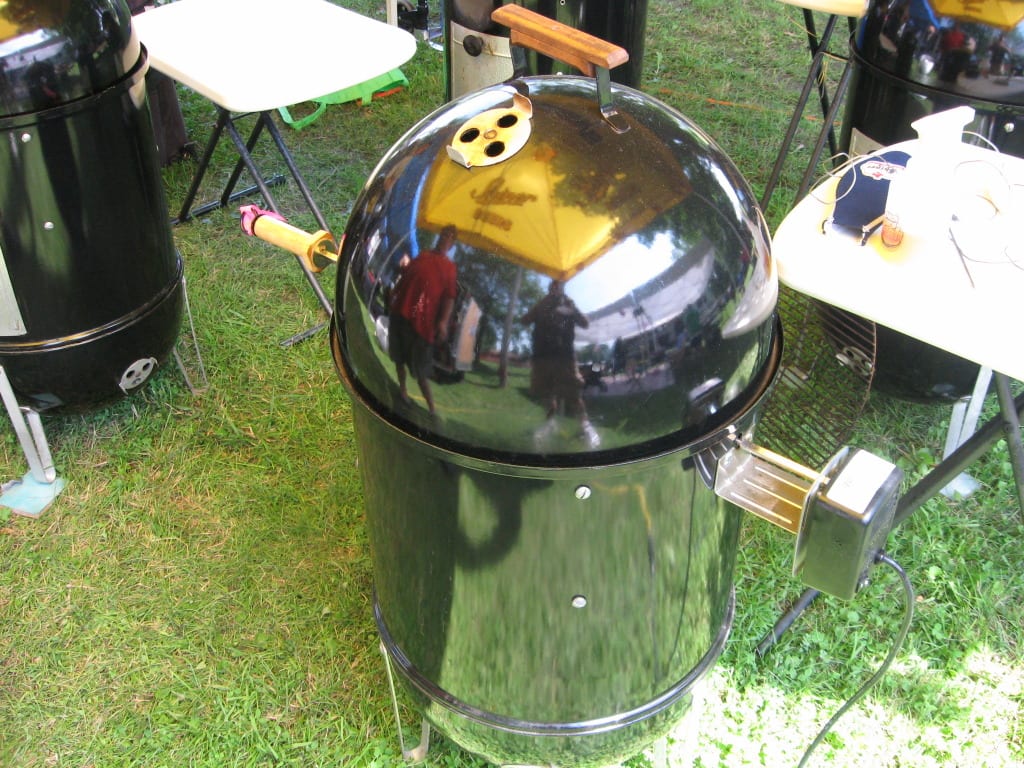 Yet even I have to admit that a rotisserie is one of the coolest looking mods you'll ever see on the WSM! I'm not suggesting that you run out and do this yourself—I've not done it with my WSM and I don't plan to—but it's cool enough that I thought it should be featured here on the website.
If you've ever been to a barbecue restaurant and felt jealous watching the pit master open up his massive smoker to reveal a Ferris wheel of smoked meats spinning slowly inside…this is your chance to have that on a small scale in your own backyard.
The photos above were taken by Joel Kiess at the Iowa State Barbecue Championship where the Bare Bones BBQ Team modified an 18.5″ WSM to accept what looks like a Weber 2290 22.5″ kettle rotisserie kit minus the ring, then added a basket accessory for cooking chicken thighs.
Choosing A Rotisserie Kit
For The 22.5″ WSM
It's as simple as ordering the Weber 2290 22.5″ kettle rotisserie kit. Although not specifically designed for use with the WSM, people report success using this kit. You place the rotisserie extension ring on top of the WSM middle cooking section and install the spit and motor on the ring.
There are third-party kits available from reputable vendors like the Cajun Bandit 22.5″ rotisserie kit and from lesser known suppliers on Amazon and eBay.
A more advanced rotisserie product for the 22.5″ WSM comes from Rib-O-Lator. It consists of 4 stainless steel trays that rotate Ferris wheel-style using your existing rotisserie extension ring, spit and motor. Each tray measures 17″ long x 5″ wide for a total of 340 square inches of cooking surface. The trays allow you to spin ribs, chicken pieces, vegetables, and anything that is not easily skewered on a traditional spit. Best of all, trays can be removed and cleaned in the dishwasher.
If you don't have a ring, spit and motor, Rib-O-Lator sells a 22″ Ring Combo Package that includes all those parts plus the 4 stainless steel trays and associated hardware.
These two photos show how Mike Stevenson fit the Rib-O-Lator extension ring and trays to his 22.5″ WSM.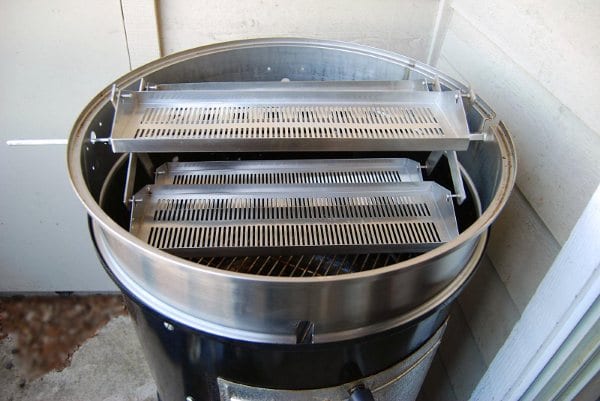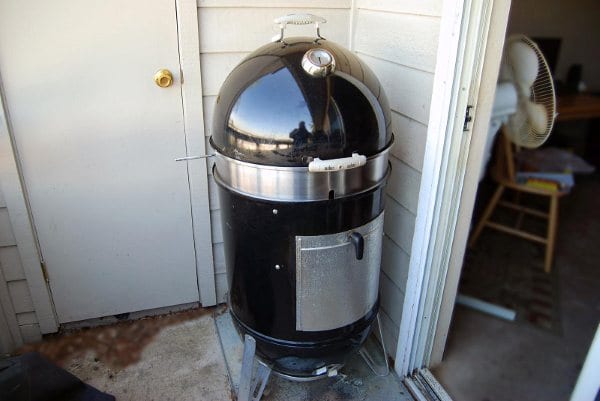 These four photos show how Brian Moriarty did a permanent mount of the Rib-O-Lator inside his 22.5″ WSM. It appears that Brian cut two slots in the middle cooking section to accept the spit and drilled two small holes to mount the motor.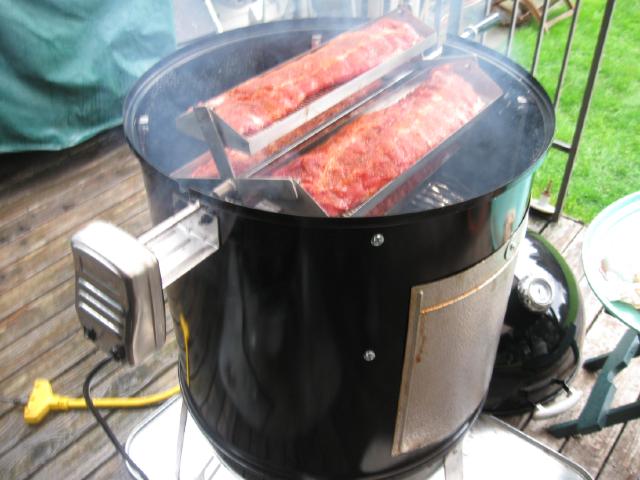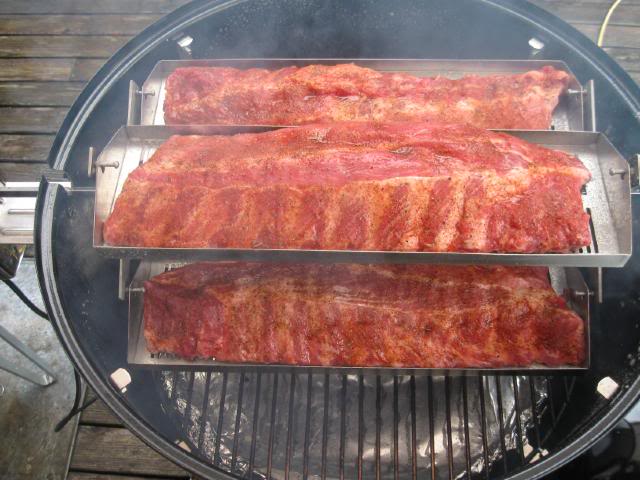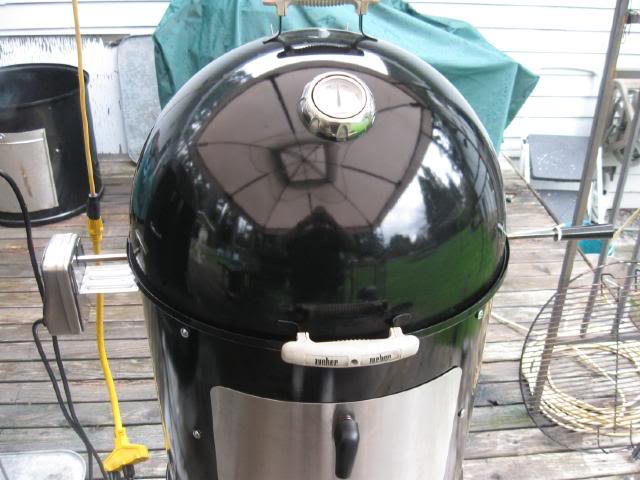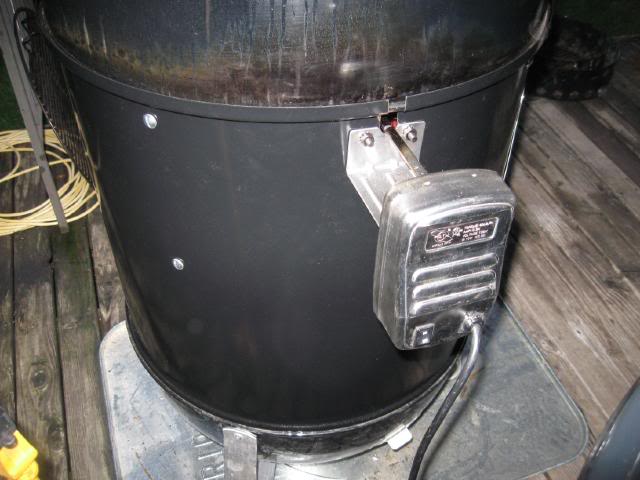 For The 18.5″ WSM
At the time of writing this article, Weber does not sell an 18.5″ rotisserie kit. Your easiest option is to buy the Cajun Bandit 18.5″ rotisserie kit or the Rib-O-Lator 18″ Ring Combo Package, both of which include an extension ring, spit, and motor.
Another option is to adapt the Weber 2290 kit or a similar third-party kit to the 18.5″ WSM like Bare Bones BBQ Team did in the photos at the top of this article, which requires drilling holes and/or slots in the middle cooking section.
For The 14.5″ WSM
At the time of writing this article, there are no commercially available rotisserie kits for the 14.5″ WSM. That didn't stop TVWBB member Robert-R from making his own rotisserie ring. If you have welding skills (or know someone who does) perhaps you can make one, too.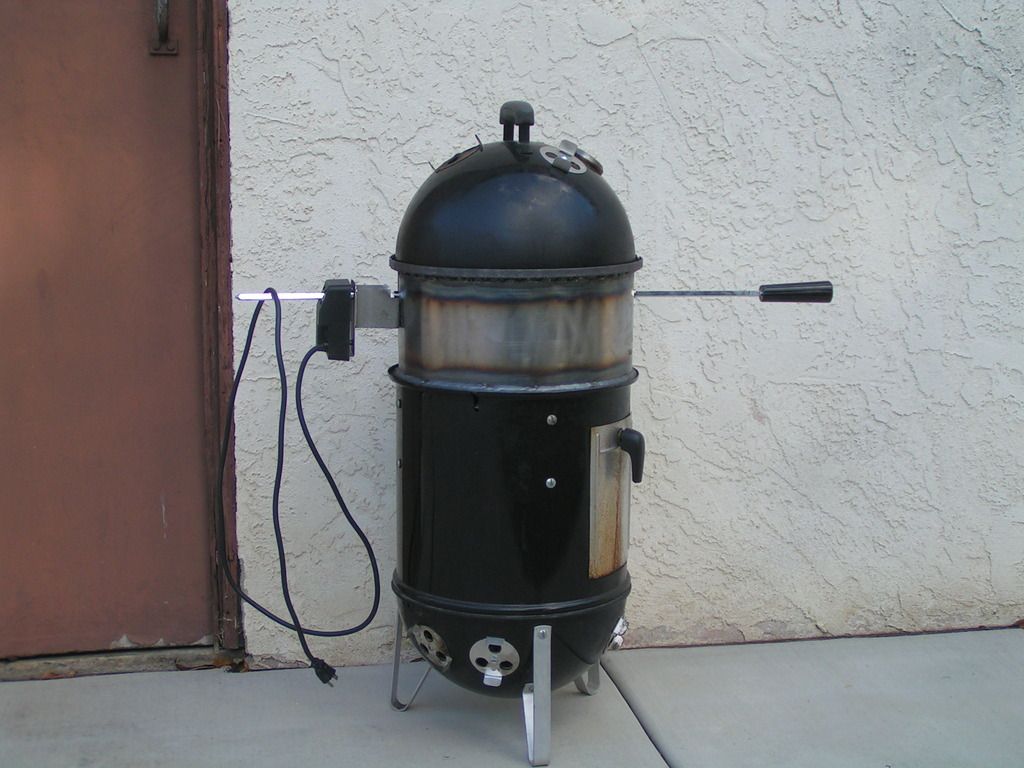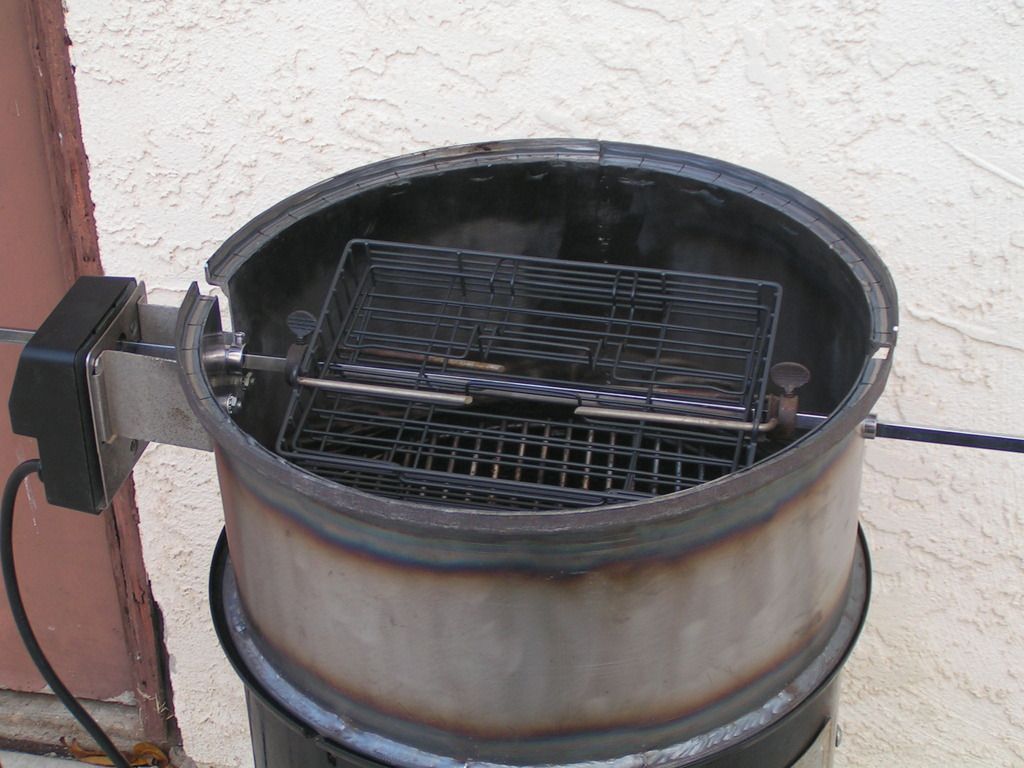 Later, Robert painted the ring on the outside and seasoned it on the inside. Here's a photo of his rotisserie in action cooking a chicken.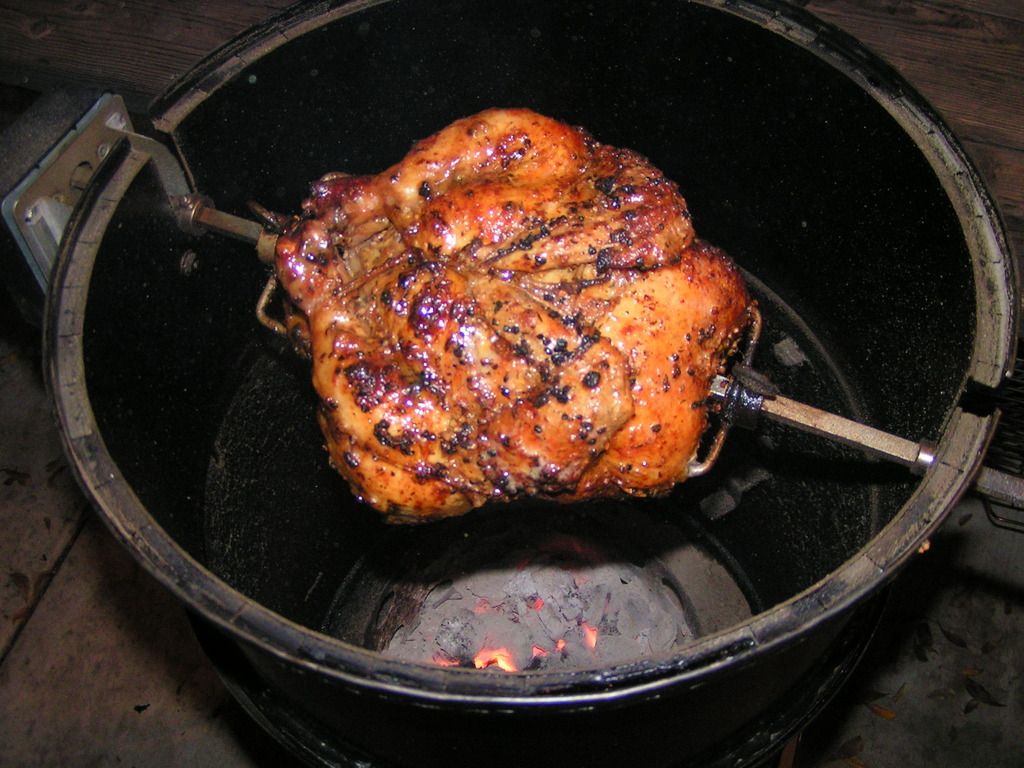 Photos of rotisserie basket: 2009 by Joel Kiess
Photos of Rib-O-Lator trays and extension ring: 2010 by Mike Stevenson
Photos of Rib-O-Lator permanent mount: 2010 by Brian Moriarty
Photos of 14.5″ WSM rotisserie: 2015 by Robert-R