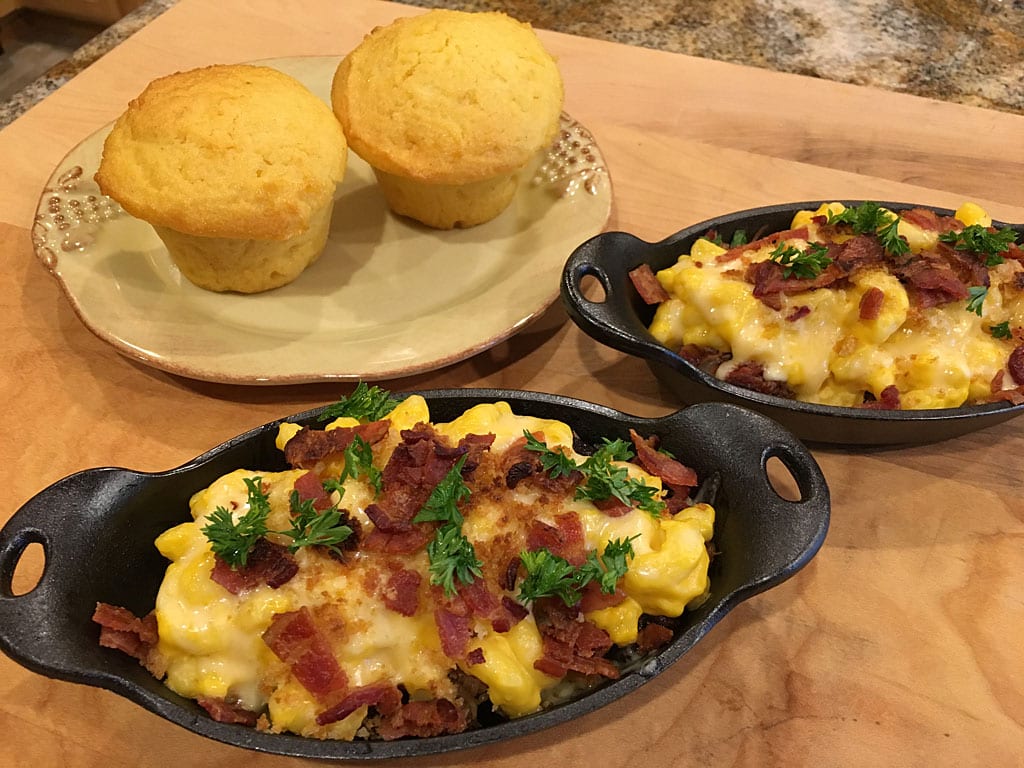 In my small household, whenever I make barbecue with the Weber Smokey Mountain Cooker there are always a lot of leftovers. I may cook a 14-pound brisket or two 8-pound pork butts or a couple of whole chickens, and we enjoy as much of that meat hot and fresh right out of the cooker as possible. But inevitably, I end up portioning leftovers into FoodSaver vacuum bags and freezing meat for future use, and the good news is that most barbecue leftovers freeze and reheat very well.
Besides barbecue, another one of my favorite foods is mac & cheese. Creamy, melty, cheesy…what's not to like? So when I recently heard about a barbecue joint offering an entree consisting of pulled pork piled with mac & cheese, I knew it would be a great use for leftover pulled pork and I just had to try it myself.
Here's how I put this dish together.
Gather The Ingredients
For this dish, you'll need the following:
Pulled pork
Barbecue sauce
Mac & cheese
Bread crumbs or salad croutons
Shredded Gouda cheese
Crispy bacon bits
Parsley for garnish
Broiler-safe or oven-safe individual serving dishes
I served this dish in individual cast iron pans that can safely go under the broiler. If you don't have these, you can use small gratin dishes or even a casserole dish, but you may have to forgo the broiler and use a moderate oven to melt and brown the toppings.
Gather and prepare the ingredients as follows:
Use your favorite recipe to make a batch of mac & cheese.
Reheat leftover pulled pork in the oven or microwave.
Warm your favorite barbecue sauce.
Crush salad croutons to make flavorful bread crumbs, or use store-bought bread crumbs.
Shred some Gouda cheese.
Fry several strips of thin bacon and chop into bits.
Assemble The Dish
Preheat the serving dishes in a low oven as you prepare the last few ingredients.
Remove the warm serving dishes from the oven. Turn up the oven to 350°F while assembling the dish (or pre-heat the broiler if using cast iron).
Assemble the ingredients as follows:
Spoon a layer of warm pulled pork in the bottom of the serving dish and drizzle with warm barbecue sauce.
Spoon a layer of warm mac & cheese over the pulled pork.
Top with shredded Gouda cheese, then bread crumbs, then bacon bits.
Make It Golden Brown & Melty
Bake at 350°F or heat under the broiler until the cheese is melted and the cheese and bread crumbs show some browning.
Carefully remove from the oven and let cool for a few minutes. Garnish with chopped parsley and serve.
Variations On A Theme
Use your creativity to develop your own variation of barbecue topped with mac & cheese. Some ideas include:
Substitute chopped brisket or pulled chicken for pulled pork.
Heat things up with spicy barbecue sauce on the meat, hot sauce or cayenne pepper in the mac & cheese, or sliced jalapeños as a topping.
Try a new mac & cheese recipe that uses stronger or different cheeses.
Substitute Parmesan or another strong cheese for Gouda as a topping.
Try caramelized onions as a topping.