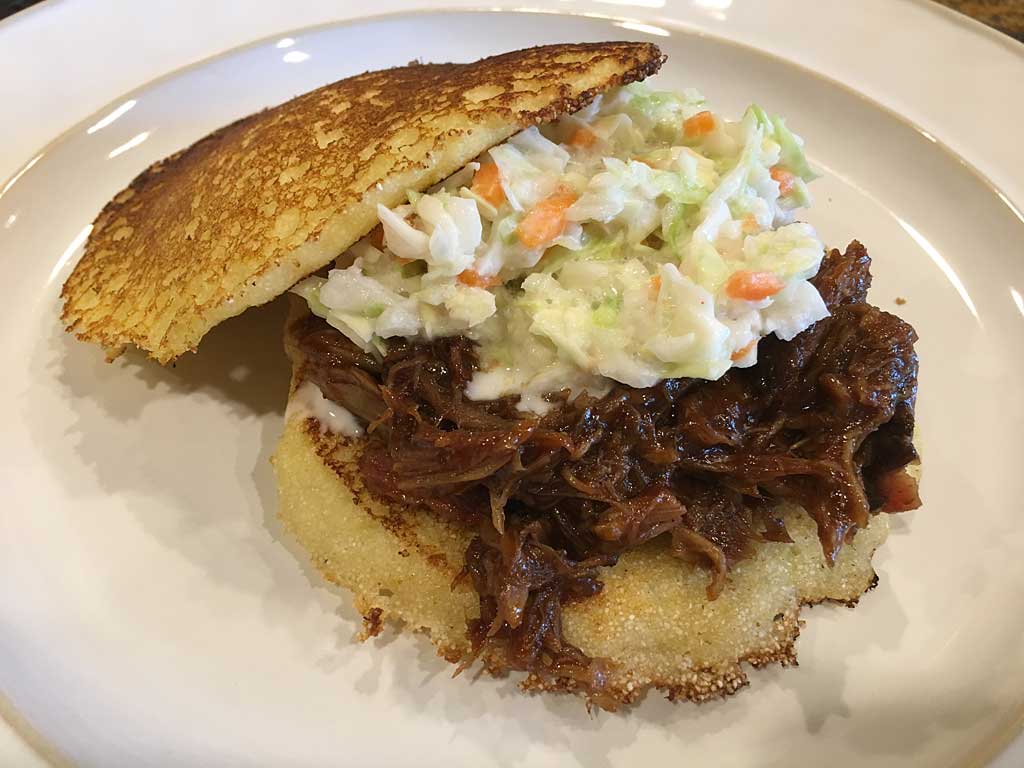 Looking for a new way to use leftover pulled pork? How about topped with coleslaw and served on cornmeal hoecakes? Hoecakes look like pancakes but they're anything but. They are sturdy and don't have the fluffy texture and sweet taste of a pancake, but work well as a bun alternative for what is basically a different type of pulled pork sandwich.
Despite the name and popular myth, it's unlikely that hoecakes were ever cooked on a garden hoe over a fire. As it turns out, a "hoe" was a common term for an iron pan or griddle in England in the 1600s.
I'm going to assume that you already know how to barbecue a pork butt and that you already have a favorite coleslaw recipe. If you're looking for pork butt recipes, check-out the ones listed on our Cooking Topics page. For coleslaw recipes, there are some real winners posted on The Virtual Weber Bulletin Board.
Prepare The Pulled Pork & Coleslaw
Before making the hoecakes, have the pulled pork and coleslaw ready to go. Chop the leftover pork finely and mix with some of your favorite rub and barbecue sauce so it's moist and flavorful. Cover and heat the pork gently in the microwave until warmed through, then set aside.
Make The Hoecake Batter
This recipe for hoecakes comes from Cook's Country magazine. It makes 16 hoecakes, enough for eight "sandwiches".
Ingredients List
3 cups white cornmeal (15 ounces by weight)
2 Tablespoons sugar
2 teaspoons baking powder
1-1/2 teaspoons table salt
2 cups buttermilk
2 large eggs
2-3 Tablespoons bacon fat or vegetable oil
Place a wire cooling rack over a rimmed baking sheet pan. Place on the oven rack in the middle position and set oven to its lowest setting, e.g. 170°F. This will keep the hoecakes warm as you fry them in batches.
In a large mixing bowl, whisk together the cornmeal, sugar, baking powder, and salt. In a separate bowl, whisk together the buttermilk and eggs. Finally, whisk the wet mixture into the dry mixture until combined. The result will be a very loose batter.
Cook The Hoecakes
Cook the hoecakes just like you would pancakes on a griddle, in a non-stick skillet, or in a cast iron skillet. I used a 12″ cast iron skillet capable of cooking 3 hoecakes at a time.
Heat the skillet over medium heat. Place 1 teaspoon of bacon fat in the skillet and brush it over the surface using a silicone brush. Give the batter a good stir so that the mixture is well combined (some of the cornmeal may fall out of suspension as the batter sits) and use a 1/4-cup dry measuring cup to drop 2-3 scoops of batter into the skillet. Use the bottom of the measuring cup to even-out and smooth the batter, as needed.
Cook for about 2 minutes, until bubbles start to form around the edges of the hoecakes, then flip and cook for another 2 minutes until golden brown. Transfer cooked hoecakes to the warm oven while making the remainder.
Repeat the process with the remaining bacon fat and batter, making sure to give the batter a good stir before scooping with the measuring cup.
Assemble The Hoecakes & Enjoy
Place 2-3 ounces of warm pulled pork on a hoecake, followed by a scoop of coleslaw. Drizzle with additional barbecue sauce, if you like. Top with a second hoecake and enjoy!
If you somehow end up with leftover hoecakes, they can be reheated gently in the microwave and eaten with butter and maple syrup, just like pancakes.