Back in 2003, a franchised barbecue restaurant named RibCrib out of Oklahoma opened up a restaurant near my home. They had a menu item called "SuperSpud"—the biggest baked potato you've ever seen, hollowed out and stuffed with a mixture of potato, butter, sour cream, cheese, bacon, and brisket.
When I saw the SuperSpud, it reminded me of another baked potato/brisket combination I'd seen on Food Network. They ran a show featuring Thelma's Barbecue in Houston, Texas, in which Thelma served up a big smashed potato with cheese, sour cream, and brisket, all drizzled with barbecue sauce.
Both of these potatoes might be described as a "heart attack on a plate", but they are delicious and a great use for leftover brisket.
Brisket-Stuffed, Twice-Baked Potato
Buy the largest jumbo baking potatoes you can find. Wash and dry thoroughly.
If you intend to eat the potato skin, enhance the flavor by rubbing butter over the skin and sprinkling generously with your favorite barbecue rub.
Bake the potatoes until tender. Potatoes of this size may take up to 90 minutes at 400°F. Baked potatoes are done when they reach an internal temperature of 205-212°F measured with an instant-read thermometer.
Using a sharp knife, make a shallow vertical cut through the skin in an oval shape. Peel off the top and reserve as a potato skin snack. Scoop out the insides and place in a mixing bowl, but leave enough insides so that the potato retains its shape.
Mix the hot potato insides with softened butter, sour cream, crispy bacon bits, and warm chopped brisket. After incorporating these ingredients, add some shredded medium cheddar cheese and mix again.
Spoon the thick, chunky potato mixture back into the skin, piling it high.
Bake uncovered at 350°F for 30 minutes until the inside is piping hot. Top with a few dabs of butter, a little more cheese, and more chopped brisket. Serve with your favorite barbecue sauce on the side.
Smashed Potato With Brisket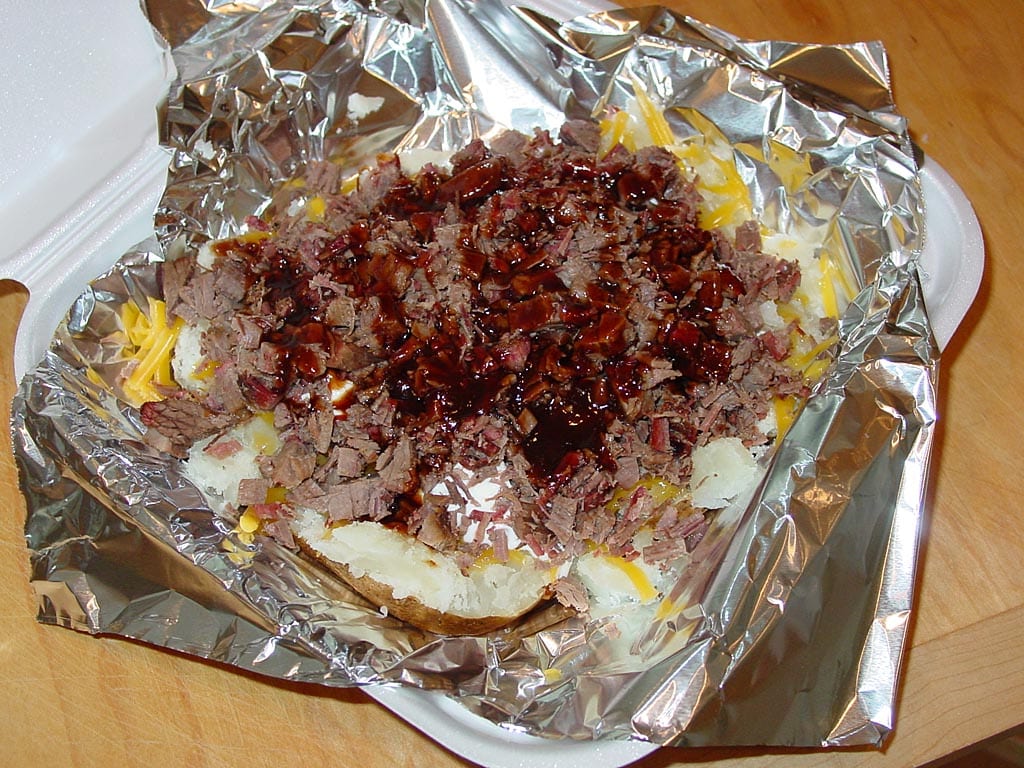 This is a no-nonsense potato, quick and easy. I've served it up here just like Thelma did on television, in a Styrofoam clamshell box, but you can use a dinner plate.
Cut open a baked potato lengthwise and push the two halves wide open. Use a fork to smash the potato, spreading it out inside the box.
Spread a big handful of shredded medium cheddar cheese over the hot potato. Plop a few tablespoons of sour cream here and there. Spread two big handfuls of warm chopped brisket over the potato, and top with a drizzling of your favorite barbecue sauce.
---
Using An Instant-Read Thermometer For The Perfect Baked Potato
The folks at Cook's Illustrated magazine tackled the question of The Perfect Baked Potato in their January/February 2016 issue. They determined that the optimal internal temperature for a uniformly fluffy baked potato is 205-212°F. Cook's suggests baking potatoes at 450°F for 45-60 minutes until the largest potato registers 205°F in the center.
So now you've got yet another reason to own a good quality instant-read thermometer! Next time you bake a potato, probe it to ensure the perfect internal temp!
---
More Potato Links On TVWB