Looking for the perfect Christmas present for the barbecuing or grilling fan in your life? Have you been a good boy or girl this past year and want to treat yourself to a little "self-gifting"?
We've got great holiday gift ideas for you no matter who's buying what for whom, and at a variety of price points!
Gifts Under $25
These are restaurant-grade tongs with scalloped edges that really grip meat and other foods well. Sturdy construction with locking mechanism to keep tongs closed during storage. 16″ length helps keep your hand away from hot surfaces!


I picked up one of these Weber grilling baskets a couple of years ago and really enjoy using it! If you've ever been frustrated by small items falling through the grill grate, then you need one of these baskets! You can stir veggies or small pieces of meat or seafood to your heart's content without losing anything. Use a little cooking spray to prevent foods from sticking, cleans up with a scouring pad.


You can't beat the quality of OXO Good Grips kitchen gadgets! I love the long handle which keeps my hand away from the hot cooking surface. Silicone construction stands up to barbecuing and grilling temps, and the little perforated flat pieces inside the brush hold onto sauce so it can be brushed onto the meat. Rinse and toss into the upper dishwasher rack for easy cleaning!


These Victorinox boning knives are as sharp as can be and are so inexpensive that you don't have to be too fussy about caring for them. I use one to trim briskets, pork butts, and other barbecue meats before cooking and I couldn't ask for a better knife. Flexible blade makes it easy to cut around bones in poultry. The perfect stocking stuffer!


This manual knife sharpener is a great little workhouse in my knife drawer! Effective and simple to use, doesn't have to be plugged in, portable so you can take it with you to Mom & Dad's house where all the knives are dull! Once you've got a sharp knife, just a few draws through the second slot before each use and you've got a nice sharp edge!


Want to try your hand at making authentic Central Texas style brisket? Then you'll need some authentic pink butcher paper! This is the stuff they use to wrap briskets during the final few hours of cooking to make them nice and tender without turning them into pot roast. This one includes a cardboard storage tube.
Gifts From $25 – $49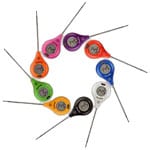 Super-fast 3-4 second temperature readings with the accuracy and quality you expect from ThermoWorks!
Rotating display
Left and right-handed use
Splash-proof design
Big backlit digits
Temp range: -58 to 572°F
Switchable °C/°F
5000 hours of typical performance with included lithium battery
9 groovy colors!
My favorite commercial tri-tip rub, I've been using Susie Q's Original Santa Maria Style Seasoning for many years. The blue label version includes MSG, which really amplifies the flavor, but if you insist on no MSG make sure to buy the red label version.


This is one of those books that you MUST have in your cooking library. Not a barbecuing or grilling book, but an exploration of the science of cooking with recipes and color photos that support the content. A New York Times best-seller and winner of the 2016 James Beard Award for General Cooking and the IACP Cookbook of the Year Award.


This thing will change the way you cook on the grill! No one likes to smoke-up the kitchen and set off the smoke detector when searing meat in a cast iron skillet over high heat. Get yourself a griddle like this one for more cooking surface and use it on your charcoal or gas grill. I like to cook steaks indirect and then reverse sear the chaps off them using one of these!


Want to try your hand at cold smoking cheese, salmon, and more? There are lots of ways to do it, but this little gadget makes it easy and owners report great success using it. This one comes pre-loaded with apple pellets, a mild wood flavor that complements almost everything.


Don't have a kitchen scale? Whether it's weighing how much fat you trimmed off that brisket or weighing flour for baking bread, you'll find lots of good uses for a kitchen scale. This one handles up to 11 pounds and has a backlit pull-out display that prevents shadowing from large plates or bowls. I've been using this model for years and highly recommend it!


This is the scalloped slicing knife used and recommended by Aaron Franklin at Franklin Barbecue in Austin, Texas. I've got one and it makes quick work of slicing the largest briskets. Super sharp, good quality, and not so expensive that you have to worry too much about taking care of it.
Gifts From $50 – $149
Ultra-fast 2-3 second temperature readings from the gold standard in handheld instant-read thermometers! Rated #1 by Cook's Illustrated magazine.
Foldaway thermocouple probe
Auto-rotating display—use in either hand
Motion-sensing sleep/wake mode
Intelligent backlight
Waterproof to IP67 standard
Temp range: -58 to 572°F
Switchable °C/°F
3000 hour battery life with AAA battery
10 cool colors!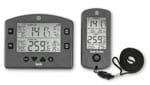 Two-channel meat/pit wireless probe thermometer that's built like a tank!
Wireless to 300 feet line of sight
Uses commercial grade Pro-Series probes
Pre-paired with receiver—no setup required
Splash-proof design to IP65 standard
Dashboard-style display shows Min/Max and Hi/Lo alarms
Backlit display with large digits
Pair multiple wireless receivers to one base for the entire BBQ team
Wi-Fi gateway + smartphone app available (purchased separately)
This kit provides two upgrades that many barbecue competitors look for with their Weber Smokey Mountain Cooker: a lid hinge and sealing gaskets for the access door, lid and bottom of the middle cooking section. The lid hinge means you never have to set the lid down on the ground again; the gaskets are helpful when running automatic temperature control devices on the WSM.
This HUGE cast iron skillet was made for hunting or camping trips or wherever you need BIG cooking capacity. Perfect for campfires, stoves or ovens, this bad boy can fry fish and chicken, make stews, gumbos and chili, and cook large amounts of bacon and eggs with ease. 20″ wide, 3″ deep with fairly upright sides, weighing in at almost 24 pounds, two integrated handles but no pour spout. You must season before first use.


Better than a pizza stone, a pizza steel is the ultimate surface on which to bake a pizza, whether in the oven or on the grill. Stores 18x more energy than a pizza stone for crispier crusts and faster cooking. 1/4″ steel is virtually indestructible, won't shatter or crack, and cleans up easily.


Here's your chance to barbecue the same brisket used by Aaron Franklin at Franklin Barbecue in Austin, Texas. This USDA Prime 14-16 pound brisket will fit in the Weber Smokey Mountain Cooker after trimming. Just add kosher salt, coarse ground black pepper, and some pink butcher paper and you're well on your way to Central Texas style brisket!
Gifts Over $150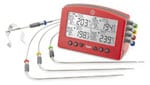 Four-channel WiFi/Bluetooth BBQ Alarm Thermometer
ThermoWorks has done it again! Signals is their latest thermometer masterpiece, combining a comprehensive set of features with the quality you've come to expect from ThermoWorks. Four probe capacity allows you to measure pit temp + three meats simultaneously, and you can monitor those temps using the standalone base station OR via the free ThermoWorks smartphone app using Bluetooth or built-in WiFi capability! Also includes splash-resistant design, backlit display, min/max temp alarms, and downloadable temp data for analysis/graphing when using the WiFi cloud function.
And now Signals can be used with the optional Billows BBQ Temperature Control Fan to automatically manage the fire in your WSM!


The iconic Weber Q1200 gas grill is perfect for holiday gifting (or self-gifting)! This portable grill is at home at the beach, at the tailgate, or at the RV park. Small and easy to use, the Weber Q1200 is also perfect for apartment owners or those who don't have space for a larger gas grill. Don't be fooled by its size, the Weber Q 1200 is a fabulous grill that gives larger grills a run for the money! Available in a variety of fun colors!


The Le Creuset 7.25 quart Dutch oven is not strictly a barbecue item, but it's an important tool in my kitchen. If you or your loved one doesn't own one, you or they are really missing out. Great for soups, stews, braises, boiling pasta, even baking bread. Goes from the stove top to the oven, heats evenly, and cleans easily. A piece of cookware that will last a lifetime!


This 24″ air-insulated kettle does everything a Kamado-style grill can do, but it wears the Weber nameplate that you know and love! Built like a tank, with Snap-Jet gas ignition system, two-position charcoal grate and stainless steel deflector that converts from high-temp grilling to low-temp barbecuing, spring-balanced hinged lid, Gourmet BBQ System, and hinged RapidFire lid damper for fast lighting. I've got one, trust me, this is a great grill!


Here's the ultimate self-gift for Christmas…the Weber Summit 6-burner gas grill in stainless steel. This one's got all the bells and whistles included dedicated Sear Station burner, dedicated smoker burner, rear-mounted infrared rotisserie burner, side burner, and more!