Looking for the perfect Christmas present for the barbecuing or grilling fan in your life? Have you been a good boy or girl this past year and want to treat yourself to a little "self-gifting"?
We've got great holiday gift ideas for you no matter who's buying what for whom, and at a variety of price points!
Note: Prices are subject to live update by Amazon.
Gifts Under $25
We've got a variety of t-shirt designs and colors available at Represent.com in sizes from small to 5X. A portion of each purchase helps support our website and discussion forum!
This Victorinox boning knife is as sharp as can be and is so inexpensive that you don't have to be too fussy about caring for it. I use this knife to trim briskets, pork butts, and other barbecue meats and I couldn't ask for a better knife. Flexible blade makes it easy to cut around bones in poultry. The perfect stocking stuffer!


Want to try your hand at making authentic Central Texas style brisket? Then you'll need some authentic pink butcher paper! This is the stuff they use to wrap briskets during the final few hours of cooking to make them nice and tender without turning them into pot roast.


The Weber 6277 12-inch grill brush is the top-rated brush by Cook's Illustrated magazine. The wide brush head cleans large surfaces quickly, the shorter sides can be used to clean edges and between grate rods. Thick stainless steel bristles resist wear. Ergonomic handle provides control and leverage when cleaning dirty grates.


I whole-heartedly recommend this all-purpose rub from my friend Harry Soo of Slap Yo' Daddy BBQ. It's made from top-quality ingredients to Harry's exacting standards and will make your barbecue taste better! One 12 ounce jar.


These Weber 7017 silicone grilling gloves are a new accessory that's perfect for working with hot meat on your smoker. Food-grade silicone withstands heat up to 400°F. Hand washable with soap and water. US size large.


The Cambro Cheese Shaker with yellow lid is my favorite rub shaker and the rub shaker of choice for many barbecue professionals. The hole size is perfect for applying rub. Made of virtually unbreakable polycarbonate and dishwasher safe.
Gifts From $25 – $49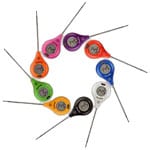 Super-fast 3-4 second temperature readings with the accuracy and quality you expect from ThermoWorks!
Rotating display
Left and right-handed use
Splash-proof design
Big backlit digits
Temp range: -58 to 572°F
Switchable °C/°F
5000 hours of typical performance with included lithium battery
9 fun colors!
The Victorinox Fibrox Pro 10″ Curved Cimeter Knife is one of my favorite knives when working with large cuts of brisket or boneless pork butt. Super sharp blade, good quality, and not so expensive that you have to worry too much about taking care of it.


Get a taste of Kansas City! This barbecue sauce sampler set is carefully curated to bring you Kansas City Original sauces that are packed with flavor to make your next BBQ party a resounding success! The ideal gift for the barbecue lover in your life. Four 18-ounce bottles.


Weber logo butcher paper is made from food-grade butcher paper and ink. Unwaxed, uncoated, and unbleached, it can be used for smoking meats, for serving food, or even as gift wrapping paper!


Insulated non-slip five-finger design helps you manage hot meats like a pro! The 13″ length extends protection to most of your forearm. Large size 10 gloves fit most people and are easy to put on and take off. Soft jersey cotton liner helps hands stay cool and comfortable while pulling meat. Food grade neoprene coating is EN 407 compliant and resistant to melting and is fire resistant.


I know magazines are kind of old-fashioned, but I really enjoy receiving Cook's Country magazine every other month. It's big, it's colorful, and it contains lots of interesting recipes that can be made by any home cook at any skill level. I get lots of inspiration from Cook's Country for barbecue recipes that I adapt to the Weber Smokey Mountain Cooker as well as side dishes and desserts, too.


For the junior griller in your life! This Theo Klein Weber Kettle Barbecue Toy is authorized and licensed by Weber. Includes grill, play food (steak, shrimp, salmon, tomato, onion and pepper), light-up charcoal, lighter, 2 grates and tongs. Batteries not included (3xAAA). 12.4 x 7.9 x 23.6 inches, recommended for kids ages 3+.
Gifts From $50 – $149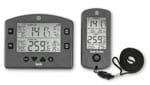 Two-channel meat/pit wireless probe thermometer that's built like a tank!
Wireless to 300 feet line of sight
Uses commercial grade Pro-Series probes
Pre-paired with receiver—no setup required
Splash-proof design to IP65 standard
Dashboard-style display shows Min/Max and Hi/Lo alarms
Backlit display with large digits
Pair multiple wireless receivers to one base for the entire BBQ team
Wi-Fi gateway + smartphone app available (purchased separately)
Heavy duty, 100% American made stainless steel rib hanger for the 18.5″ and 22.5″ WSM. Hunsaker Smokers unique circular design gives you more space to hang meat compared to traditional straight bar designs. A bonus middle section is included for even more hanging space. Includes 6 stainless steel rib hooks.


Don't have a kitchen scale? Whether it's weighing how much fat you trimmed off that brisket or weighing flour for baking bread, you'll find lots of good uses for a kitchen scale. This one handles up to 11 pounds and has a backlit pull-out display that prevents shadowing from large plates or bowls. I've been using this model for years and highly recommend it!


This is the grill you probably don't own that you probably should own! 18″ cooking grate in a compact, lightweight design with Tuck-N-Carry lid lock that doubles as a lid holder. This charcoal grill is perfect for tailgating, weekend getaways, a day at the beach, or picnics in the park.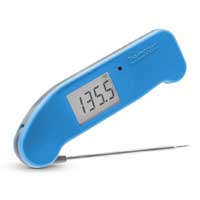 Ultra-fast 1 second temperature readings from the gold standard in handheld instant-read thermometers! Rated #1 by Cook's Illustrated magazine.
Foldaway thermocouple probe
Auto-rotating display—use in either hand
Motion-sensing sleep/wake mode
Intelligent backlight
Waterproof to IP67 standard
Temp range: -58 to 572°F
Switchable °C/°F
3000 hour battery life with AAA battery
10 cool colors!
Gifts Over $150


The Blackstone 17″ portable propane gas griddle is perfect for camping, tailgating, road trips, hunting and everyday outdoor use. Electric igniter, uses 1 pound propane bottles for fuel, and has a built in grease catcher. Fast and even heating, no-hassle cleanup.


Creekstone Farms chuck short ribs are always a crowd favorite and packed with great flavor. Each package contains 2 full bone-in chuck short ribs with 4 bones per piece. The average weight of each piece is approximately 3-4 lbs. so each order contains approximately 6-8 lbs. of bone-in chuck short ribs.


Add a little ambiance to your backyard with the Solo Stove Bonfire, the world's most unique fire pit. This 19.5″ wide, 14″ tall firepit pushes the limits of both combustion airflow efficiency and minimalist outdoor design with its all stainless steel construction. Painstakingly engineered to provide a backyard fire experience that cannot be duplicated. Virtually smokeless, easy to use, portable, and requires literally no setup.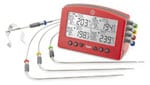 Four-channel WiFi/Bluetooth BBQ Alarm Thermometer
Signals is a thermometer masterpiece, combining a comprehensive set of features with the quality you've come to expect from ThermoWorks. Four probe capacity allows you to measure pit temp + three meats simultaneously, and you can monitor those temps using the standalone base station OR via the new-and-improved ThermoWorks smartphone app using Bluetooth or built-in WiFi capability! Also includes splash-resistant design, backlit display, min/max temp alarms, and downloadable temp data for analysis/graphing when using the WiFi cloud function.
And now Signals can be used with the optional Billows BBQ Temperature Control Fan to automatically manage the fire in your WSM!

Yes, the Weber SmokeFire pellet grills got off to a rocky start in early 2020, but Weber made a handful of important upgrades that improved performance and now SmokeFire has a satisfied and growing following. This EX6 Generation 2 36″ pellet grill includes these features:
Sears as well as it smokes with a 200-600°F temperature range
Porcelain enamel finish helps prevent rusting and cracking
Large 1,008 square inches of dual grilling space
DC powered engine, specially designed to prevent auger jams
Enhanced grilling performance and new Weber Connect smart features
Remote grill control via smartphone
Two meat probes included (four probe capacity)
Works with Gourmet BBQ System components
Sous vide is not just for high-end chefs! Consider this: You can smoke a whole brisket today, vacuum pack it and freeze it, pull it out of the freezer 6 months from now, drop the frozen brisket in the vacuum bag directly into a sous vide bath and 5 hours later have a perfect 160°F internal temp brisket! Change in plans: Mom and the kids will be 2 hours late for dinner. No worries! Leave the brisket in the sous vide and it will be exactly the same at 7:00pm as it was at 5:00pm. You can do this and more with this Anova Culinary sous vide setup including 16 liter cooking container.


Newly revised for 2021, this 24″ air-insulated Kamado-killer does everything a ceramic grill can do, but costs less and wears the Weber nameplate you know and love! Built like a tank, with two-position charcoal grate that converts from high-temp grilling to low-temp barbecuing, spring-balanced hinged lid, Gourmet BBQ System ready (cookware sold separately), and hinged RapidFire lid damper for fast lighting. Trust me, this is a great grill!