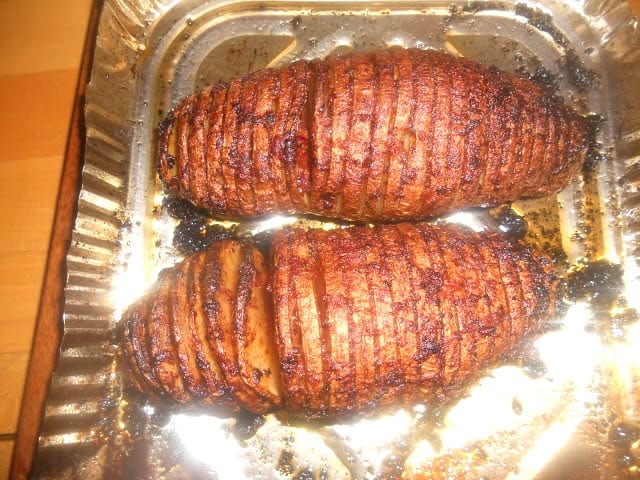 Hasselback potatoes were made popular at Hasselbacken, a restaurant in Stockholm, Sweden, with a history dating back to 1748. As the story goes, a cooking student at the restaurant named Leif Elisson created this potato preparation in 1953 as a way to speed up the process of making baked potatoes, and it's been a popular menu item ever since. However, some point out there is a recipe for a similar potato preparation in a 1929 cookbook called "Prinsessornas kokbok" (The Cookbook of Princesses). So maybe the cooking student had a nice collection of Swedish cookbooks?
What makes Hasselback potatoes unique is that they are sliced almost all the way through, so you can get butter and seasonings in between the slices, but the whole potato stays together in one piece.
Hasselbacks look fancy, but they're easy to make and quite tasty to eat! They've have become a popular side dish among grilling and barbecuing fans on The Virtual Weber Bulletin Board. Thanks to member Jim Lampe for providing these photos.
Choosing & Slicing The Potatoes
The best potatoes for Hasselback preparation are long and narrow with even shape and thickness, weighing 6-8 ounces each. Wash and dry the potatoes thoroughly. Peeling the potatoes is preferred, but this is an optional step.
To prepare the potato for slicing, start by removing a 1/4″ slice off the bottom so it sits flat on the cutting board. Discard the slice. Place chopsticks or wooden spoons along both sides of the potato and using a sharp knife, slice every 1/4″ down to the chopsticks or spoons along the entire length of the potato.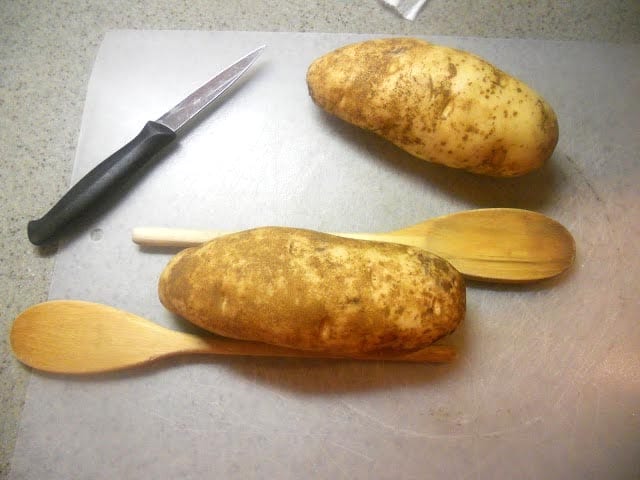 Before and after slicing, hold the potatoes in a large bowl of cold water to prevent discoloration. When all the potatoes are sliced, rinse each one under running water, flexing the potato to rinse between the slices, which helps prevent slices from sticking together. Dry the potatoes thoroughly before seasoning.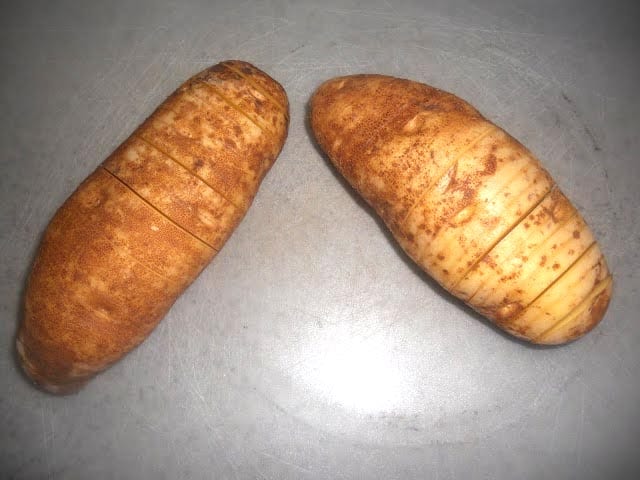 Combine the following seasoning ingredients using a food processor.
Hasselback Potato Seasoning
1/4 cup freshly grated Parmesan cheese
1/2 cup fine bread crumbs
1 Tablespoon butter, melted
1 teaspoon paprika
Kosher salt, to taste
Process until thoroughly mixed. Makes enough seasoning for 8 large potatoes.
Melt an additional 2 Tablespoons of butter. Brush the sliced side of each potato, ensuring that some butter gets down in between the slices. Place some of the seasoning on top of each potato, patting to make sure it sticks.
Roasting The Potatoes
Spray a disposable foil pan with non-stick cooking spray. Arrange the potatoes in the pan, cover with aluminum foil, and roast for 30 minutes at 450°F. Remove foil and continue cooking for another 15 minutes or until the exterior is crispy and the interior is tender. Use a paring knife to check for tenderness.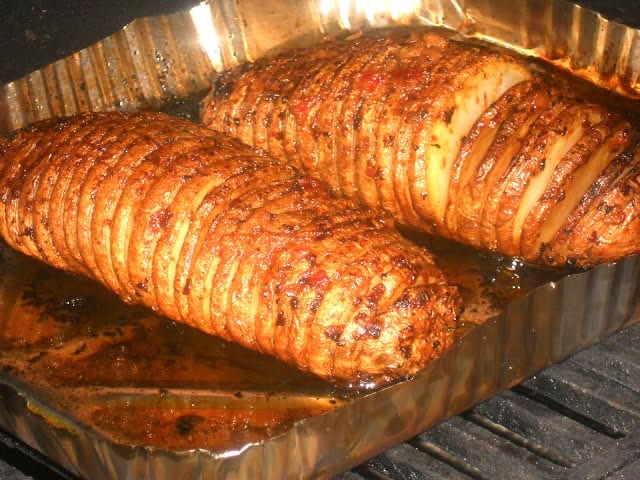 In a hot grill, 45-60 minutes of cooking time should be adequate, depending on grill temp. In a smoker, they'll take up to 2 hours depending on cooker temp…cover with foil for 45-60 minutes, then uncover for another 45-60 minutes until tender.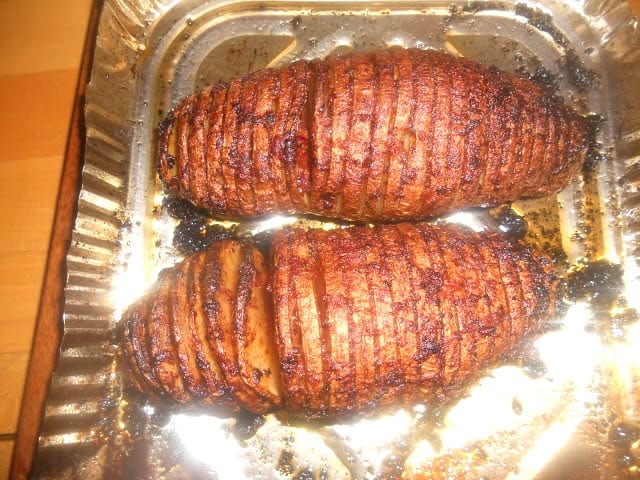 When the potatoes are finished, melt an additional 2 Tablespoons of butter and drizzle over the potatoes. Sprinkle with minced parsley for color, if you like, and enjoy!
More Potato Links On TVWB