As you become more experienced with your Weber Bullet and share some of your barbecue with friends and family, someone will inevitably ask you to cook at a party or family gathering.
In October 1999, I had the pleasure of cooking barbecue with my friend Duncan "Cam" Engel (aka "SLO Roaster") at a friend's house in Half Moon Bay, CA, about 40 miles from my home. We used two Weber Bullets to cook six whole butterflied chickens—3 sprinkled with a poultry rub, and 3 marinated in Italian dressing similar to the chicken shown in the Basic Marinated Chicken article.
Everyone was impressed by our Weber Smokey Mountain Cookers and the cooking process we used. Of course, the proof was in the product—the chicken was absolutely delicious, moist and tender, and looked great!
Preparation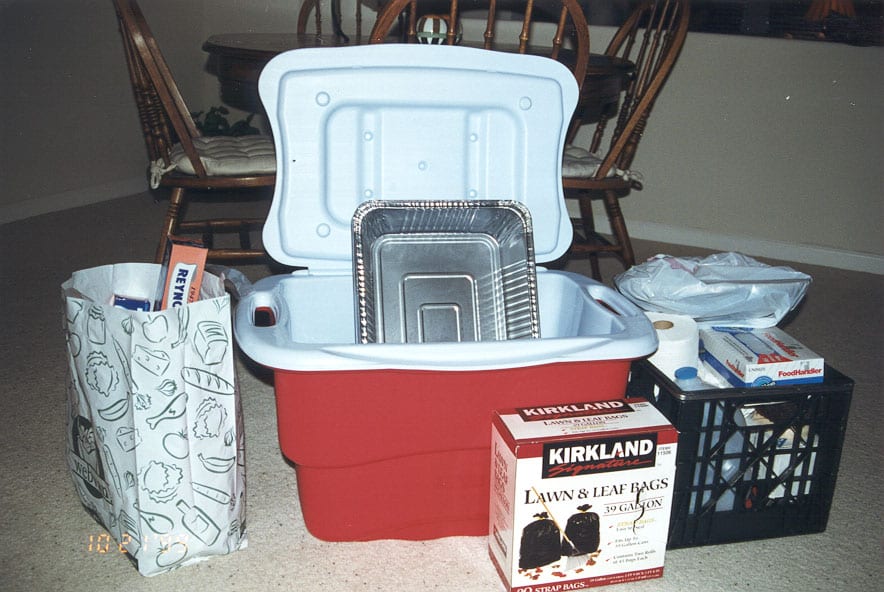 In preparation for the event, I drafted a list of the items we needed:
Hardware
Supplies
Wide aluminum foil
Ziploc bags
Trash bags
Kingsford charcoal, 24lbs.
Smoke wood, cherry (8 chunks)
Cooking Log & pen
Ice
Paper towels
Food
Chickens (6)
Poultry rub
Lemon pepper seasoning
Accent (MSG)
Wishbone Robusto Italian Dressing (2)
BBQ sauce (2 varieties)
Apple juice for basting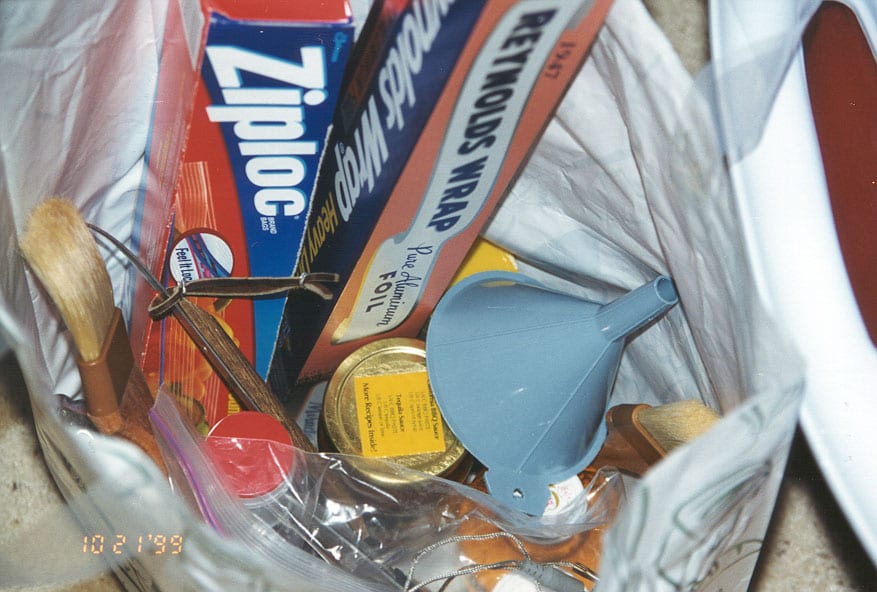 I pulled all these items together several days before the event, except for the chickens which I butterflied the night before. Three of the birds were sprinkled with a poultry rub just before cooking, while the other 3 were marinated for a few hours in Italian dressing and then sprinkled with lemon pepper just before cooking.
Since we would be at a friend's house, we had access to comfortable patio furniture and a kitchen for meat prep, hand washing, and cleanup. If your mobile cooking location has no such facilities, you'll need to consider bringing along some additional items:
Water
Dish soap
Bleach/sanitizing spray
Dish towels
Plastic wrap
Sunglasses
Sunscreen
Hat
Insect repellent
Citronella candles
Chairs
Snacks
Beverages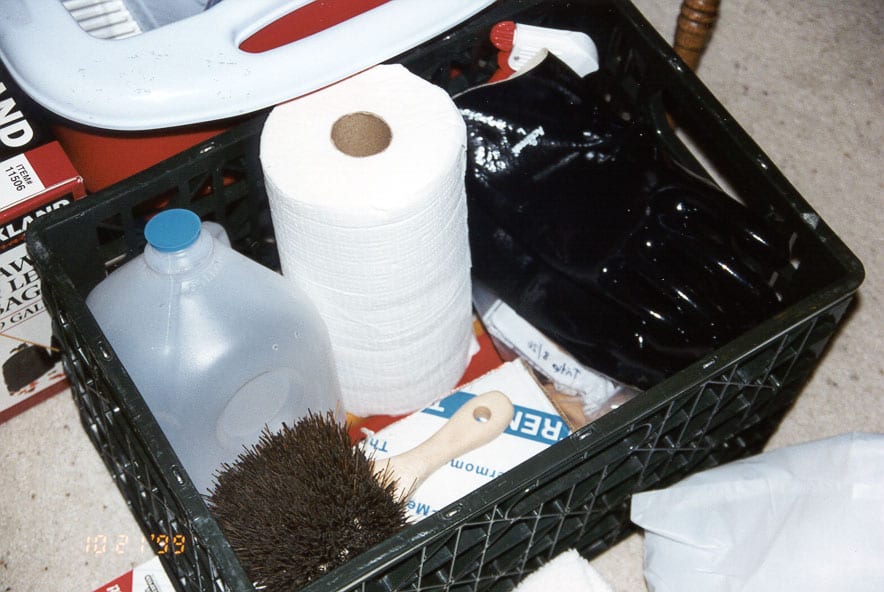 Our host was expecting 15-20 guests, so we planned on cooking 5 chickens—feeding four guests per chicken. However, since the chicken came in 2-packs at the wholesale warehouse store, we ended up cooking 6 birds.
We did nothing fancy in terms of prepping the cookers for the road trip. All the parts of my WSM fit in the trunk of my car, with the exception of the middle cooking section, which I placed inside a large trash bag and put in the backseat on top of an old blanket to protect the seat. Cam's WSM fit easily in his hatchback, simply broken down into its three sections.
Let's Get This Show On The Road!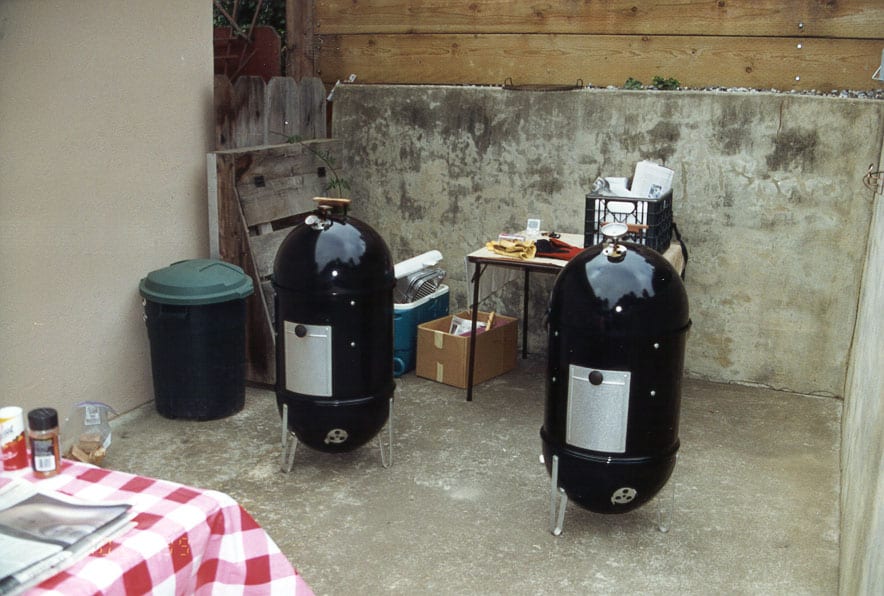 We arrived early the next day at our friend's house and setup our equipment in the backyard.
At 9:00am we started a Weber chimney starter full of Kingsford Charcoal Briquets.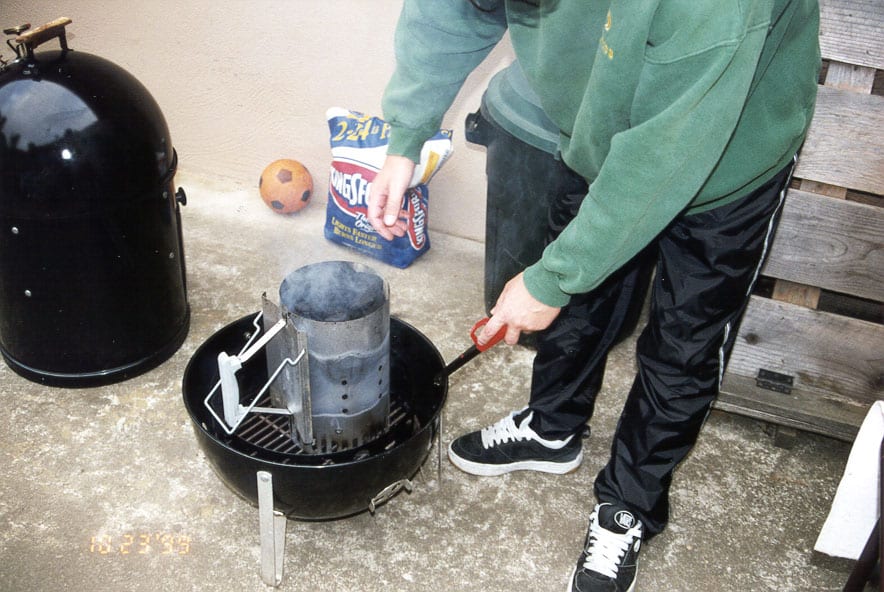 When the coals were hot, we placed half in each Bullet. We then added 1-1/2 chimneys of unlit briquettes on top of the lit coals in each cooker. By 10:40am the coals were hot, the cooker temperature had stabilized, and we began smoking. We cooked the 3 poultry-rubbed birds in one Weber Bullet and the 3 marinated chickens in the other. Four chunks of unsoaked cherry smoke wood went into each cooker.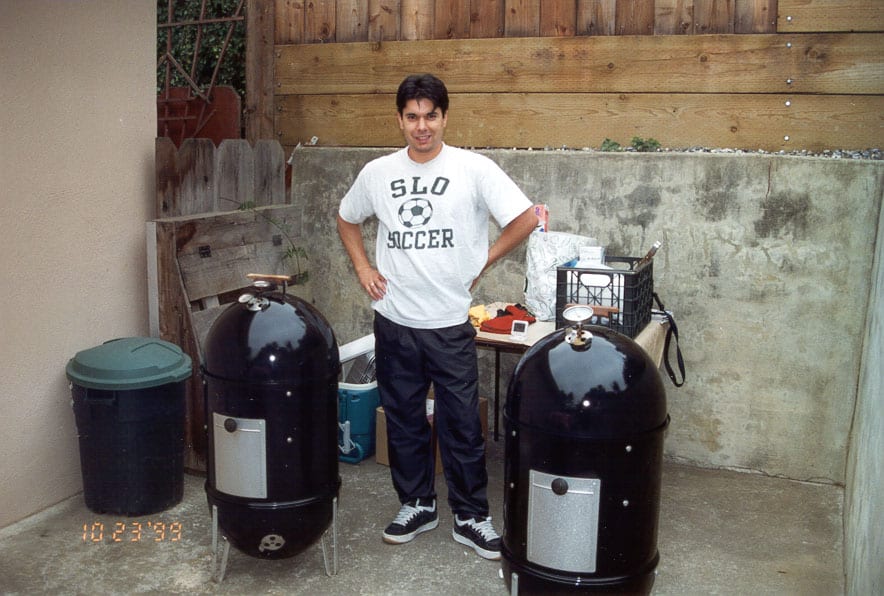 The coastal weather was very pleasant that day, in the mid-60's with clear, calm skies, so the cookers chugged along nicely in the 240-250°F target range. Here's what my cooking log shows for my Weber Bullet:
| | | | | |
| --- | --- | --- | --- | --- |
| Time | Lid Temp | Vent 1 % | Vent 2 % | Vent 3 % |
| 10:40 am | – | 0 | 0 | 0 |
| 11:00 am | 218 | 25 | 25 | 25 |
| 11:15 am | 230 | 25 | 25 | 25 |
| 11:30 am | 235 | 25 | 25 | 25 |
| 11:45 am | 240 | 25 | 25 | 25 |
| 12:00 pm | 237 | 25 | 25 | 25 |
| 12:15 pm | 246 | 25 | 25 | 25 |
| 12:30 pm | 248 | 25 | 25 | 25 |
| 12:40 pm (w)(t)(b) | 248 | 25 | 25 | 25 |
| 12:45 pm | 246 | 25 | 25 | 25 |
| 1:00 pm | 260 | 15 | 15 | 15 |
| 1:15 pm | 255 | 15 | 15 | 0 |
| 1:30 pm | 250 | 15 | 15 | 0 |
| 1:40 pm (t)(b) | – | 15 | 15 | 0 |
| 2:00 pm | 255 | 15 | 15 | 0 |
| 2:15 pm | 255 | 15 | 15 | 0 |
| 2:30 pm | 245 | 50 | 50 | 50 |
| 2:50 pm | 255 | 50 | 50 | 50 |
(w) added hot water to pan
(t) turned meat over and end-for-end
(b) basted with premium apple juice
Note that the vent percentages represent the way I set the vents at the time indicated.
We Didn't Burn Down The House & No One Got Sick
The chickens came off the cookers at 2:50pm. They rested for about 10 minutes, then I separated them into thigh/drumstick and breast/wing portions. We served the chicken right out of the aluminum foil pans that were used to transport the cooked birds into the house.
In addition to the chicken, our host provided a wonderful menu of Aidell's grilled sausages, homemade baked beans, tossed green salad, garlic bread, and other goodies. For dessert, in keeping with Half Moon Bay's status as Pumpkin Capital of the World, we enjoyed freshly baked pumpkin pies.
We fed 15 guests easily with 6 chickens, leaving some leftovers with our host and sending the rest home with guests. We spent a total of $55.00 on the food and supplies needed for this event. And in case you're wondering, the poultry-rubbed chicken went faster than the marinated chicken, but both were thoroughly enjoyed.
Cam and I had great fun cooking at our friend's party. It required a fair amount of time and preparation on our part, but was rewarded by the pride and satisfaction we felt after successfully pulling off the event. We enjoyed it so much that we did it again on Memorial Day, 2000 for this same friend's retirement party. In fact, Cam went on to become quite proficient at "going mobile", frequently taking his WSM to various locations to cook chicken and ribs for friends.
So don't be afraid—impress your friends and family with your BBQ expertise. Go mobile with your Weber Bullet!
Going Mobile In Style!
I can't resist showing you two photos that I took in October, 2000 at the American Royal Barbecue competition in Kansas City, Mo. They show what I consider to be the ultimate in "going mobile" with the Weber Bullet.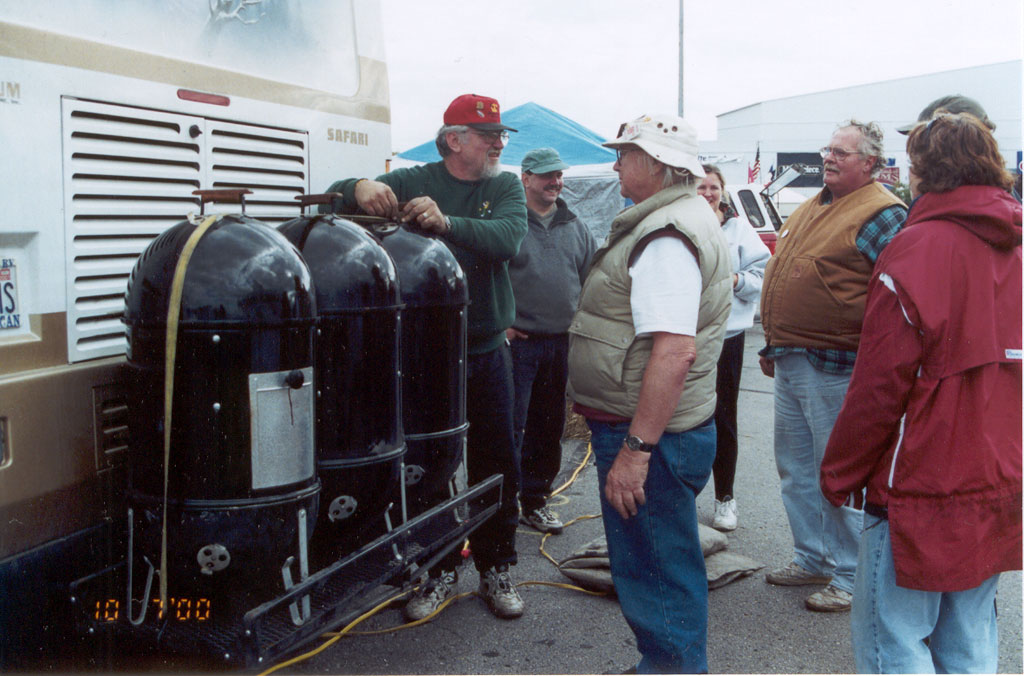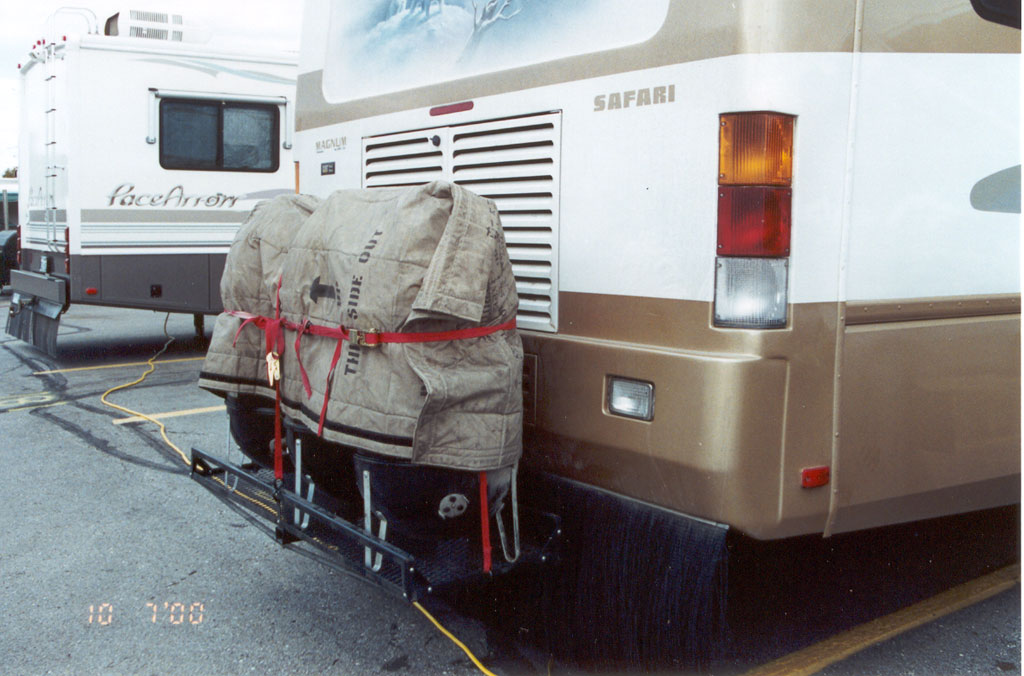 Jim Minion of the Cardogs Barbecue Team is shown here loading three WSMs on the back of his monster RV. The cookers are wrapped in moving blankets and strapped-down for the long road trip home to Washington State. The cookers sit on a metal platform that is inserted into a trailer hitch. The Cardogs used four Weber Smokey Mountain Cookers in this competition…the fourth one was stowed in pieces in a compartment under the RV.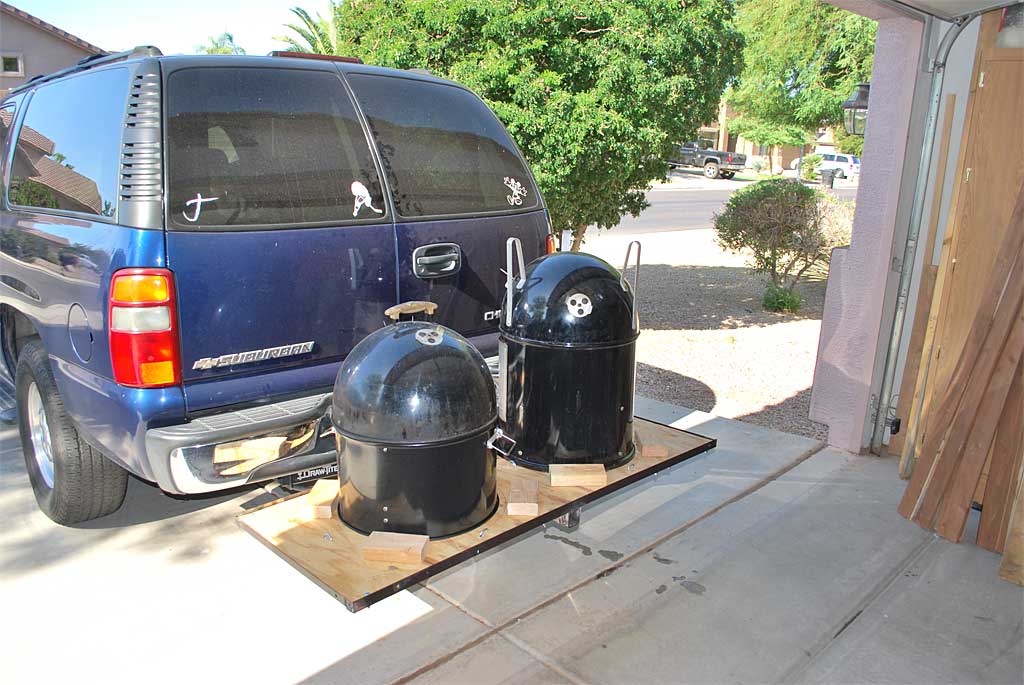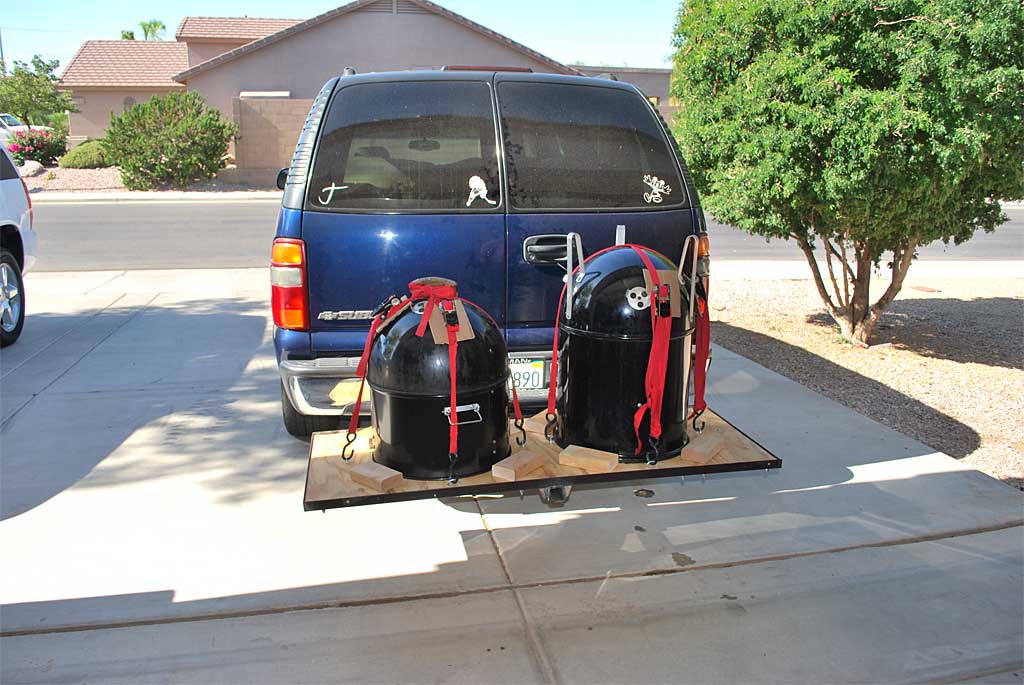 These photos show a similar approach by Bob Hunter from Orange, CA. He devised this WSM travel platform for the back of his SUV in July, 2010. Bob plans to make some improvements to the design, but says it worked just fine as shown here.
Cooking For Groups
Here's a great source for group cooking from the University of Georgia:

This document covers menu planning, food purchasing, pricing, food safety, preparation, serving, cleanup, and more. Thanks to Bruce Bissonnette for sharing this resource on The Virtual Weber Bulletin Board.
Competition Checklists
If you're going mobile for the purposes of competition barbecue, you'll need a lot more than what's listed here. Smokin' Guns BBQ offers two useful checklists:

You'll also find a list of recommended competition supplies available from Amazon.com on the BBQ Shopping page.