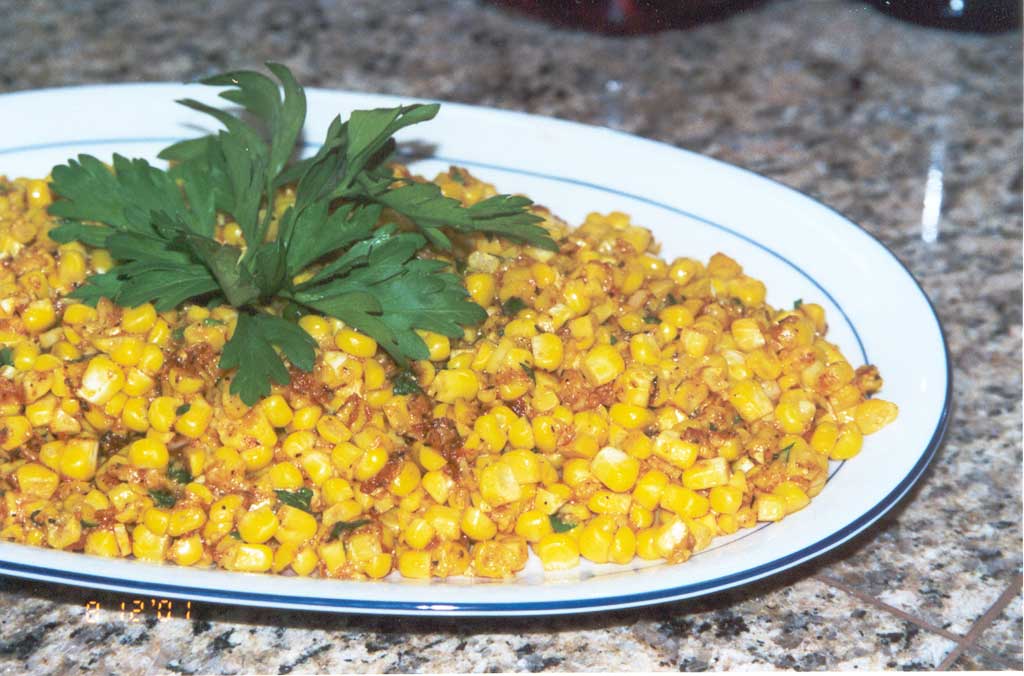 Here's a quick and easy side dish that goes great with barbecue. Creole seasoning is a delicious addition to corn and gives it a nice "kick in the pants", if you know what I mean!
This recipe is inspired by one found in the book Dinosaur Bar-B-Que by John Stage and Nancy Radke. You'll notice that the Creole seasoning contains no salt. It doesn't need any since you get some salt from the butter. You could substitute your own favorite Creole seasoning in this recipe or use a commercial product like Tony Chachere's.
Making The Creole Seasoning
Start out by making the Creole seasoning.
Ingredients List
5 teaspoons paprika
5 teaspoons granulated garlic powder
2 teaspoons onion powder
2 teaspoons dried oregano leaves
2 teaspoons dried thyme leaves
1-1/2 teaspoons ground black pepper
1 teaspoon ground white pepper
1/2 teaspoon cayenne pepper
1-1/2 teaspoons sugar
You'll need 5 teaspoons of this seasoning for the recipe. Store the remainder in an airtight container.
Your Shopping List
Here are the ingredients you'll need to make this corn dish.
3 cups fresh-cut yellow corn
4 Tablespoons butter
1 Tablespoon minced garlic
5 teaspoons Creole seasoning
2 Tablespoons chopped fresh Italian parsley (optional)
Use fresh-cut corn if it's available. An average ear of corn weighs 10-14 ounces and will yield about 1 cup of cut corn. I bought four large ears and ended up with 3 cups of kernels with a little leftover. Better to err on the side of having too much corn than too little.
You can substitute canned or frozen corn, if necessary.
Prepping The Corn
Remove the corn husks and silk, then rinse the ears under cold running water. Dry the ears and pick off any remaining stands of silk.
Cutting corn from the cob is easy if you have a sharp knife and a method to control the flying kernels. Start by cutting off a bit of the narrow end to flatten it. Place that flat end on a rimmed baking sheet pan or in a wide bowl. Holding the ear by the stem, cut downward through 2-3 rows of kernels at a time. Repeat until all the kernels are removed, then scrape the cob with the back of the knife to remove the milky juice.
Place the corn and juices in a pot and simmer covered for several minutes until cooked to your liking. If using frozen corn, cook according to the package directions or to your liking.
If you like uncooked corn right off the cob, you can skip this cooking step altogether.
Bringing It All Together
Melt the butter in a cast iron skillet over medium-high heat. Add the minced garlic and cook for a minute or so until it's soft but not browned. Add the corn and stir to coat in the butter, then add the Creole seasoning and stir again to distribute evenly.
Cook for several minutes to heat the corn and give it a "toasty" flavor. There's no set amount of cooking time; cook a little more if you like soft corn or a little less if you prefer crunchy corn.
Finally, stir in the chopped parsley, serve in a warm bowl and enjoy!