One thing that I've found very helpful over the years is to take a few notes each time I barbecue with the Weber Smokey Mountain Cooker. I especially like to write down what worked well and what did not work well, so that months or even years from now I can duplicate my successes and avoid repeating my failures.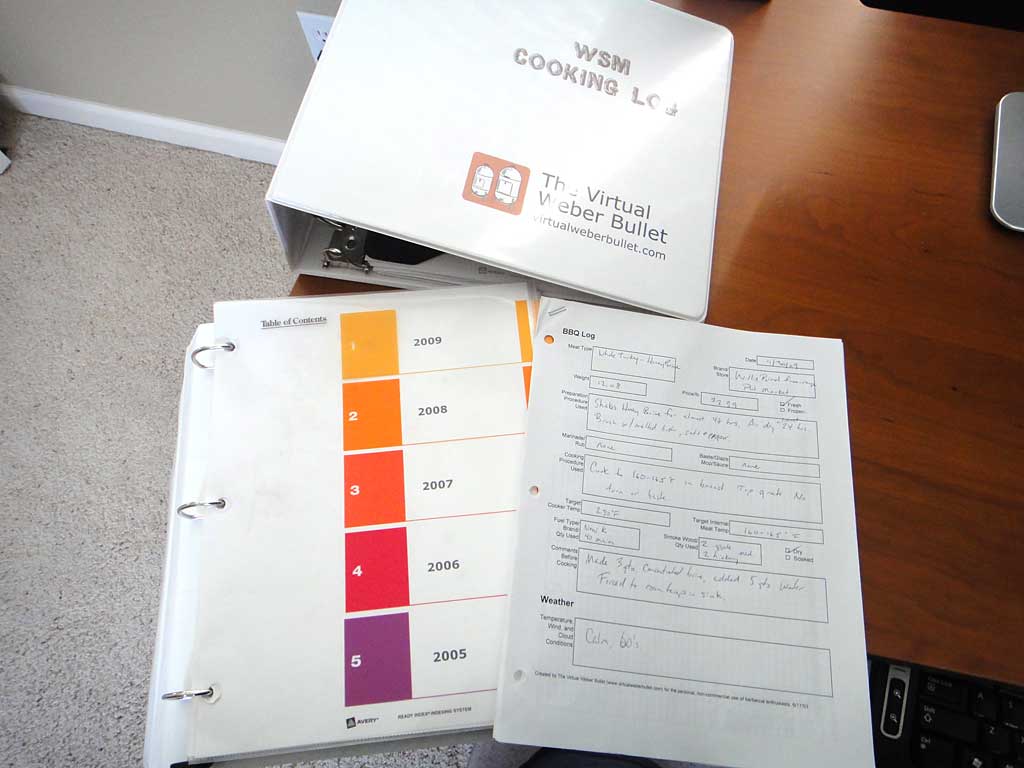 As a beginning barbecuer, you don't have to be formal or super-detailed about your note taking—just do what makes sense to you. If you feel that taking notes is not your style or is too much work, then don't do it. Remember, barbecuing should be fun and should not feel like work!
Many advanced barbecuers, especially those who participate in barbecue competitions, use a cooking log sheet to record each barbecue session in great detail. Small changes to recipes or cooking methods can make all the difference between winning and losing, so documenting what you did, when you did it, and how you did it are very important to the competitive barbecuer.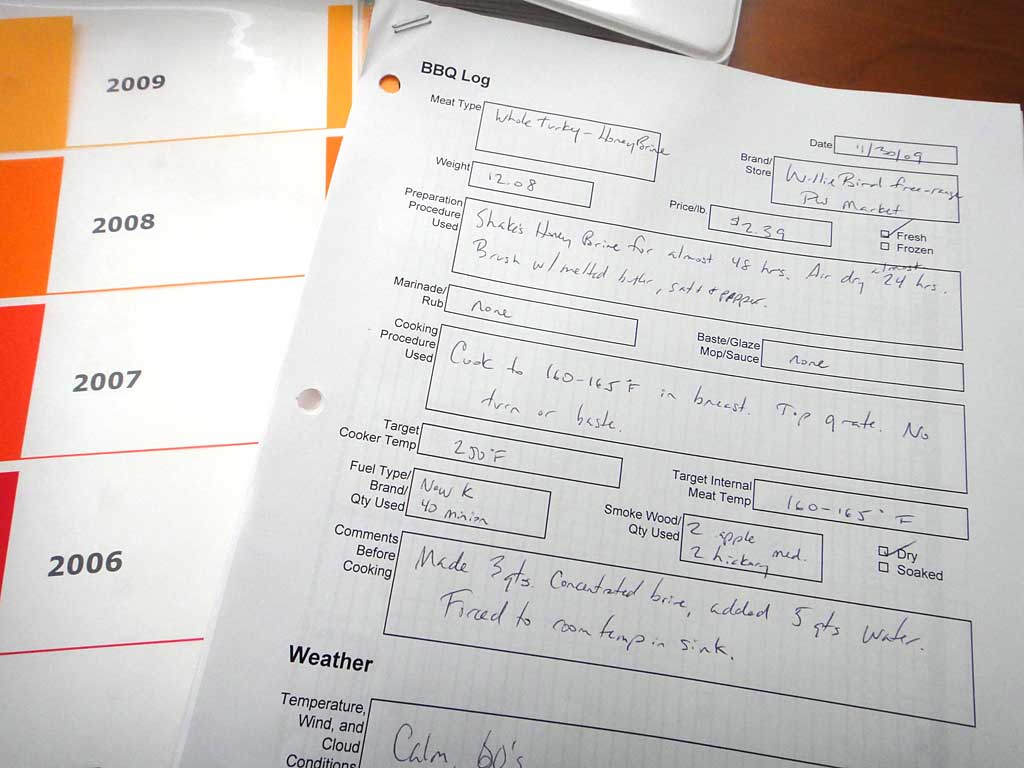 You can design your own cooking log, or just click one of the links below to download a copy of the one I use. You can personalize the Excel version to meet your specific needs.
If you decide to use a cooking log:
Only track the information that is important to you, and only to the level of detail that you want. Don't feel compelled to track everything shown in my cooking log.
Don't obsess over tracking cooker temperature, vent settings, etc. You don't need to track these things every 5 minutes! Just do what makes sense to you.
Downloadable Cooking Logs
Updated May 2021

What's In A Cooking Log?
In a cooking log, you usually track the following types of information:
Date of the cooking session
Type of meat cooked

weight
price per pound
source/supplier
fresh or previously frozen

How the meat was prepared for cooking
Rub/baste/glaze/mop/sauce used
How the meat was cooked

target cooker temperature
target internal meat temperature
type, brand and quantity of fuel used
type and quantity of smoke wood used
water pan full/empty/not used

Weather

air temperature
wind conditions
cloud conditions

Cooker performance at time intervals (e.g. every 30 minutes)

cooker temperature
vent settings
internal meat temperature
when meat was turned/basted
when water, fuel or smoke wood were added
additional comments

Evaluation of final results

appearance
smoke ring
tenderness
flavor/aroma
moist/dry
additional comments

Notes for next time (things you might do differently in the future)
Sample Cooking Log
Someone asked for an example of how I fill-out my cooking log. Here's a PDF you can check-out: