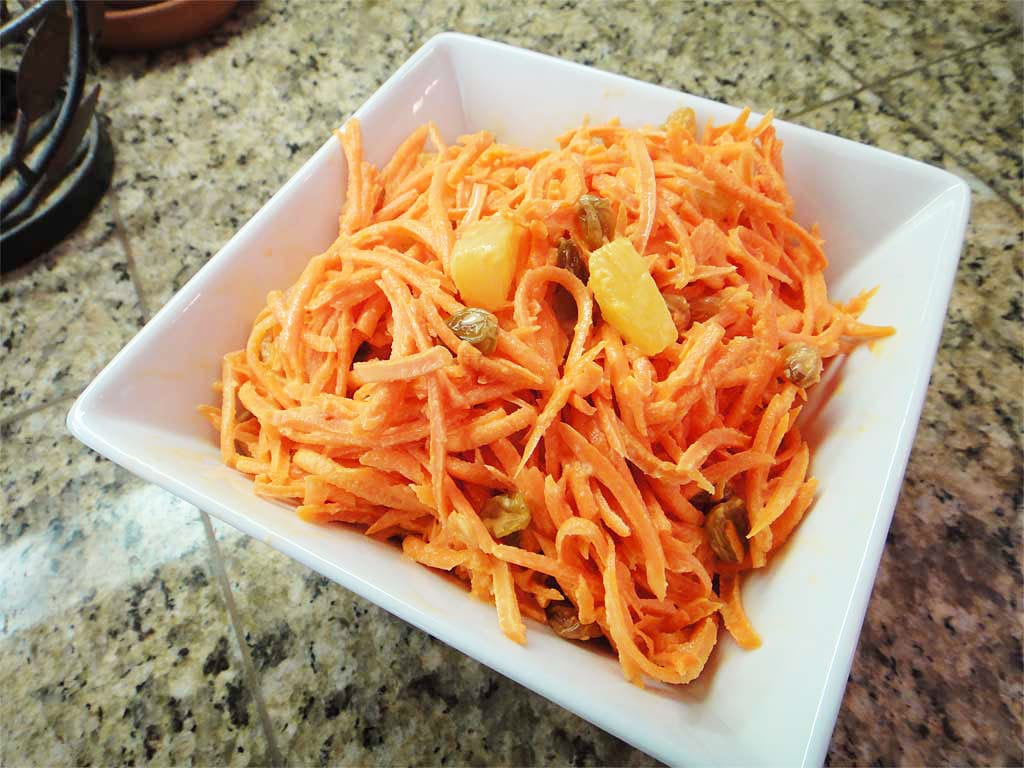 Carrot salad is an easy-to-make side dish with a sweet flavor that goes well with barbecue. This salad is adapted from a recipe by Ina Garten on the Food Network.
Gather The Ingredients
Here's your shopping list for this carrot salad.
Ingredients List
1 pound carrots
1/3 cup golden raisins
1/3 cup diced gold pineapple
1/4 cup sour cream
1/4 cup mayonnaise
3 Tablespoons sugar
2 Tablespoons lemon juice, freshly squeezed
1/2 teaspoon salt
Gold pineapple is sold under names such as Maui Gold Pineapple, Del Monte Gold Pineapple or Dole Tropical Gold Pineapple. It is a sweet, low-acid pineapple that I prefer to regular pineapple. Use regular pineapple if that's all you can find.
I found cans of gold pineapple chunks at Costco. I cut each chunk into 4 pieces about the same size as the raisins. It probably didn't take more than 8-10 chunks to get 1/3 cup of diced pineapple.
Measure out the pineapple, raisins, sour cream, mayonnaise, sugar, lemon juice and salt.
Rehydrate the raisins by placing them in a small bowl and covering them with boiling water. Let sit for 5 minutes and then drain the water.
Grate The Carrots
Peel the carrots and cut off the ends. Setup your food processor with the grating blade. Cut the carrots into pieces that fit sideways in the feed tube. This results in nice, long strands of grated carrot. Grate the carrots in batches and place in a mixing bowl.
Assemble The Salad And Serve
Pour the lemon juice over the grated carrots and toss to combine. Place the sour cream, mayonnaise, sugar and salt in a separate mixing bowl and whisk until smooth. Pour the mixture over the grated carrots, add the raisins and pineapple, and toss to combine.
You can increase the amount of raisins and/or pineapple, if you like. Adding a bit of freshly ground black pepper to taste is also an option.