These beans go great with any barbecue meal, and they couldn't be easier to make. They're a little on the sweet side, but that's what makes them taste so good. Even the kids will love 'em!
Warmed On The Stove Top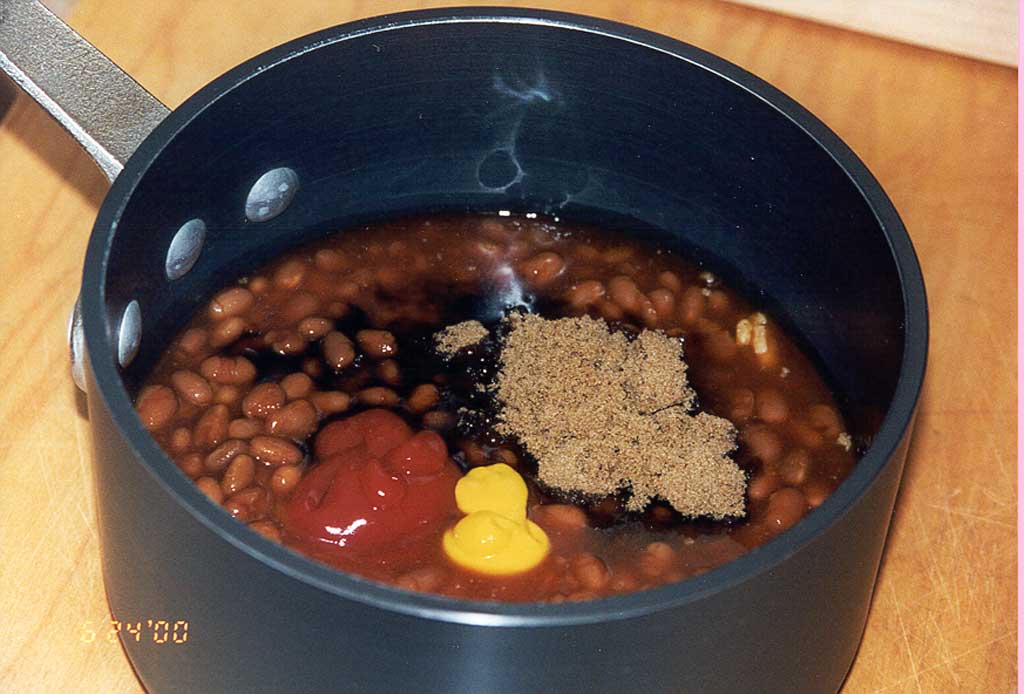 Empty a 16 ounce can of Bush's Original Baked Beans into a saucepan. Add 1 Tablespoon of Heinz Ketchup, 1/2 teaspoon of French's yellow prepared mustard, 3 Tablespoons of dark brown sugar, and 1-1/2 teaspoons of Brer Rabbit mild-flavor molasses.
Stir to combine the ingredients, then heat uncovered over medium-low heat on the stove top for about 10 minutes, stirring occasionally. Be careful not to heat too long, as the beans will thicken too much. These beans now are ready to serve alongside your favorite barbecued meats.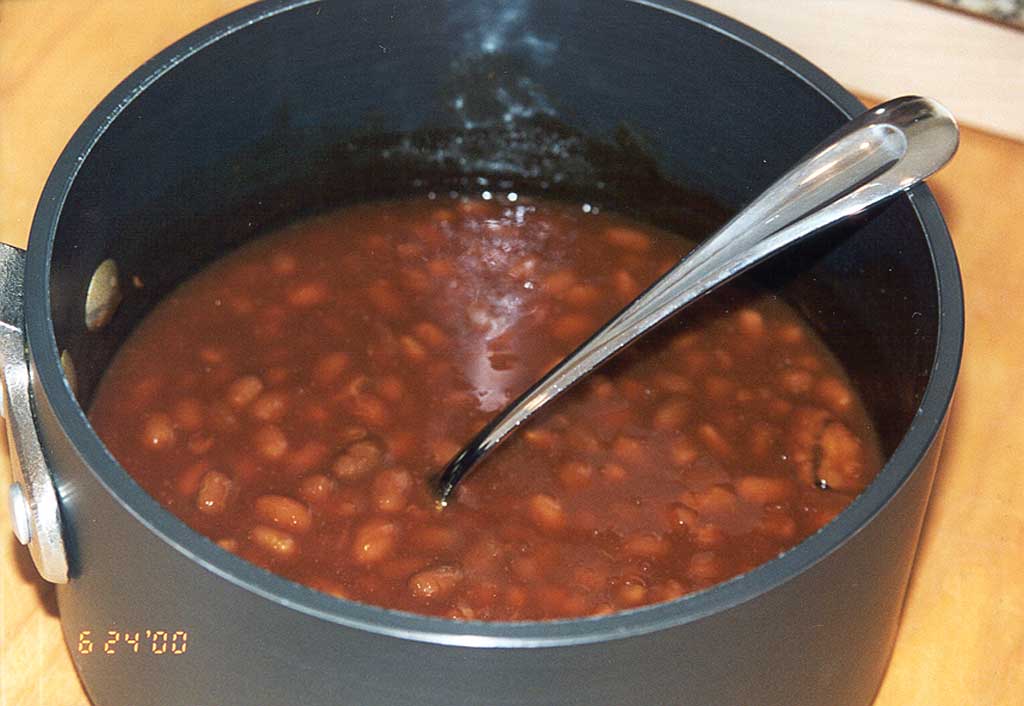 Feel free to add your own signature ingredients to this basic recipe. Crumbled bacon, chopped pork butt or chunks of ham are good choices, or you can make a more complex dish with the addition of yellow onion, various bell peppers, chili pepper, hot sauce, and so on.
Smoked In The WSM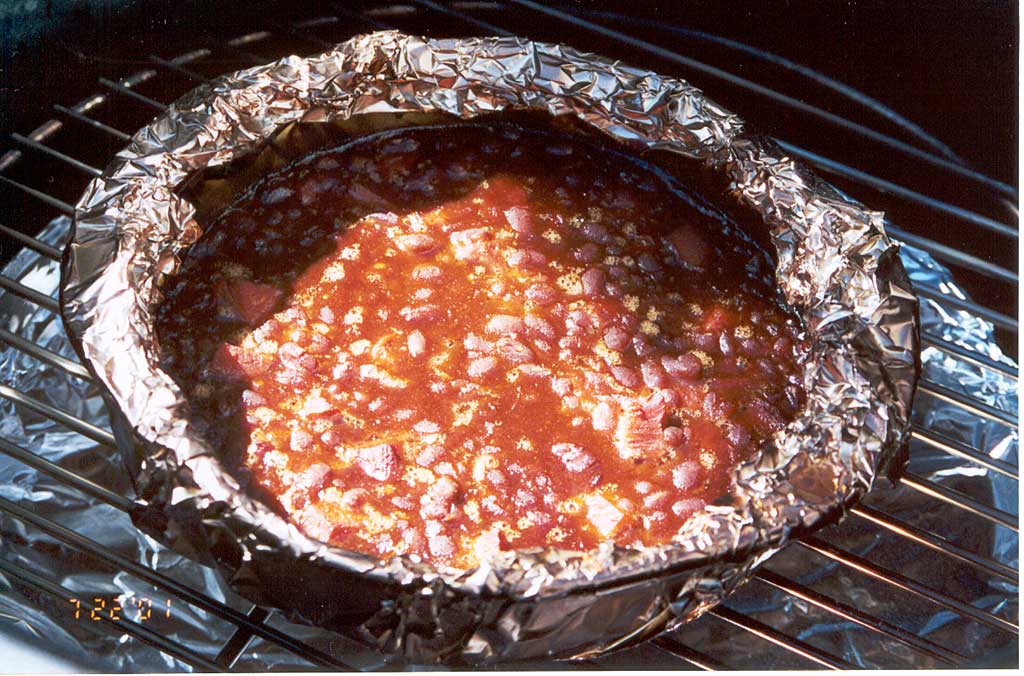 To add a smoky flavor to your beans, instead of heating on the stove top, place them in a disposable foil pan and heat in the WSM for about two hours while barbecuing other foods. Stir once or twice while cooking and you'll end up with a very tasty side dish.
If you don't have a disposable foil pan handy, just wrap the outside of a Pyrex casserole dish with aluminum foil, as shown in this picture. This prevents smoke from building up on the dish and makes cleanup easier.
When cooking pork butt on the top grate, place a dish of baked beans on the lower grate to catch the pork drippings. Mmmm, good!
For Larger Quantities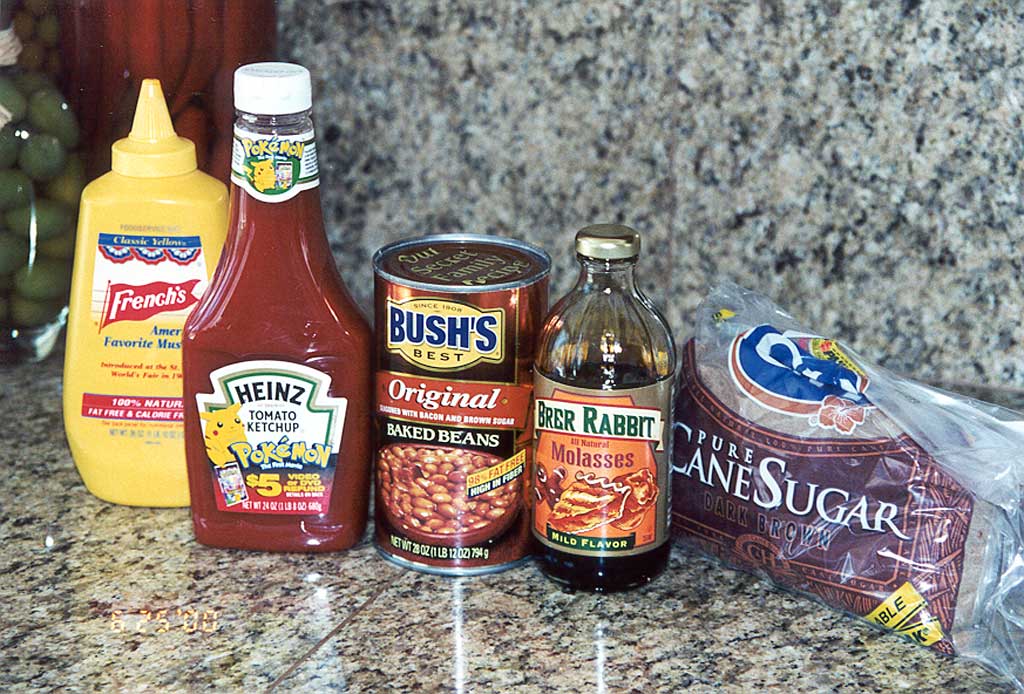 This recipe can be scaled up for the larger size can of Bush's Beans as follows: a 28 ounce can of Bush's Original Baked Beans, 1-3/4 Tablespoons ketchup, just shy of 1 teaspoon mustard, 5-1/4 Tablespoons brown sugar, and 2-2/3 teaspoons molasses.