Iced tea and lemonade are two all-time favorite beverages that go great with barbecue. Here are several recipes for both that will compliment your barbecued meats perfectly and quench your thirst on even the hottest summer day.
Southern-Style Sweet Tea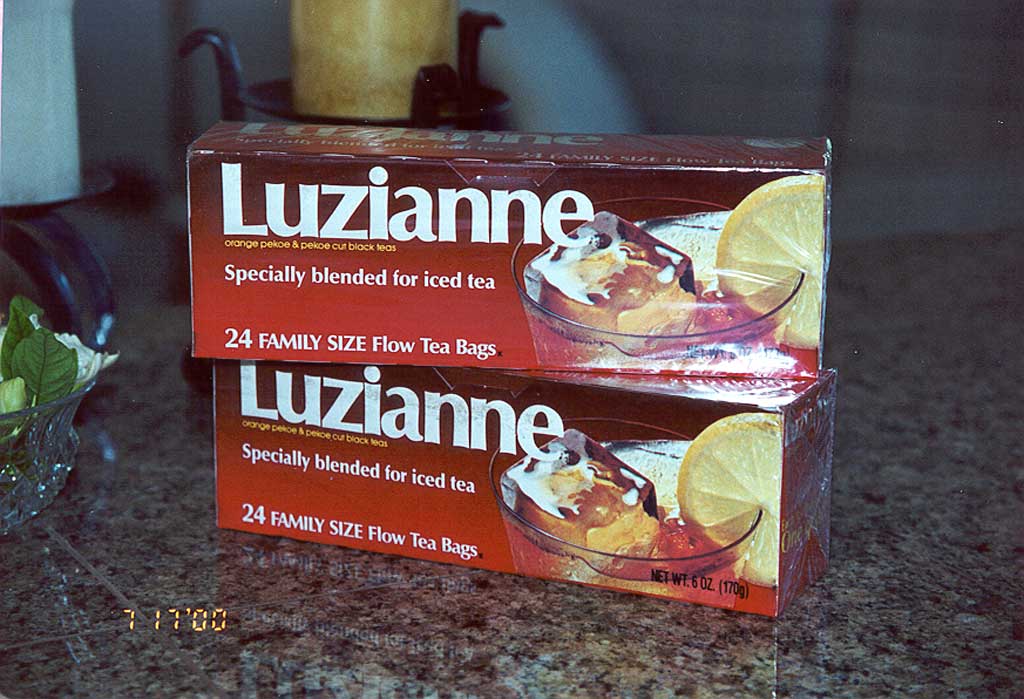 One of my favorite things about the South is that you can get sweetened ice tea in almost every restaurant wherever you go. In fact, the counter help or waitperson will ask, "Sweet or unsweet?" when you ask for iced tea. It's served in very large glasses with lots of ice—just the way you want it on a sweltering southern day.
If you want to be authentic, use Luzianne tea, a very popular brand in the South. If you can't find it locally, you can order it online or from the Luzianne website. Otherwise, use Lipton or a comparable brand of regular black tea.
Bring two quarts of cold water to a boil. Place two family-sized tea bags in a container and add the boiling water. Let the tea steep for 3-5 minutes. Remove the tea bags and add 1/2 to 1 cup of sugar, depending on your preference, and stir until the sugar is dissolved.
Let tea cool to room temperature, then serve over ice with lemon, lime, or mint. Best enjoyed the same day of brewing; discard after three days.
Sun Tea
Sun tea is great for those extremely hot summer days when you don't want to do anything to heat up the kitchen—just park your container on the patio and let the sun do all the work! Some folks also prefer the lighter taste that results from the sun tea method.
Fill a large glass jar with one gallon of cold water. Add 3 family-sized tea bags and cap jar loosely. Place jar in hot sun for 3-4 hours while you're cooking your barbecue. Remove tea bags, sweeten to taste, and serve over lots of ice with lemon wedges as a garnish.
Refrigerate within one hour of brewing. Discard after three days.
China Mist Fiesta Fria Tea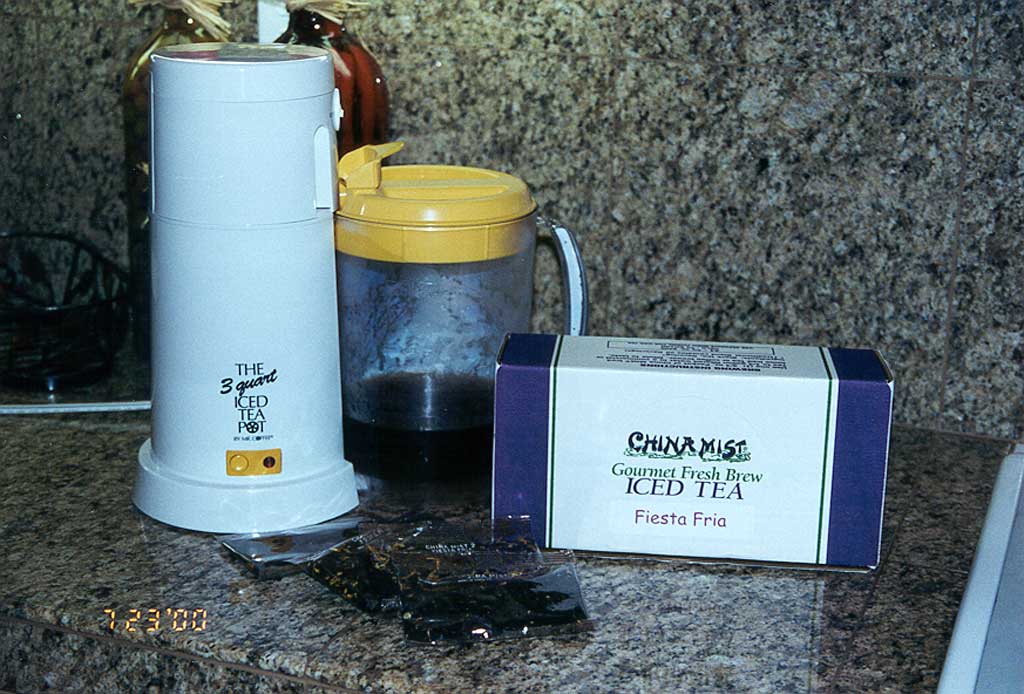 China Mist Fiesta Fria flavored iced tea has been my household's favorite iced tea for years. It is fragrant and fruity and just the perfect accompaniment to great barbecue. My guest always love it!
Brewing is oh so easy. Place one 3/4 ounce package of loose tea in a Mr. Coffee 3-Quart Iced Tea Maker and follow the normal brewing instructions. This brewing machine is recommended by China Mist to achieve restaurant-quality results with their products. Pour over ice, sweeten to taste, and enjoy!
China Mist recommends that you enjoy their teas within 6-8 hours of brewing and that they not be stored overnight. I have found that it can be refrigerated for about three days before the taste and clarity degrade to unacceptable levels.
Hot Dog On A Stick Muscle Beach Lemonade Clone
Here's a recipe clone of the original Muscle Beach lemonade from Southern California, the lemonade you find at "Hot Dog on a Stick" restaurants in the mall. It's absolutely fantastic!
Use a lemon squeezer to juice 6-10 lemons, depending on size, to produce 1 cup of fresh juice. Combine the juice with 7 cups cold water and 1 cup sugar in a two quart pitcher. Stir well to dissolve the sugar. Slice two of the squeezed lemon rind halves into quarters (eight pieces total) and add the rinds to the pitcher. Add ice to the top of the pitcher and chill.
To serve, place a few thin lemon slices in the bottom of a tall glass, fill with ice, then add lemonade. Plan on drinking this lemonade the same day you make it, as it doesn't keep well overnight.
The Arnold Palmer
Is this really Arnold Palmer's favorite drink? Who knows—he does lend his name and image to one bottler's version of this popular drink—but it's delicious in any event!
Combine 16 ounces of iced tea and 16 ounces of lemonade for a refreshing taste treat. Alternatively, pour lemonade into an ice-filled glass until it's half full, then pour iced tea to the top. The tea will float on top of the lemonade!
Pink Lemonade
Did you know you can convert regular lemonade to pink lemonade by adding cranberry juice? Adding 1/3-1/2 cup of cranberry juice to 8-10 cups of lemonade will do the trick.
---

Iced Tea Trivia
• It's said that iced tea was introduced at the World's Fair in St. Louis in 1904, and there are several versions of the story. One is that an Indian tea merchant had great difficulty selling his hot brew in the sweltering summer temperatures of St. Louis, so he poured it over ice and the rest is history! Another version says the merchant was from England. The truth is that there are documented recipes for iced tea dating back to the 1800's…still, it makes for a nice story.
• According to Lipton Tea, tea is the most widely consumed beverage in the world after water.
• According to The Tea Association of the USA, in the year 2014, Americans consumed over 80 billion servings of tea, or over 3.6 billion gallons—85% of it as iced tea. On any given day, over half of all Americans drink tea.
• Tea contains between one-third and one-half as much caffeine as coffee.
• Iced tea is best enjoyed the same day it is brewed. High quality teas brew clearer and stay clearer longer than inferior teas. Iced tea gets cloudy and develops a bitter aftertaste as it ages over several days as the tannins in the tea degrade.
---
Recipe clone for "Hot Dog on a Stick Muscle Beach Lemonade" used with permission,  © 2000 Top Secret Recipes, Inc.