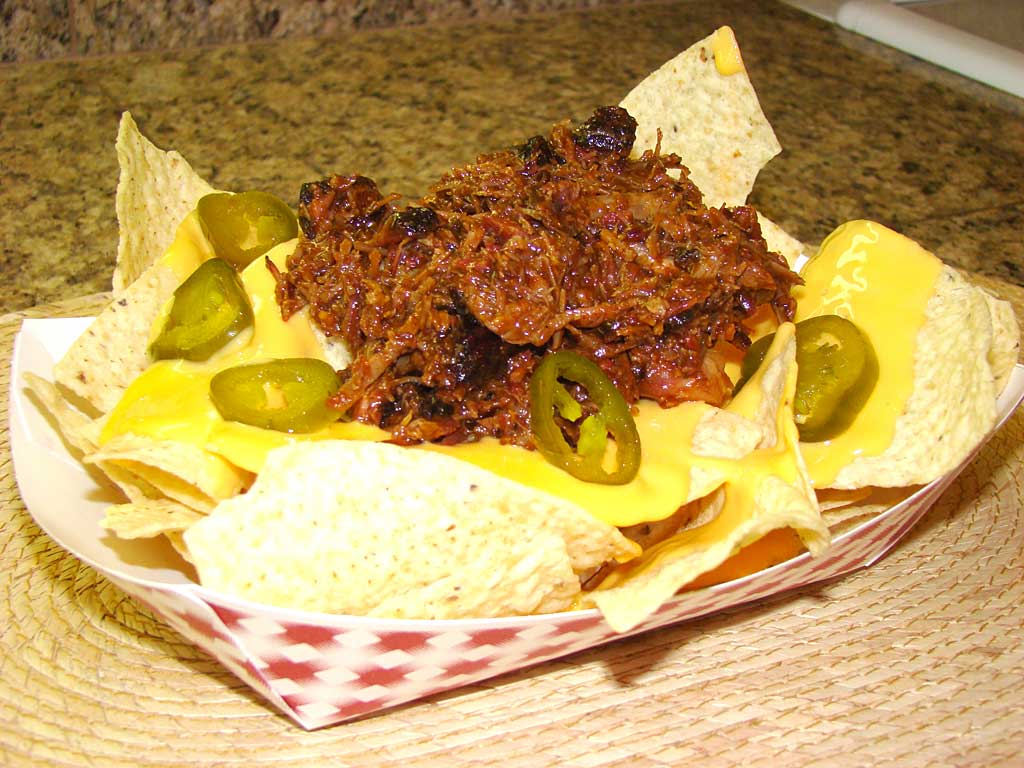 You'll find barbecue nachos on the menu at some barbecue joints, and I'll tell you what, they're super-tasty! The smoky meat, the sweet barbecue sauce, the gooey cheese and the salty, crispy chips just go together so well. They're super-easy to make at home, too, using leftover brisket, chicken, or pork butt like the nachos shown above.
Prepare The Meat
Prepare the barbecued meat by chopping it finely or pulsing it in a food processor. Transfer to a microwave-safe bowl and add your favorite barbecue sauce, stirring to ensure all the meat is evenly coated. Microwave for several minutes at 30-40% power, stirring occasionally, until the meat is steaming hot.
Prepare The Cheesy Goodness
When it comes to the nacho cheese, you can use a canned or jarred sauce (my preference since I'm lazy) or make your own from scratch with fresh ingredients. There are plenty of nacho cheese sauce recipes to choose from…just make sure the sauce is piping hot.
Of course, you can always use shredded cheese or a combination of shredded cheese and a nacho cheese sauce.
Choose A Sturdy Chip
Lastly, choose a good, fresh, stiff corn tortilla chip—the kind that will stand up under the weight of all that cheesy, meaty goodness. The white corn restaurant-style tortilla chips shown in the photo above were not quite up to the task. Next time I'll use a sturdier chip.
Make sure to pre-heat the chips in the oven or microwave before adding the toppings. Cold chips will suck the heat right out of the cheese and meat, leaving the whole thing lukewarm.
Assemble The Nachos
Now all that's left to do is to assemble the nachos. Put down a layer of chips, apply a generous amount of nacho cheese sauce, place a nice mound of barbecued meat on top, add any other favorite toppings, and enjoy!
If using shredded cheese, lay down the chips and cheese on a rimmed baking sheet pan, melt the cheese under the broiler, then add the barbecued meat and other toppings.