In This Topic
Here are a few modifications for the water pan of the Weber Smokey Mountain Cooker, as well as some pan alternatives you may want to consider, especially if you have the big, deep water pan that's included with the 18.5″ Weber Smokey Mountain Cooker.
To learn more about the purpose of the water pan and variations when using it, see Using A Water Pan In Weber Smokers.
What's Wrong With The 18.5″ WSM Water Pan?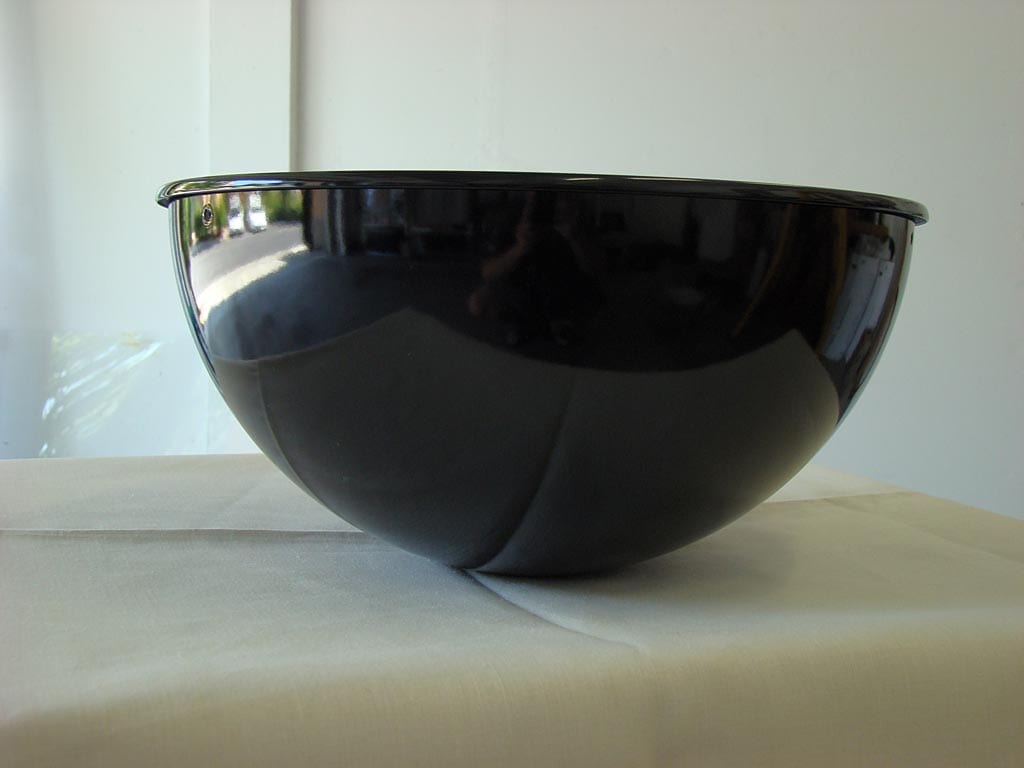 A lot of people don't like the shape of the 18.5″ WSM's water pan. The 2.5 gallon capacity is great, but it's too deep! It hangs down so low that it sometimes touches the charcoal and smoke wood in the charcoal chamber. That makes it hard to mound-up unlit charcoal in the chamber for longer cooking sessions. The pan's low-hanging profile also makes it harder to add charcoal or stir the coals during cooking.
How Did We End Up With This Deep Water Pan, Anyway?
Prior to the 2009 model year, Weber sold only one size of Smokey Mountain Cooker—the 18.5″ model—and it came with a shallow, 1-gallon water pan, shown below. It's actually a modified lid from a Weber Smokey Joe grill.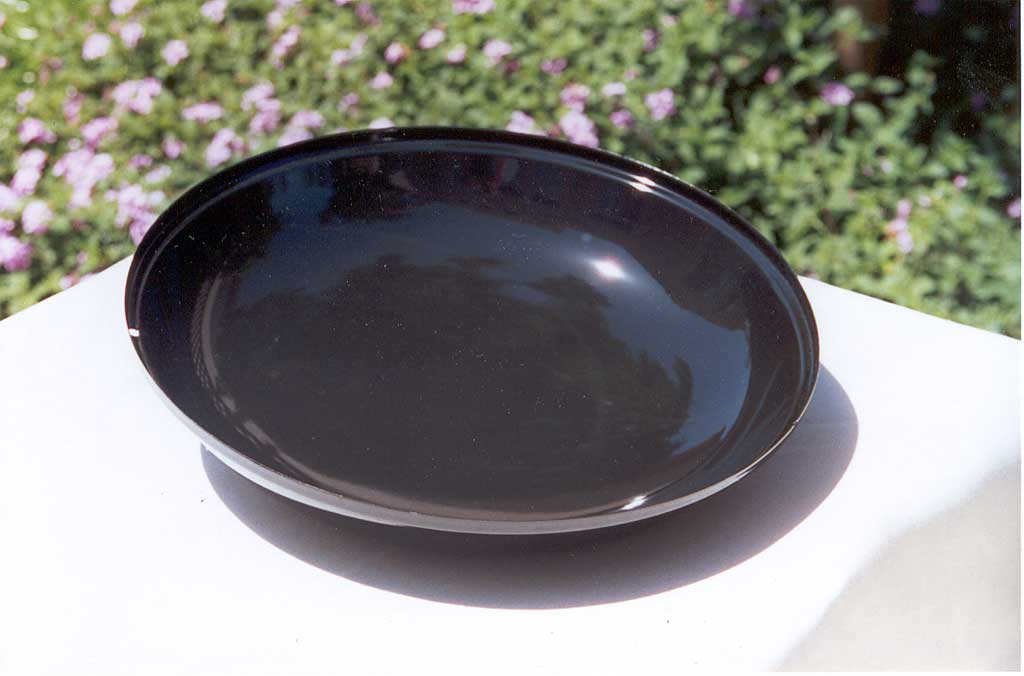 (That first sentence is not entirely accurate. Weber sold a 14.5″ WSM from 1981-1983, but pulled it off the market due to poor sales. You can read more about it in the Weber Bullet History article.)
The big complaint about the original water pan, at least among those who used water in the pan, was its capacity—people wanted a water pan that held more water for longer cooks.
In Fall 2008, for the 2009 model, Weber introduced the new 22.5″ WSM as well as a revamped 18.5″ WSM. Weber listened to those customer complaints about water pan capacity and gave us this deeper 2.5-gallon water pan (it's a modified charcoal bowl from a Weber Smokey Joe grill) and a whole new round of complaints began almost from Day One.
Could This Problem Have Been Avoided?
I had the honor of being contacted by Weber in August 2008, and they sent me a pre-production version of the 22.5″ WSM for purposes of evaluation followed by a trip to Weber headquarters in Palatine, IL to debrief on my experiences with this new cooker. It wasn't until the day I arrived for my visit that I learned there was also a revamped 18.5″ WSM, and on that day we cooked on it on the patio outside Weber HQ and I saw for myself, for the first time, this low-hanging water pan.
If only Weber had sent me a pre-production version of the 18.5″ WSM early enough in the design process, I'm sure I would have noted and reported this as a problem and it could have been avoided.
Weber has a long tradition of recycling other grill parts for use in the Weber Smokey Mountain Cooker. This is one case where it just doesn't work properly. Weber needs a new water pan design.
Increasing Pan Capacity (Pre-2009 WSMs)
If you've got a pre-2009 WSM with the shallow, 1-gallon water pan, and you like cooking with water, and you want to increase your water pan capacity, either the Winco bowl or the Hubert chafer water pan described below will do the job for you.
Alternative Metal Pans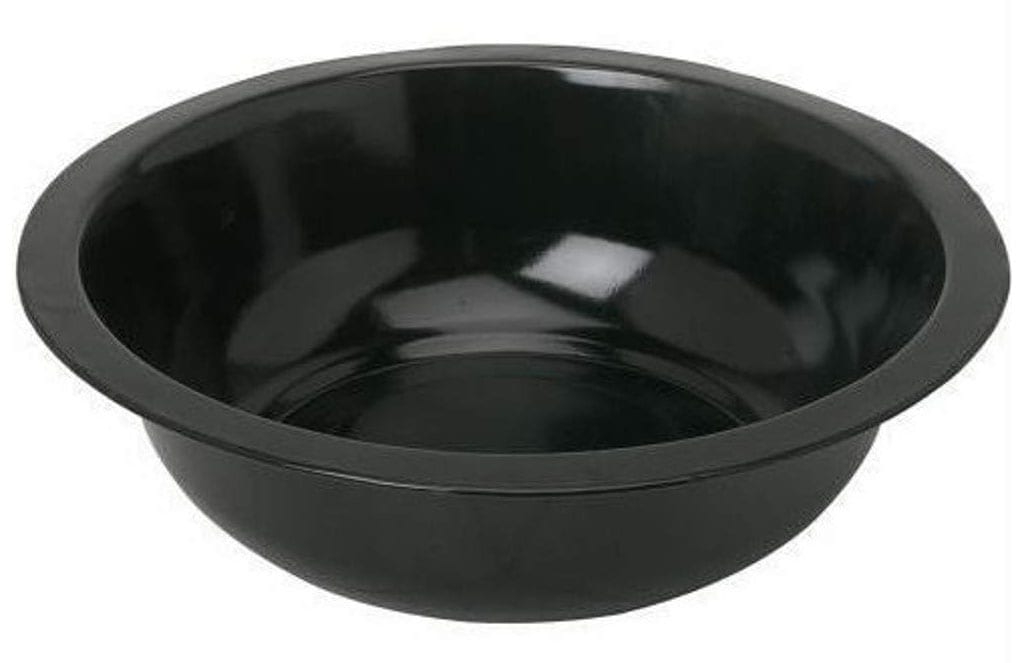 In 2001, Dave Stamper wrote to TVWB, "The biggest fault I can find with this cooker is the rinky-dink water pan. Why own a smoker that is capable of running unattended for 10-12 hours on one fill of charcoal if it wasn't for the lousy water pan?"
Dave's solution was to replace the water pan with a Brinkmann 812-0002-0 smoker charcoal pan. It holds almost 2 gallons of water, twice the capacity of the pre-2009 water pan. Yes, you read that right, the charcoal pan from a Brinkmann vertical water smoker. And it's still a great choice as a replacement pan for today's 18.5″ WSM.
The Brinkmann charcoal pan has a flat bottom that doesn't interfere with the fuel in the WSM charcoal chamber. It has a wide rim for a stable fit on the grill straps. It's not terribly expensive, and although not made of the same quality materials as the Weber water pan, it gets the job done.
This photo shows the pre-2009 18.5″ WSM water pan next to the Brinkmann charcoal pan.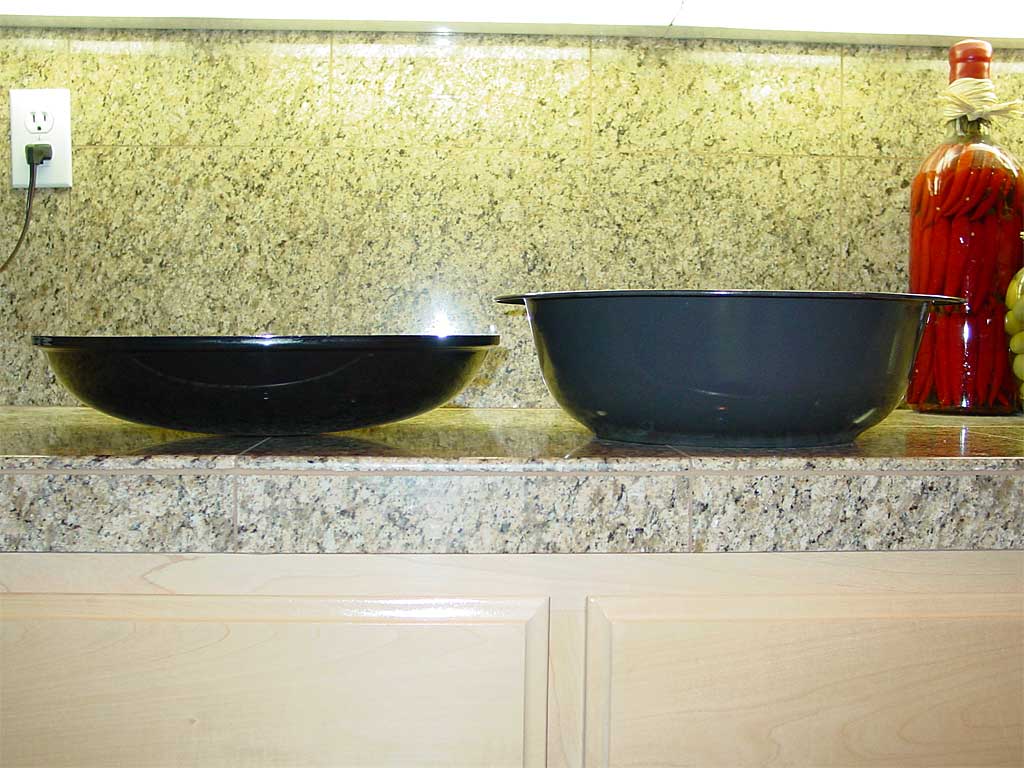 These photos show the difference between the WSM and Brinkmann pans inside the middle cooking section.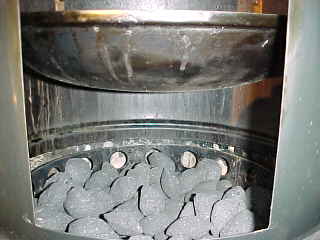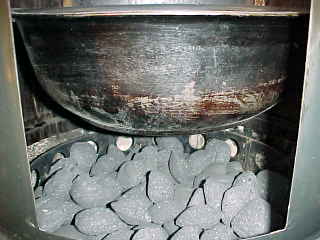 This photo shows how the pan's wide rim sits firmly on the grill straps.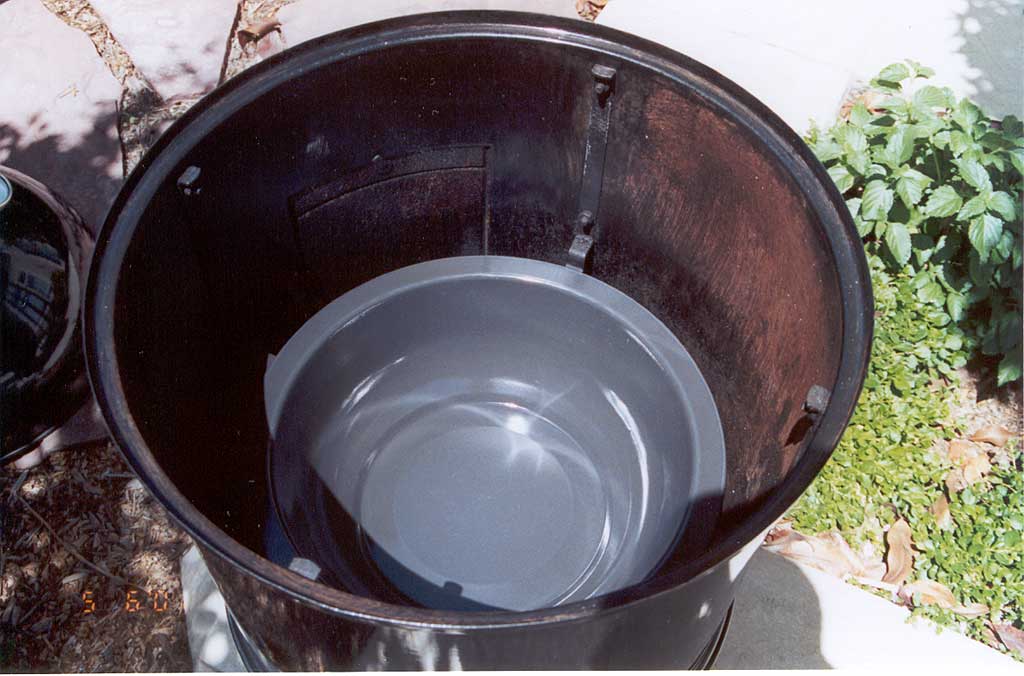 Here are the specs comparing the two pans:
Brinkmann Pan
Pre-2009 18.5″
WSM Pan
Outside diameter at rim
15-1/16″
14-3/4″
Inside diameter, top of pan
12-7/8″
14″
Inside diameter, bottom of pan*
8-1/2″
N/A
Width of rim
1-1/16″
5/16″
Depth
4-1/2″
3-1/16″
Distance between bottom of pan and top of charcoal ring
3-1/4″
5-1/4″
Water capacity
Almost 2 gallons
1 gallon
Weight
1 lb, 4.3 oz
1 lb, 9.7 oz
* The inside of the Brinkmann pan curves down to a flat bottom, while the WSM pan has a rounded bottom.
Dave wrote, "It's a drop-in modification and actually fits better than the standard pan. It cuts down on the room between the bottom of the pan and the charcoal, but works fine under all conditions that I have tried.
"I find that a fellow gets two benefits from this larger water pan. First, instead of checking and adding water every two to three hours depending on cooking temperature, I can run my cooker over nine hours with this pan before adding water. The second benefit—and this is the best one—is that this larger water pan really helps control the temperature in the smoker. I think all folks that use this cooker know that as the water goes down in the pan, the temperature goes up in the smoker. I find that I can just about run any temperature I want from 180°F to about 250°F real easy without making many adjustments."
The Piedmont Pan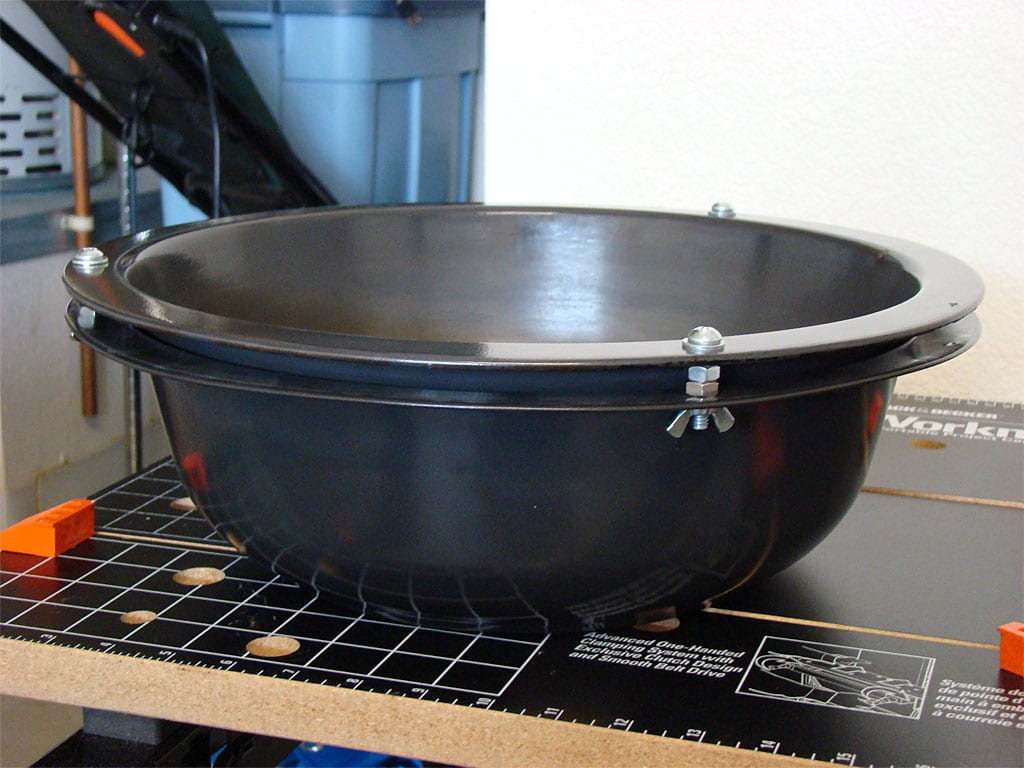 What happens when you screw together two Brinkmann charcoal pans with an air gap in between? You get a Piedmont Pan. The rationale behind this modification and step-by-step instructions for making your own Piedmont Pan are found in The Piedmont Pan article.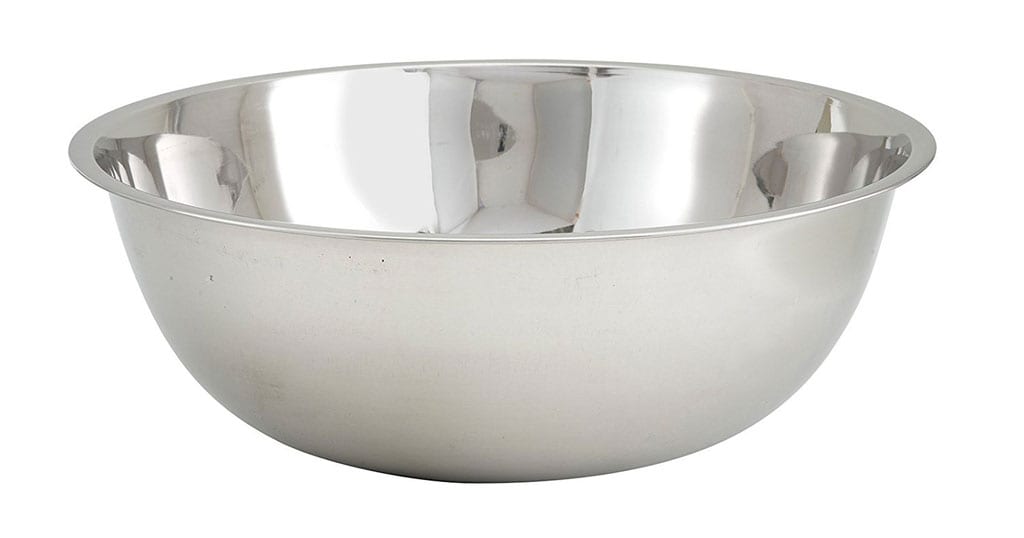 I bought the Winco MXB-1300Q 14.75″ stainless steel mixing bowl at Amazon.com. It's a good fit in my old WSM and is only about 1/2″ deeper than the pre-2009 water pan.
It's an "economy mixing bowl", which means it's made of thin material, it sounds tinny when you bang on it, and it's not super-expensive, but the quality seems OK to me. And by the way, I don't know where they get off calling this a 13-quart mixing bowl. Filled to the tippy top it's just shy of 7.5 quarts, so let's say its capacity is over 1.5 gallons.
This bowl has a fairly narrow rim. I've heard from a few guys that bought this pan saying that when placed inside their WSMs and filled with water, they were afraid it would fall off the grill straps into the fire. I don't have this fit problem in my cooker, and of course if you're cooking with an empty pan, it's not really an issue in terms of weight. Remember, this is a kitchen bowl, not a purpose-made water pan for the WSM, so there may be slight manufacturing variations from time to time that result in minor differences in pan width.
If you get a pan that just doesn't fit, sorry about that, you'll have to return it. But if you get a pan that almost fits, try bending the ends of the grill straps outward a bit and see if that provides a good enough fit. Otherwise, check-out my video on extending the grill straps for a better fit.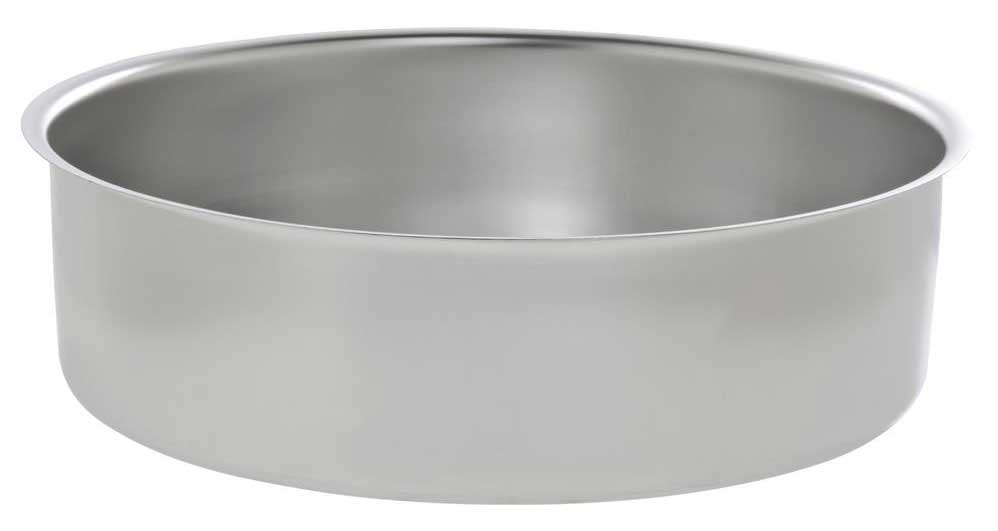 This is a high quality stainless steel pan that fits tightly in the 18.5″ WSM. It has a flat bottom and 2 gallon capacity. It's intended use is a water pan as part of a chafing dish setup, but it works great in the WSM as a water pan.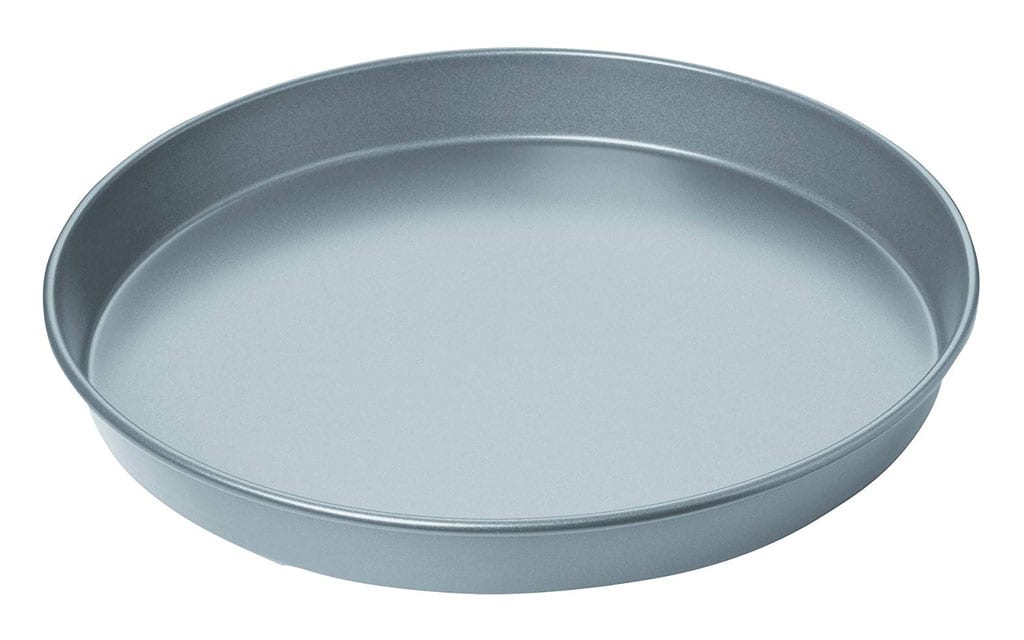 Let's say you do all your barbecuing over an empty water pan. You only need enough capacity to collect the drippings from the meat you cook. You want something that's easy to cover with aluminum foil for easy cleanup. Then the Chicago Metallic Commercial II Non-Stick 14-Inch Deep Dish Pizza Pan might be just right for you.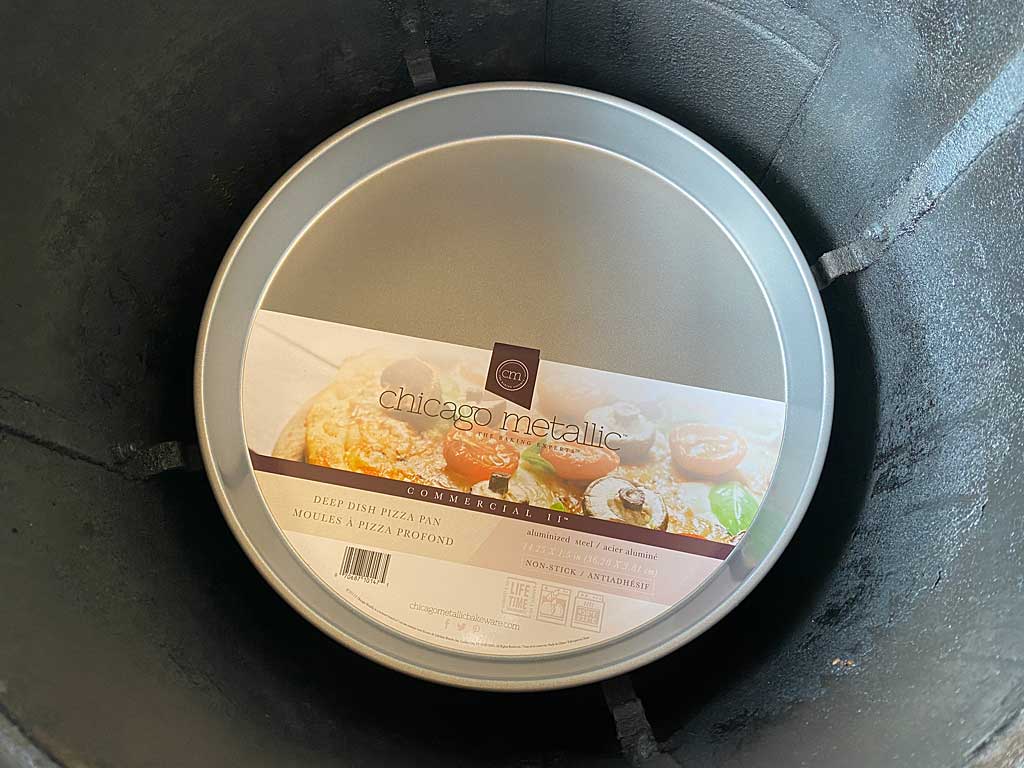 This pan is very sturdy, very well made and will give you many years of service. Like the Winco bowl above, it, too, has a narrow rim and may require adjustment of the WSM grill straps for a stable fit.
It has been noted by some readers that perhaps a non-stick deep dish pizza pan is not a good choice for the WSM because the 450°F rating on the non-stick surface will most certainly be exceeded in the WSM. You'll have to decide for yourself if this is important to you.
Terra Cotta Saucers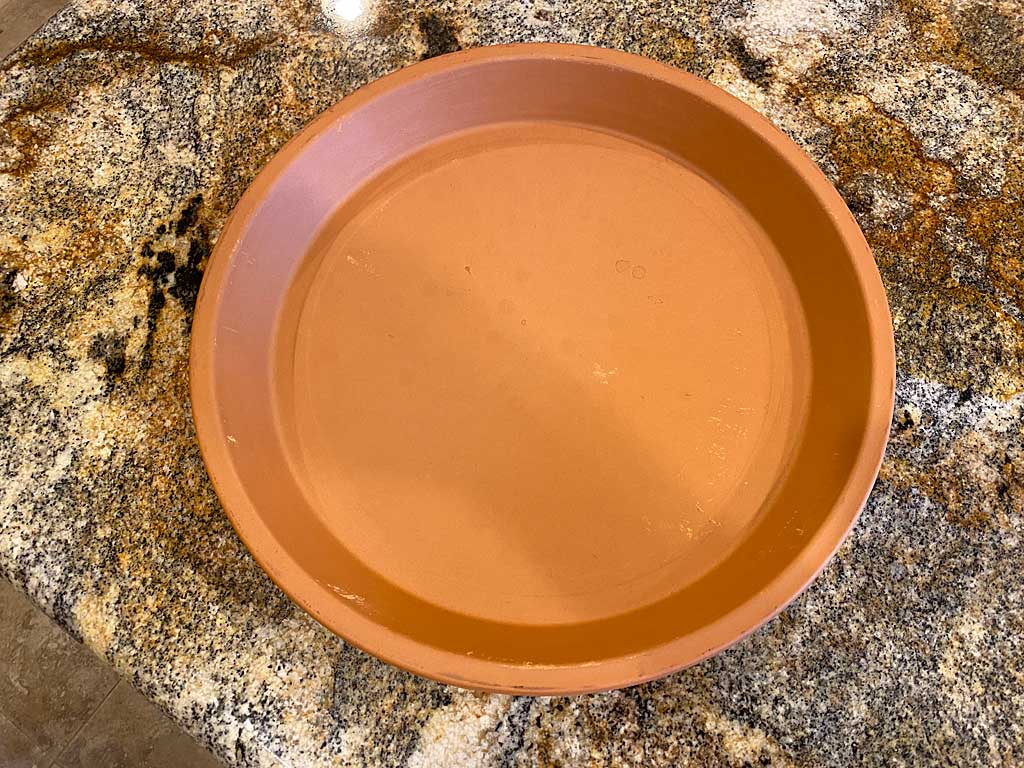 A 14″ terra cotta saucer goes for under $15 at most nurseries and home centers. Wrap with two (or better yet three) layers of aluminum foil and you've got something that can collect a moderate amount of grease.
There are a couple of problems with terra cotta saucers. One is that they break if not handled carefully or if heated unevenly. This alone is reason enough for me to not recommend terra cotta saucers. Another is that if grease gets past the aluminum foil, it soaks into the surface and is impossible to remove completely. If that's something you can't deal with, then avoid terra cotta. Otherwise, wrap carefully with multiple layers of heavy duty foil and wash only if necessary.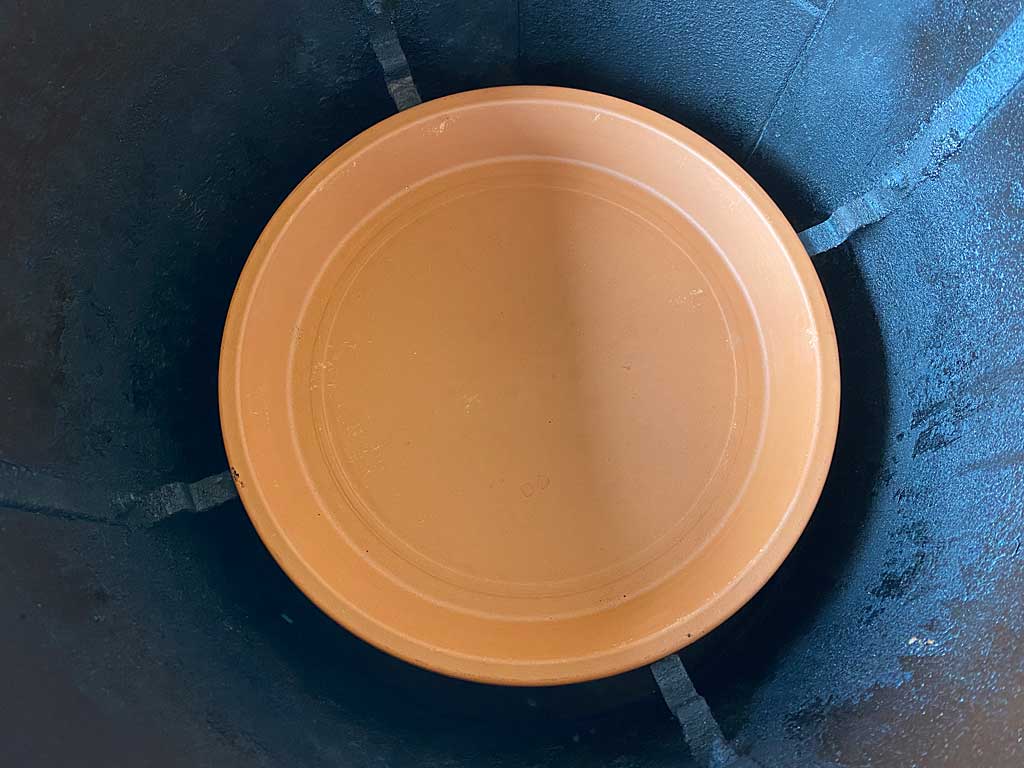 The saucer shown here barely engages the grill straps; you would have to adjust, bend, or extend the grill straps to achieve a secure fit for this saucer.
Metal & Stone Diffusers
A diffuser is not a pan. It's usually a flat disc of some sort that is used instead of a water pan to create the physical barrier between the meat and the heat for indirect barbecuing. It may be solid or it may have holes cut in its surface. A disposable foil drip pan may be placed on top of a diffuser as a grease catcher, and in some cases the diffuser itself may be wrapped with aluminum foil for easy cleanup.
Diffusers Placed On Grill Straps
People use solid steel plate discs, flat pizza pans, pizza stones, or other cooking stones. All of these sit on the grill straps where the stock water pan is normally located.
Commercial diffusers that sit on the grill straps include the following:
FireDial makes a FireDial Heat Diffuser Plate for all three WSM sizes.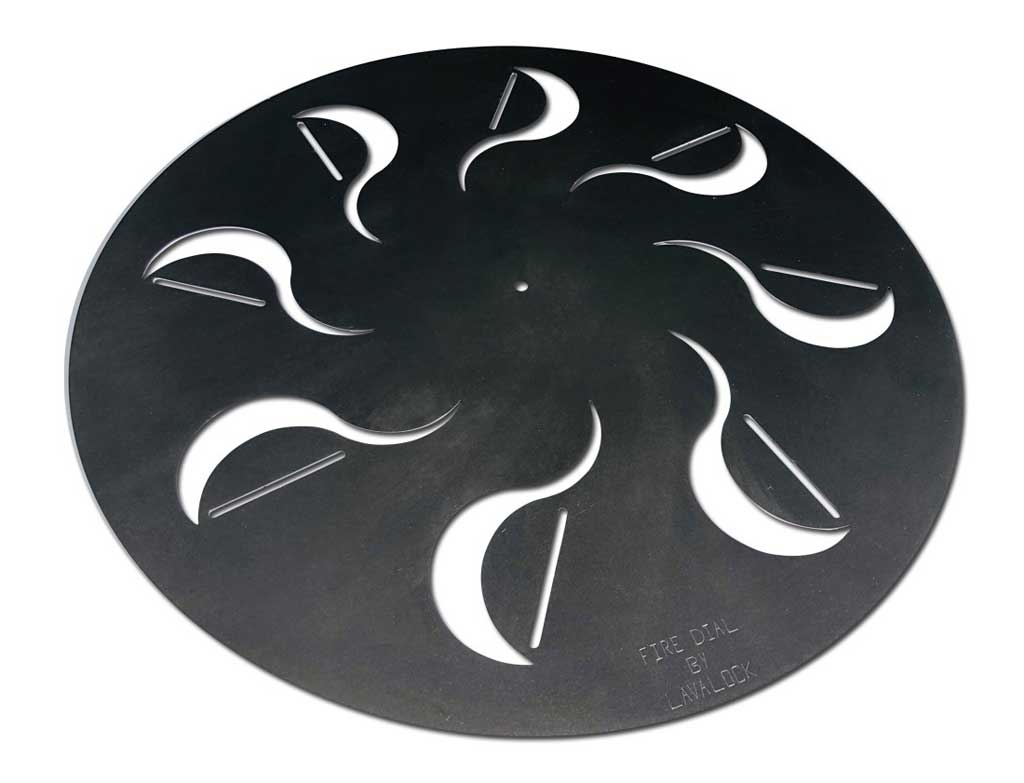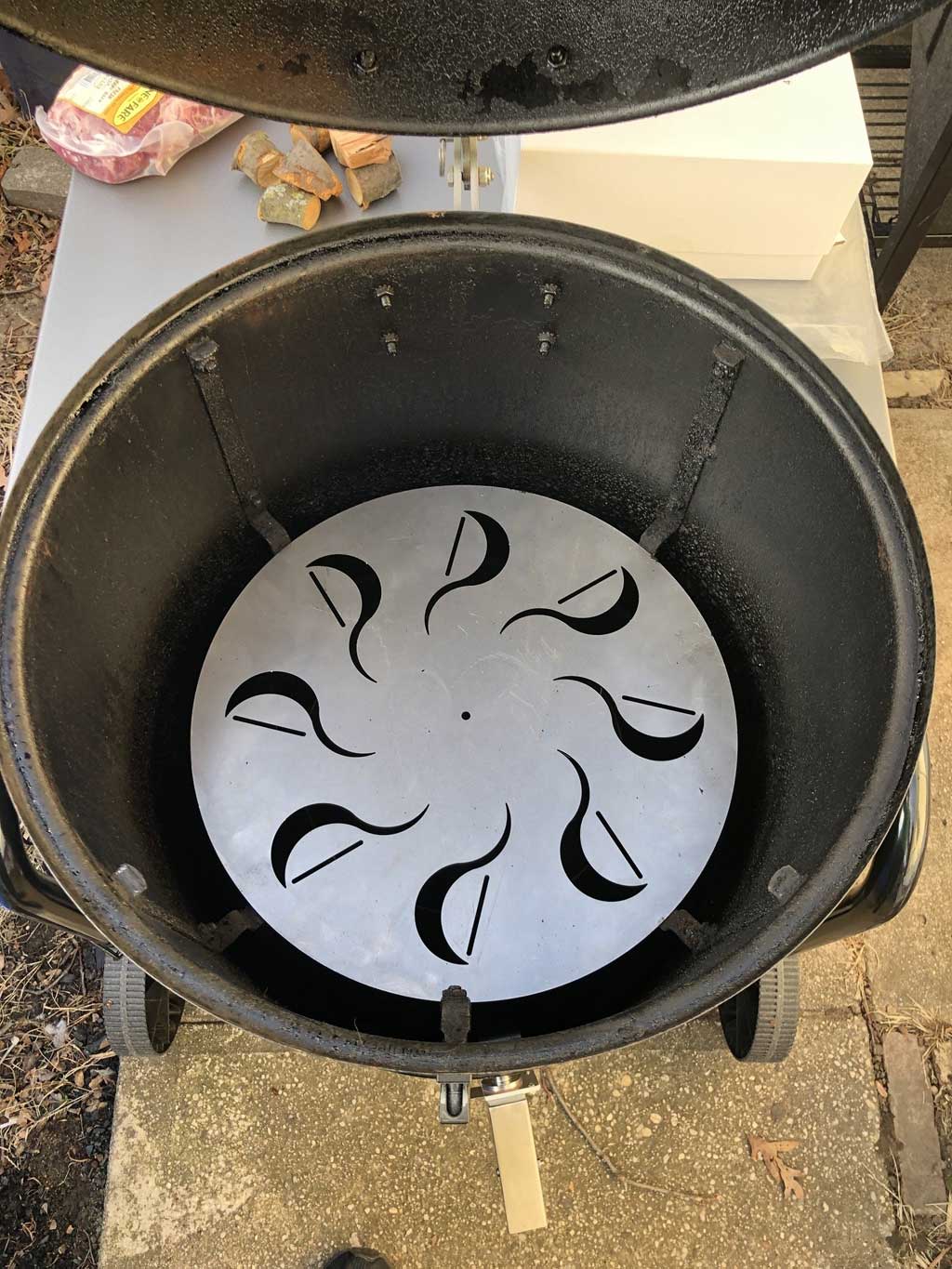 Gateway Drum Smokers makes a Gateway Diffuser Grill Plate for their 30 gallon drum smoker that fits the 18.5″ WSM.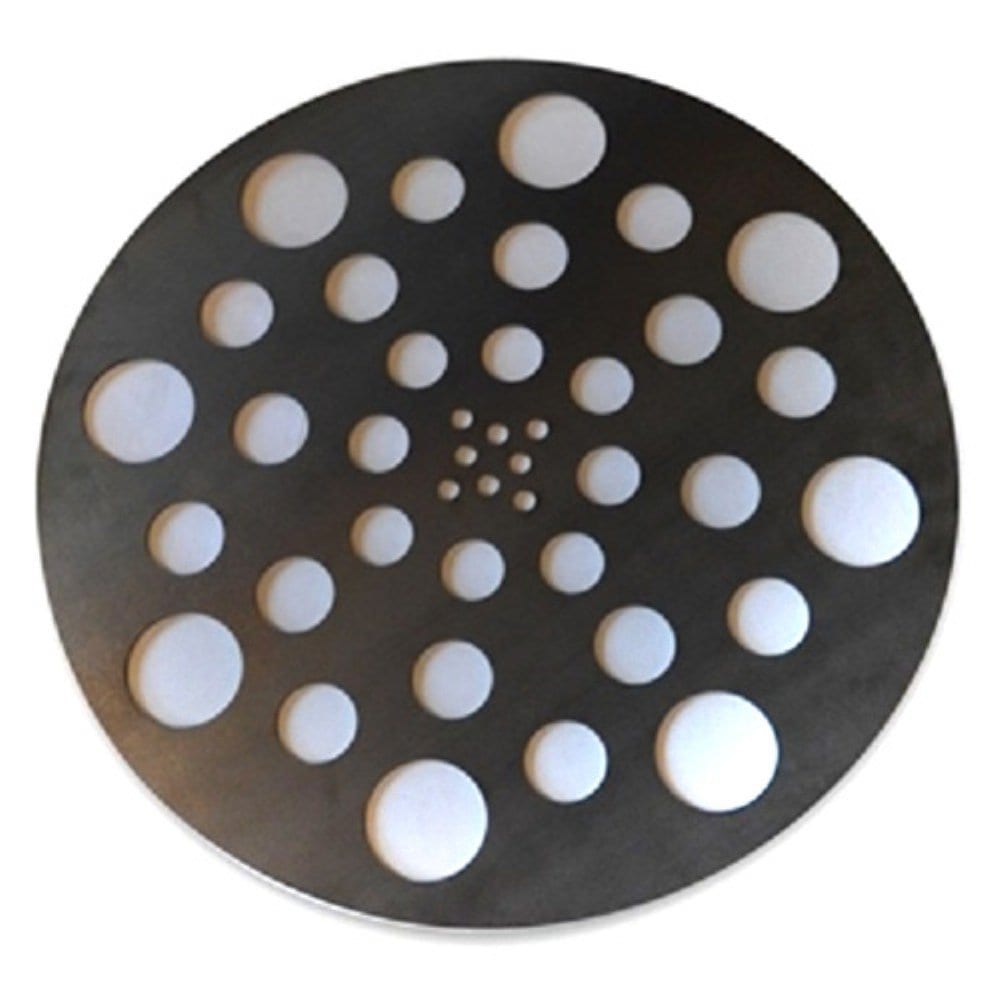 Diffusers Placed On Charcoal Chamber
Another alternative are diffusers that sit on top of the charcoal chamber. Hunsaker Smokers makes the Vortex plate and an entire replacement Vortex charcoal chamber for the 18.5″ and 22.5″ WSM.
Do Diffusers Work Better Than An Empty Water Pan?
There are WSM owners that swear by the diffusers shown here. Manufacturers make various claims including better temperature control, more even distribution of heat, reduced fuel usage, and better flavor when grease vaporizes off the surface of the hot diffuser.
One thing we know from experience is that the outer portion of WSM cooking grates, especially the edge of the bottom grate, gets hotter than the inner portion due to how heat rises up and around the water pan. Removing the water pan and replacing it with a diffuser at the charcoal chamber is likely to result in more even heat distribution. I'm not so sure about fuel usage or temperature control or other claims.
If you're intrigued by any of these products, I suggest that you browse the WSM Modifications forum at The Virtual Weber Bulletin Board. There you will find plenty of discussion from actual users about all of the diffusers shown in this article.
Personally, I like to keep things simple and old school and just use a foil-wrapped water pan instead of a diffuser when cooking without water in the WSM. I don't seem to have any problems with temperature control or uneven heat distribution or fuel usage when using an empty water pan, and I don't always like the taste of vaporized grease on my barbecued meats.
If I were cooking on a 2009 or newer 18.5″ WSM with the deep water pan, I would switch to the Winco stainless steel bowl  or the Hubert chafer stainless steel round water pan. Either would allow me to cook with or without water in the WSM depending on the circumstances, and both are easier to cook with than the stock water pan.
Cooking Without A Water Pan Or Diffuser
Yes, you can barbecue meat in the WSM without using any water pan or diffuser, letting the grease drip directly into the hot coals. Some of that grease will vaporize and create smoke that gives your meat a grilled flavor. Some people like this flavor, while some prefer their barbecue to not taste like grilled meat. As I mentioned above, I'm in the second camp…the flavor of burning grease on long cooked pieces of meat like pork butt can be a bit overwhelming to me.
It should be noted that particularly fatty cuts of meat will cause grease to collect in the bottom of the charcoal bowl. This takes a bit more effort to clean; once the ashes are stone-cold, stir them around to combine them with the grease drippings, then discard.
When going panless, clean out the grease and ashes after each cooking session. Don't allow grease to build-up between multiple cooks as this increases the risk of a grease fire, not to mention the likelihood of rancid fat in the cooker creating nasty odors and being an attraction for insects and critters.
Photos of Vortex Charcoal Charcoal Chamber: 2019 by Hunsaker Smokers
Photo of Gateway Diffuser Grill Plate: 2019 by Gateway Smokers
Photos of FireDial WSM Diffuser Plate: 2019 by bbqsmokermods.com