The Origins Of White Sauce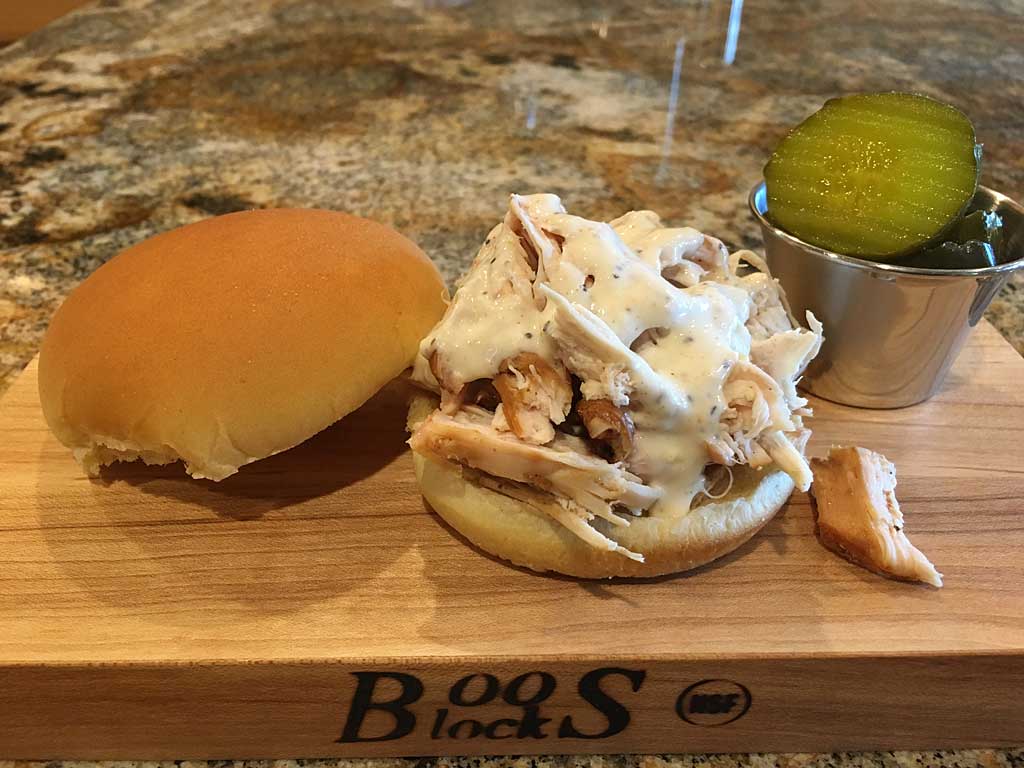 White sauce is a tradition of Northern Alabama barbecue that's attributed to Bob Gibson of Big Bob Gibson Bar-B-Q in Decatur, AL. Gibson started selling barbecue out of his backyard in 1925 and over the years developed a reputation for his pork and chicken and especially his tangy, mayonnaise-based "Bar-B-Q White Sauce".
Today at Big Bob Gibson Bar-B-Q, they serve all the usual suspects—brisket, pork, ribs, turkey—but their claim to fame is the quarter, half, or whole barbecued chicken dipped in the famous white sauce, as well as pulled chicken sandwiches drizzled with the stuff.
If you've never tasted white sauce, you owe it to yourself to give it a try. I think you'll be surprised how good it is.
This recipe appeared in the June/July 2011 special barbecue edition of Saveur magazine and is attributed to Big Bob Gibson Bar-B-Q. It includes a recipe for both the white sauce and the rub for the pulled chicken. I've included both here, but you can prepare barbecued chicken for these sandwiches any way you like, including the ever-popular Hot & Fast Chicken on the Weber Smokey Mountain Cooker, which is what I did for my sandwiches.
I just drizzled the white sauce on the pulled chicken when I made my sandwiches, but you'll notice that the original recipe suggests basting the chicken with sauce during cooking.
Prepare The White Sauce
The white sauce consists of just a few simple ingredients, most of which you probably have in your pantry.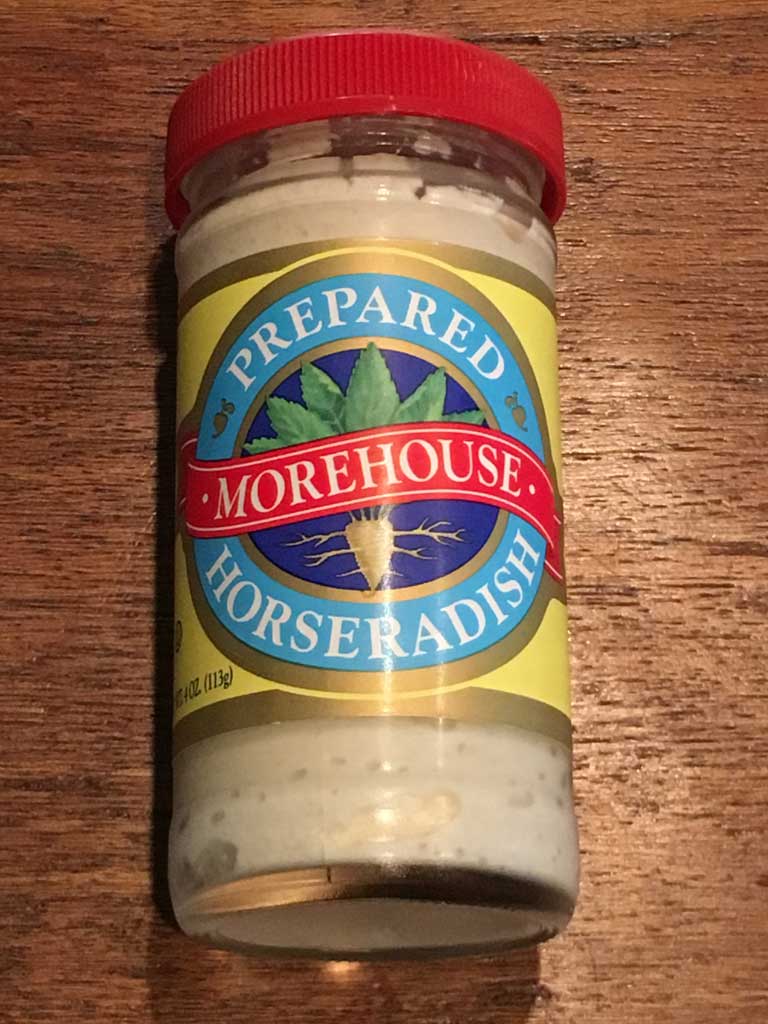 The only ingredient you may need to purchase is prepared horseradish. Look for "Prepared Horseradish" on the label, which consists of grated horseradish root, vinegar, water, salt, a little oil, and a few other ingredients to preserve product freshness. Do not buy a "Creamy Horseradish Sauce" which is milder and contains more oil, eggs, sugar, corn syrup, etc. The white sauce itself is basically a variation on a creamy horseradish sauce, in that it includes oil and eggs (in the form of mayonnaise), vinegar, sugar, and seasonings.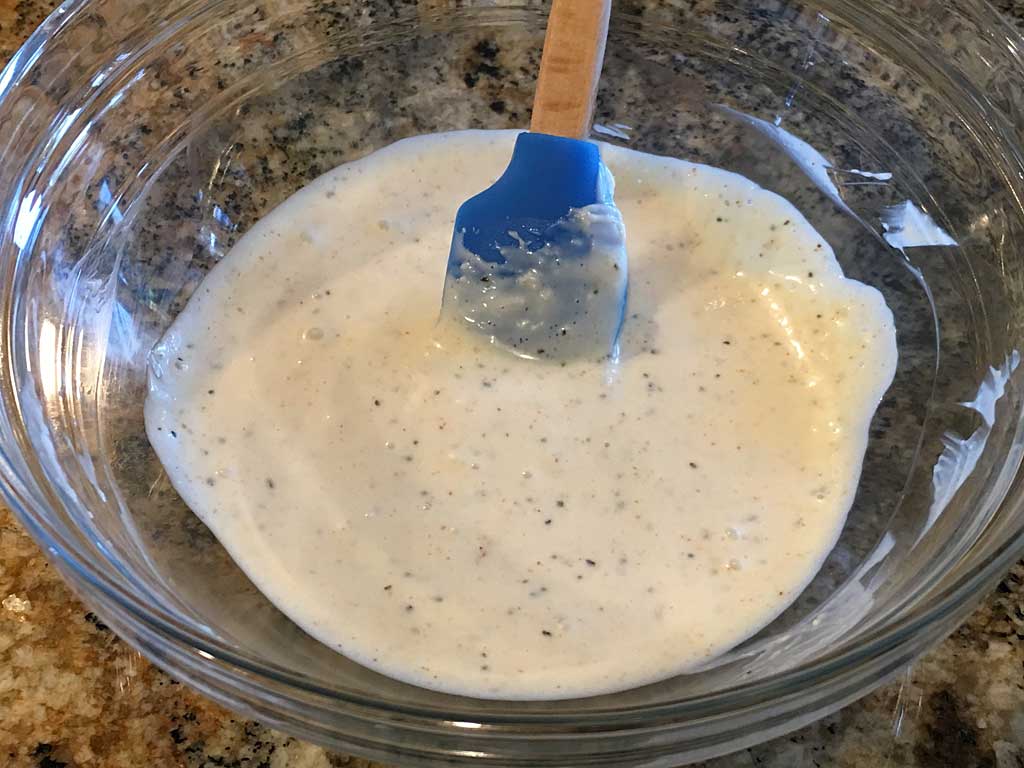 Big Bob Gibson White Sauce Ingredients List
2 cups mayonnaise
1/2 cup prepared horseradish
1/4 cup apple cider vinegar
2 Tablespoons sugar
3 teaspoons kosher salt
1-1/2 teaspoons ground black pepper
1/2 teaspoon cayenne
Combine all ingredients. Divide sauce in half, using 1/2 to baste chicken during barbecuing (if using the Big Bob Gibson cooking method described below) and 1/2 for serving.
Barbecue The Chicken
As I mentioned earlier, I simply used Hot & Fast Chicken for my sandwiches, but if you want to try making chicken using the Big Bob Gibson method, here's the rub recipe followed by the cooking instructions.
Big Bob Gibson Chicken Sandwich Rub Ingredients List
1 teaspoon kosher salt
1-1/2 teaspoons ground black pepper
2-1/4 teaspoons paprika
1-1/2 teaspoons garlic powder
3/4 teaspoon celery seeds
1/4 teaspoon ground cumin
1/4 teaspoon ground coriander
Combine all ingredients and apply rub to a four-pound butterflied chicken. Smoke at 225-250°F.
Start chicken skin-side up on the cooking grate. Turn chicken skin-side down halfway through cooking and start basting with sauce every 20 minutes until chicken reaches 175°F in the thigh.
Make The Sandwiches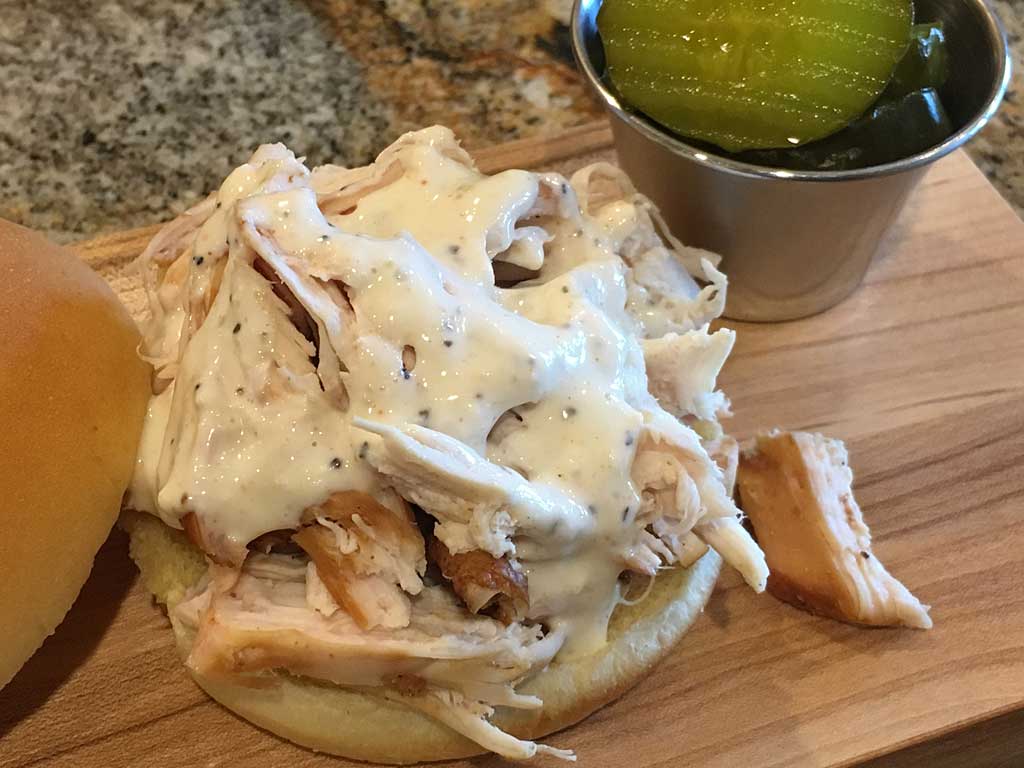 Let the barbecued chicken rest 10 minutes, then shred with forks, discarding bones and skin. Divide the chicken among 8 hamburger buns, top with remaining white sauce and pickle chips, and serve.
More Chicken Links On TVWB