Grow your brand! Sell your products direct to Weber barbecuing and grilling enthusiasts! Advertise on The Virtual Weber Bullet and The Virtual Weber Bulletin Board.
The Virtual Weber Bullet is the #1 website for fans of the popular Weber Smokey Mountain Cooker Smoker. The site features product information, recipes, operating tips & tricks, modification projects, and how-to videos to help owners get the most out of their Weber smoker. Most Weber smoker owners barbecue several times each month and own 1-2 grills in addition to their smoker. Advertising on The Virtual Weber Bullet is a great way to reach Weber "low & slow" barbecue fans to grow your brand or make direct sales.
The Virtual Weber Bulletin Board is the #1 discussion forum for Weber grill owners. The site features discussion of all Weber charcoal grills, gas grills, portable grills, smokers, and accessories, as well as the general topics of grilling and barbecuing. Most members own multiple Weber grills, some having extensive collections of vintage Webers. Members grill many times each month, all year long, and visit the discussion forum daily to share recipes and photos of their latest creations. Advertising on The Virtual Weber Bulletin Board puts your brand and your product in front of some of the most passionate grilling fans on the planet!
Ad Options
Leaderboard 728×90 banner ads are available at the top of the page between site navigation and page content for The Virtual Weber Bullet and The Virtual Weber Bulletin Board. Ads are "run of site" meaning they may appear on all pages of the site (except for the homepage), giving your ad maximum visibility and impact. Ads are sold in units of 1,000 impressions with a minimum purchase of 25,000 impressions. Ads can run over any time period you choose; restricted to certain days of week or times of day; frontloaded or evenly distributed during the campaign; and targeted to specific geographies. You can run multiple banner ads in a single campaign and have them rotate evenly or have the design with the highest click-through rate display more often.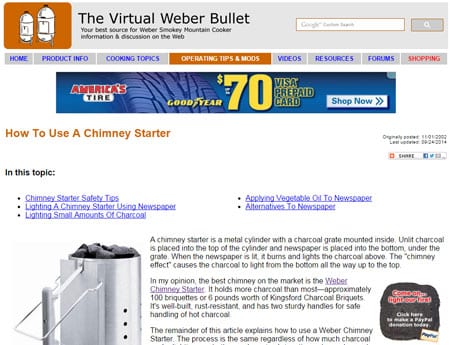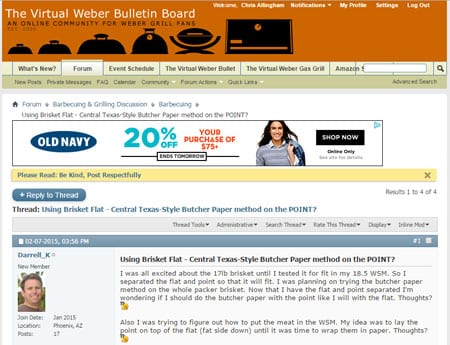 Newsletter sponsorship is also available. Place your 600×74 banner ad and a tagline at the top of TVWB News, our monthly e-mail newsletter that goes out to 7000+ Weber barbecuing and grilling fans.
Ad Terms
Your site must be professional and well-maintained.
Your site must have a privacy policy that is easy for users to find, that complies with applicable laws, and discloses how information is collected, used, disseminated, and sold.
Your site must have a contact link that is easy for users to find, and you must respond to inquiries in a timely fashion.
Your site must not promote pornography, hate, bigotry, libel, violence, discrimination, or illegal activity.
Ads may be animated as long as they are not annoying. For purposes of accessibility, animation must terminate after three cycles or a maximum of 15 seconds.
Ads are subject to approval and may be reject for any reason at our discretion without explanation.
Ad Pricing
For ad pricing, please send an email to mail@virtualweberbullet.com
You must include the word "TVWB" in the subject line of your message. If you don't, your message may be filtered out as spam.