The Virtual Weber Bullet:
Founded June 12, 1998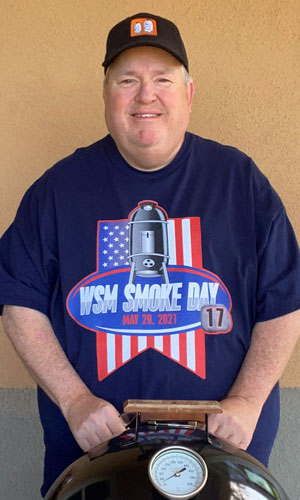 The Virtual Weber Bullet (TVWB) is the website for the Weber Smokey Mountain Cooker Smoker enthusiast, or for those who just want to learn more about this great cooker.
TVWB is part of a collection of unofficial Weber product fan sites that includes The Virtual Weber Gas Grill for fans of Weber gas grills and The Virtual Weber Bulletin Board, an online community for owners of Weber charcoal kettle grills, gas grills, and smokers.
The Weber Smokey Mountain Cooker Smoker is a fantastic product that's used successfully by amateurs in the backyard and by accomplished barbecue teams in competitions all over the country. It's simple to use, easy to control, holds its temperature well, and makes consistently great barbecue. On top of that, it's constructed with the same materials and quality you've come to expect from Weber.
If you're serious about barbecue and you're in the market for a new cooker, then the Weber Smokey Mountain Cooker Smoker should be at the top of your list.
I created The Virtual Weber Bullet to share my enthusiasm for this product with others and to share the tips and information I've collected on how best to use it. I don't make my living from publishing this website—I do it simply for the fun and satisfaction I get out of doing it, and I make the site available to everyone free of charge. If you'd like to help support the site, there are several ways to do so. See Support The Virtual Weber Bullet for details.
I hope you find the website interesting and informative. I'm always looking to add and improve content, so please send your comments or suggestions. Thanks for stopping by and please visit often.
Best regards,
Chris Allingham

LIFETIME MEMBER, MASTER CERTIFIED BBQ JUDGE, CERTIFIED TABLE CAPTAIN
Kansas City Barbeque Society

BUSINESS MEMBER
California BBQ Association
About Chris Allingham
I was born in Southern California but grew up in Santa Rosa, in the wine country of Sonoma County, California. I attended California State University, Sacramento and graduated with a B.A. in Business Administration with a concentration in Management Information Systems.
Upon graduation, I worked for a short time at a management consulting firm in Sacramento, then moved back to the San Francisco Bay Area and joined Hewlett-Packard Company where I worked for 22 years in user experience design and usability of software and websites. After leaving HP, I joined EMC for a three-year stint where I did similar work.
At the time of this writing, I live in San Jose, California with my wife, Julie. I am no longer working in the corporate world, but focused exclusively on operating The Virtual Weber Bullet, The Virtual Weber Gas Grill, and The Virtual Weber Bulletin Board. I am also a KCBS Certified Master Barbecue Judge and judge barbecue contests throughout California.
What People Are Saying About TVWB
"I stumbled upon The Virtual Weber Bullet in 2004 when I first started smoking and what an excellent resource for anyone wanting to improve their ability to produce consistently great results. Just last week I had a friend new to smoking ask me about baby back ribs and my first and only inclination was to send him the link to your website (his ribs came out awesome so he said)!"
"Hey there! Great webpage! I was looking for information on smokers on the Web before taking the plunge and I stumbled upon your site. Based on your feedback I purchased the Smokey Mountain Cooker and I am very satisfied." "Thanks for the great website. I have been trying to figure out what smoker to buy and now my mind's made up! I appreciate the time you have dedicated to this site."
"I've had a Weber Bullet for about 2 years now, and had to learn how to Q the hard way—throw away the Weber instructions! I just wanted to say that your website is absolutely fantastic. It ought to come packaged with the new smoker! Thanks so much for taking the confusion out of the process. Thanks again for making a hobby so ENJOYABLE!!"
"I really enjoyed your presentation. Extremely well done! And, I don't even have a Weber Bullet! I have a NBBD (New Braunfels Black Diamond) and must stick with it, even though I'd rather have been more informed when I made my purchase. I'd have definitely gone with the Weber Bullet."
"Congratulations on your page…it's quite nice. I currently have a NBBD and it is soon for the junk heap and I will be buying a Weber Bullet."
"Thank you for such a great site. A magazine article attracted my interest about smokers and eventually lead me to your site. You have one terrific site! I only wish I had a back yard now. I live in New York City. I guess the Fire Dept wouldn't be too happy with me if I tried smoking in my kitchen."
"I just wanted to commend you on a great website. I have an ECB (El Cheapo Brinkmann) and I am thinking about upgrading to the Weber. I really liked the Weber Bullet Tour—it provided 200% more info about the Bullet than the Weber site itself. They should link to your website for people wanting info about their Bullet."
"Your Virtual Weber Bullet page is excellent—Weber could learn a lot about product presentation from it."
"I am an accomplished amateur griller and cook. I am looking into getting a smoker and stumbled upon your website in my research and wanted to say "thanks." I have learned a great deal in my short visit. Your site and information is well organized and presented. Your tips and experiences have also been very helpful. You've practically sold me on the Weber Bullet. I find very few sites that actually have useful information—yours is chock full of it! Be sure that I will continue to visit and see what you're cooking up next."
"I found your website after searching on Alta Vista. I have to admit, it is better than most corporate sites. I went through the entire site! As a novice BBQer, I am trying to get as much info on what smoker to buy, etc. Your information helped out. Thanks for the hard work!"
"I just found this website and I'm in HEAVEN!!! I bought a Weber Bullet yesterday and I'm getting ready to smoke my first pork butt."
"I had not been here for a while. But I must say, as impressed as I was on my first visit, all these new photos sure makes it GREAT! Your new organization is also great. I can only say how grateful I am that guys like you take all this time to provide this information. May you get rich from it!"
"I stumbled onto the Kansas City BBQ Forum and posted a question about getting into smoking. Big Bear answered and sent me to your site as he recommended the Weber Smokey Mountain as an entry level smoker. After viewing your fabulous site I think that this BBQ may be the only one I will ever need. Thanks for the really great site."
"You've sold me. I like the whole look of the Weber Smokey Mountain Cooker…and the directions are terrific."
"I really like your site. I've been a kettle cooker fan for years, but now it looks like I need to think about adding this unit. Your tour and tips sections in particular are very thorough. Nice design and copy, too."
"You have a very nice and functional site. It is well done and I am sure I will reference it frequently. Thanks for taking the time."
"I just wanted you to know how much I enjoy your website. I found the photos on brisket and picnics really helpful. Looking forward to the turkey info."
"I have enjoyed your site, and thank you for your efforts in building it. It has helped me greatly understand what makes these cooker unique. The Weber Bullets seem to have an outstanding rep on the KC BBQ Forum and other sites I have visited. I have been looking for a new smoker for a while, but simply cannot afford the thousands for a big offset cooker, and I have heard they take a fair bit of skill to master. I also have looked into the BGE (Big Green Egg cooker), but they are incredibly expensive for what they are, it seems. I have been convinced the Smokey Mountain is the model to go for, and thank you for all the information you have supplied to make my decision much easier."
"I really enjoy your site! I wish I would have found it last spring when I first got my Weber Bullet. I have been cooking on Weber kettles for about 20 years, so I knew I wanted the Weber Bullet. But I read the directions on how to use it and had a heck-of-a-time cooking with it! Could not control the temp worth a darn. Somehow thought it was a lot different than the basic kettle. Then I found your site and common sense suggestions a few weeks ago. It suddenly dawned on me—I had been using the techniques you suggest to control the heat on the kettle cookers for years! So I tried your suggestions and I am really excited now. Can't wait until better weather, more daylight, etc."
"Your website is great! When I got my cooker the first thing I did was take your advice and ignore the owner's manual. I have been following your instructions and haven't had one failure yet."
"I greatly appreciate your site. It has been extremely more helpful than the Weber site."